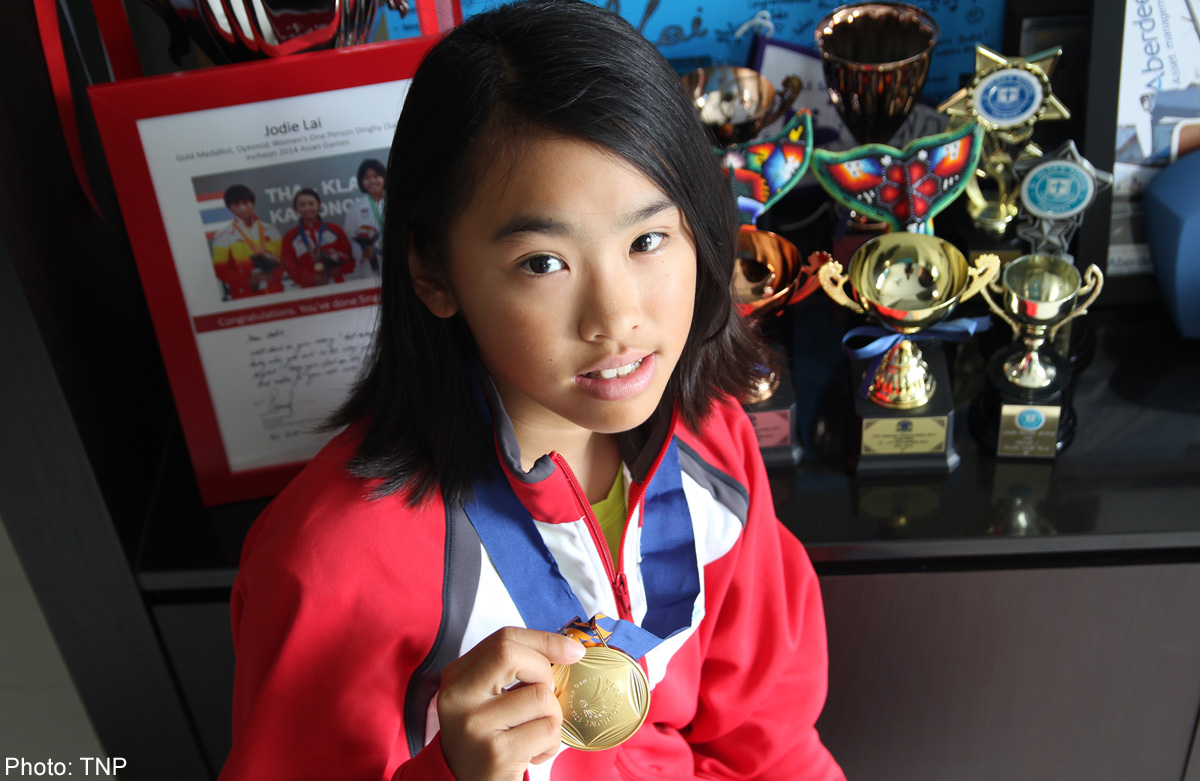 As the country gears up for a grand new year in sport, the Singapore sailing pipeline has thrown up young athletes who could make headlines in 2015.
Here, The New Paper talks to four sailors who made significant strides last year and aim to continue to make progress in the months ahead, and shine at the 2015 South-east Asia Games, which will be held on home soil from June 5 to 16.
 Jodie wants more
She is Singapore's youngest gold medal winner at an Asian Games, and an Optimist class sailing champion across two continents.
With the wind in her sails after a memorable 2014, Jodie Lai (above) is ready for more.
Reflecting on her spectacular year, the 13-year-old said: "It feels really great, and it was a vast improvement on 2013.
"In the 2013 North American Championships, I finished 41st. But last year, I came out as champion.
"It was a big jump in performance, but there is always room for improvement and I hope this year, I can get even better."
That zeal to succeed is exactly what saw the Raffles Girls' Secondary student punch above her weight last year.
After her phenomenal performance at the 2014 North American Championships, Jodie stamped her mark on the Asian Games, taking home the gold medal.
Dad Terrence says the only way for Jodie to stay on top, is for her to train like she isn't.
"I hope Jodie will keep up her performance, but we have to remember that other people are also making great strides," said the head of Biz Mio and OTT TV at SingTel.
"There's no such thing as 'once you're on top, you remain on top'. You need to put in extra effort to make sure that that remains the case."
With this year's International Sailing Federation World Championships and South-east Asia (SEA) Games in mind, that advice has been firmly implanted in Jodie's head.
Qualification for the World Championships begins this month, while that of the SEA Games commences in March.
She said: "2014 is my best year so far, and I want to keep that up.
"If I seal qualification for the World Championships, it will be my first time competing in sailing's premier competition, and I'm looking forward to that most."
HOW I RATE MY 2014: 4/5 stars
FACTFILE
Name: Jodie Lai
Age: 13
Height: 1.48m
Weight: 33kg
School: Raffles Girls' Secondary
Major achievements (2014): North American Championships (Champion) Asian Games (Gold)
Sam keeps it simple
Not many people can claim to have made history, but Samantha Yom is not like most people.
Along with Bernie Chin, Samantha helped Singapore win their first Youth Olympic Games (YOG) gold medals in Nanjing last year.
Samantha came out tops in the Women's Byte CII event, while Bernie won the men's event.
Despite writing her name into the country's history books, Samantha was remarkably cool about her feat.
"I'm just happy to have won it, that's all. I've never won anything on the world stage, so I'm satisfied with winning at the YOG," said the 15-year-old.
"I did know that Singapore had never won gold at the YOG, so when Bernie and I clinched it, we were just grateful to have achieved a first for our country."
Having progressed to the Laser Radial class this year, Samantha will be busy this year.
The South-east Asia (SEA) Games' qualification round - which takes place next month and March - is top on her to-do list, especially with the Games to be hosted on home soil in June.
"Right now, my focus is only on qualifying for the SEA Games. Other than that, there will most likely be some other overseas regattas that the Singapore Sailing Federation will probably organise for us," she said.
"The training this year will be just as intense as last year. I'll most likely be training four times a week as usual.
"But they say the greatest obstacle is yourself. You need to keep yourself motivated throughout, and push yourself to do better.
"That will be quite an obstacle but, this year, I just want to better myself as a sailor."
HOW I RATE MY 2014: 5/5 stars
FACTFILE
Name: Samantha Yom
Age: 15
Height: 1.72m
Weight: 59kg
School: Raffles Girls' Secondary
Major achievements (2014): Dutch Youth Regatta (1st Girl) Youth Olympic Games (Gold)
New partner, same goal
Savannah Siew (above) and Kimberly Lim made the 420 sailing class their own, winning gold at the World Championships the last two years.
The duo were named Team of the Year at last year's Singapore Sports Awards before going on to claim gold at their first Asian Games in Incheon.
But, the indomitable duo have split up, with Savannah (above) linking up with former windsurfer Amanda Ng as part of her progress to the bigger 470 class, and Kimberly set to sail the 49er FX with Cecilia Low.
Savannah is undaunted, and business pretty much goes on as usual for the 18-year-old.
Speaking to The New Paper recently, Savannah said: "Right now, Amanda and I are in the midst of qualifying for June's South-east Asia (SEA) Games at home. There are three stages of qualification. The first stage was in December, while the other two will take place later this month.
"After the qualifications, we will have overseas events as part of our preparations for the 470 class, and I'm looking forward to that."
Reflecting on her time sailing together with Kimberly, it is clear that the Raffles Institution student holds many memories.
"We had plenty of ups and downs together and competitions were always a roller-coaster ride," she said.
"But I'm very happy over what we achieved together and I'm glad that we were able to sign off our partnership in the best way possible."
With qualification for the SEA Games vital to Savannah's chances of competing at world championship events like the International Sailing Federation, and this year's 470 World Championships in Israel acting as the 2016 Rio Olympics qualifiers, there is no time to waste for Savannah and Amanda.
"Training is going to intensify, of course. We are new to each other, and there are a lot of things that we need to work on," said Savannah.
"Especially Amanda, who is shifting from windsurfing to a new sport. But we will pull through together and do the best that we can."
HOW I RATE MY 2014: 4/5 stars
FACTFILE
Name: Savannah Siew
Age: 18
Height: 1.66m
Weight: 54kg
School: Raffles Institution
Major achievements (2014): World Sailing Championships, 420 Junior Ladies (Gold) Incheon Asian Games, Women's 420 (Gold)
He loves a challenge
Some athletes thrive under pressure. Others crumble.
Bernie Chin relishes the competition. Three first-place finishes in 2014 alone speak for themselves.
Emerging as the top sailor in the Langkawi Asian Championship and the Dutch Youth Regatta - in the Byte CII and Laser 4.7 events respectively - it was definitely a groundbreaking year for Bernie.
On top of those two achievements, there is Bernie's crowning glory of the year - gold at the Youth Olympic Games (YOG) in Nanjing. He and Samantha Yom became Singapore's first gold medallists at the YOG last year.
The 15-year-old Raffles Institution student insists that he wouldn't have scaled those heights if he didn't have other competitors breathing down his neck the whole time.
Speaking to The New Paper while on holiday in Paris recently, he said: "There are many talented sailors around and it is the competition that pushes me to improve and achieve greater results.
"2014 is definitely my best year so far in terms of sailing achievements. It has been a fruitful year as I've gained a lot of exposure through participating in various international regattas.
"Also, meeting sailors from all over the world and sailing with them have helped me refine my sailing techniques."
Like fellow sailor Samantha, Bernie will be making the step up to the Laser Radial class, where - if he seals qualification by March - he will be competing in the Under-19 age group for the South-east Asia (SEA) Games.
It is clear that Bernie is someone who knows what he wants.
"I believe that there is always room for improvement and I hope that I can represent Singapore in this year's home SEA Games," he said.
"Not only that, I also want to participate in the International Sailing Federation World Championships, where qualifications begin this month."
HOW I RATE MY 2014: 4/5 stars
FACTFILE:
Name: Bernie Chin
Age: 15
Height: 1.76m
Weight: 64kg
School: Raffles Institution
Major achievements (2014): Langkawi Byte CII Asian Championship (1st Boy) Dutch Youth Regatta, Laser 4.7 class (1st Overall & 1st Boy) Youth Olympic Games Men's Byte CII (Gold)
haiqals@sph.com.sg

This article was first published on January 03, 2015.
Get The New Paper for more stories.