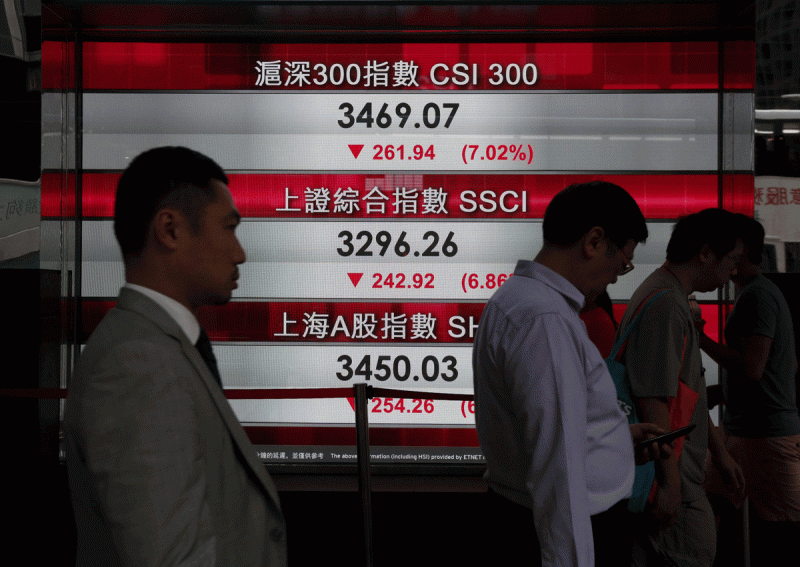 SHANGHAI - China's onshore yuan weakened against the dollar on Wednesday to its lowest level since March 2011 after the central bank set its official midpoint rate for the currency.
Offshore yuan slumped to 6.7250 in late afternoon trade, its lowest since offshore trading began in 2010. Weakness in the yuan, or renminbi, weighed on currencies across Asia.
The People's Bank of China (PBOC) set the yuan midpoint rate at 6.5314 per dollar prior to the onshore market open, 0.22 weaker than the previous fix 6.5169, the biggest fall between daily fixings since Nov. 3.
The spot market was trading at 6.5590 per dollar at 0830 GMT in late Shanghai trading.
The RMB's weakness has been gathering speed, HSBC said in a research note, suggesting China's FX policy could be becoming more flexible sooner rather than later. It sees USD-CNY finishing 2016 at 6.70 with greater flexibility.
"In our view, the PBOC has been bolder than many had expected, including us, when it comes to currency flexibility recently. But more time is still needed to assess if FX policy has indeed truly changed," HSBC said.
A dealer at an Asian bank in Shanghai, referring to the sharply weaker midpoint on Wednesday, said the central bank may be testing if investors can accept a faster pace of depreciation.
The market is anticipating more yuan weakness in 2016, based on the slowing growth of the world's second-largest economy and divergence in the value of the yuan onshore and offshore.
Activity in China's services sector expanded at its slowest pace in 17 months in December, a private survey showed on Wednesday, in a further indication that China's economy may be losing steam.
On Wednesday, offshore yuan was trading 2.29 per cent softer than the onshore spot at 6.7130 per dollar, the widest spread between the two markets.
On Tuesday, the central bank was suspected to have intervened in the onshore market to support the yuan, but its intervention was seen an expedient step to cushion a slump in China's stock market on Monday.
The PBOC had largely stayed on the sidelines on Wednesday, traders said.
Beijing has said it is moving towards valuing the yuan's exchange rate on a trade-weighted basis, loosening the Chinese currency's peg to the greenback.
As such, the PBOC appears to have largely tolerated the yuan's weakness against the dollar since late November when the International Monetary Fund announced its admission of the currency into its benchmark Special Drawing Rights basket, leading to a 2.1 per cent depreciation by Wednesday.
The onshore yuan was trading against the euro at 7.0358, 0.1 per cent softer than the previous close. It weakened 1.1 per cent against the Japanese yen at 5.5351 to 100 yen.