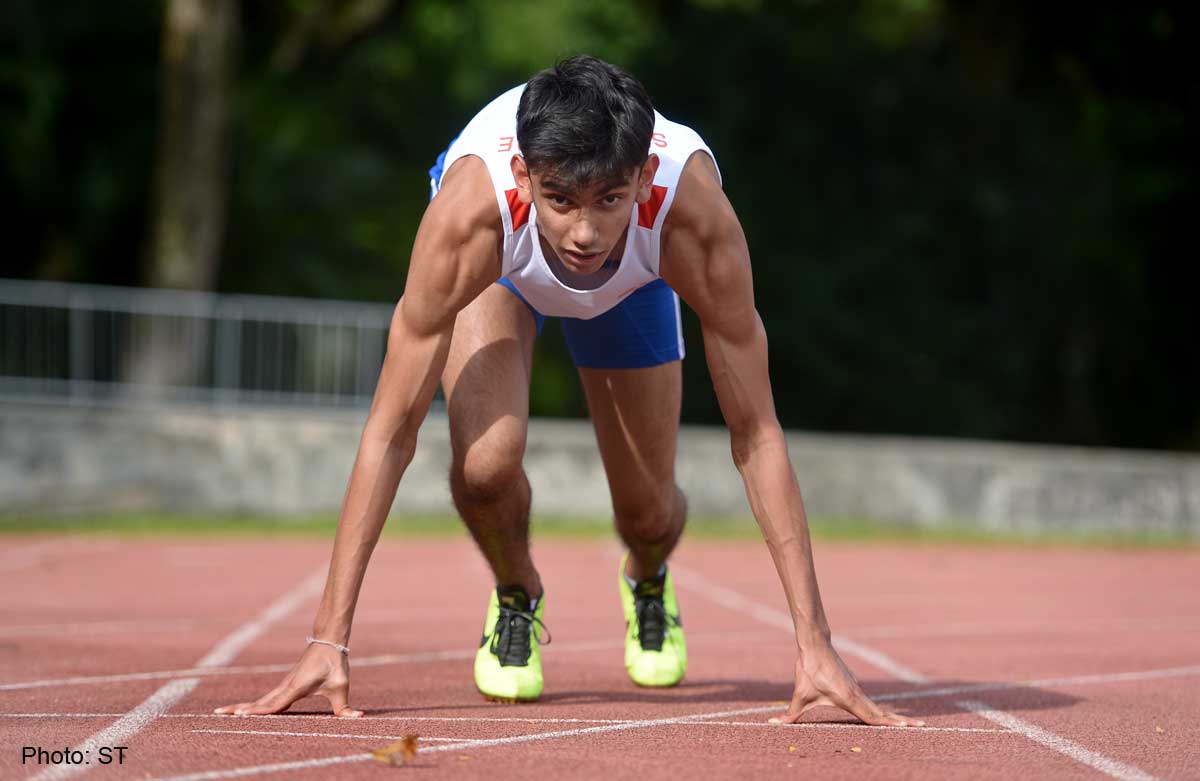 SINGAPORE - The 40-year-old national 400m record of 47.4 seconds, set by Godfrey Jalleh in 1974, is more than twice Zubin Muncherji's age.
But, clearly, that did not matter to the 17-year-old at yesterday's Asian Junior Athletics Championship's 400m semi-finals when he set a new mark with a time of 47.29 seconds.
Still buzzing after his record-breaking run, Zubin told The Straits Times in a phone interview from Taiwan last night: "I'm still in shock. I don't know what to say.
"When I crossed the line, I knew the junior record was on but I found out about the national record only after officials in Singapore told me."
It was an astonishing feat for the Anglo-Chinese Junior College student who shaved an incredible 1.40sec off his previous personal best of 48.69sec at the Taipei Municipal Stadium.
His feat is still behind the sixth-best timing at the last Asian Games - 47.05sec - which is the Singapore National Olympic Council's qualifying mark for the September Asiad.
However, coach Kamarul Zaman believes his protege can go faster. "I'm not surprised by his record. He is tall, has long strides and works very hard. I believe he can go under 47 seconds," he said.
The 1.88m-tall runner attributes his quantum leap to a new training regimen, with added emphasis on weight training and muscle growth.
With the help of national sprinter Muhammad Amirudin, Zubin has been hitting the gym more regularly since January, gaining 4kg in the process.
The record also justified his and his parents' decision to take time off school to train for a month in Indiana in the United States, an intensive stint which he credited for his improvement.
Said Zubin: "I want to thank my coach and Amirudin who have helped me.
"I also want to thank the officials at the Singapore Athletic Association for all the opportunities they have given me."
The 400m final takes place this afternoon and he believes he has more to offer.
He said: "I died off in the last 50m so there's definitely room for improvement."
He is eyeing a gold medal at next year's SEA Games. His record would have won him a silver at last year's edition.
Said Zubin: "Next year's SEA Games is the big dream. I'm hoping to win a gold on home soil.
"I'll keep working hard, stay motivated, trust in my coach and my ability, and see where that takes me."
This article was published on June 13 in The Straits Times.


Get a copy of The Straits Times or go to straitstimes.com for more stories.
siangyee@sph.com.sg