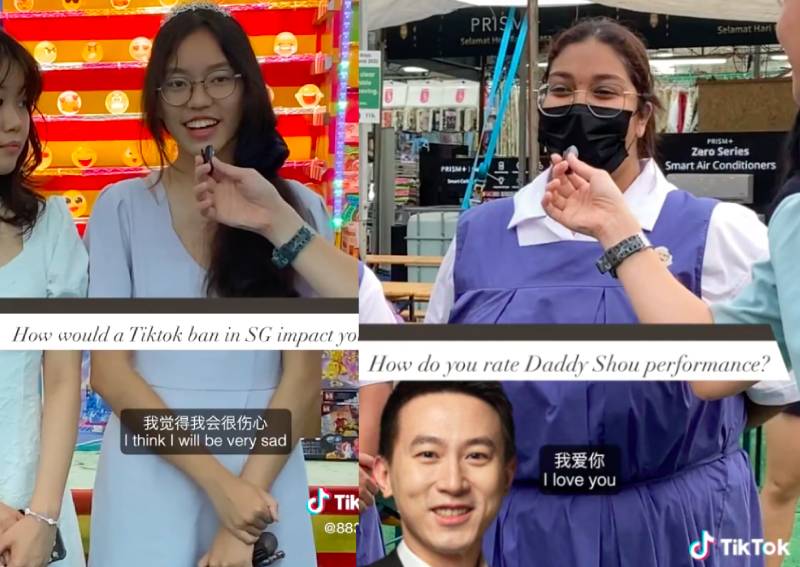 What if TikTok was banned in Singapore and how will it affect you?
That's the question posed to some young Singaporeans in a video published on Saturday (March 25) by 88.3 DJ Jimmy Koh on the social media platform.
As expected, some who were polled reacted negatively to the hypothetical situation.
"I guess I'll find another way to spend my free hours," said one respondent after letting out a thoughtful sigh.
Another person noted: "I think I'll be very sad, because usually I use TikTok to watch cats. I'll probably [have to] turn to Instagram instead."
https://www.tiktok.com/@883jimmy/video/7214166790920850690?_r=1&_t=8awCUlfwToI
However, it seemed like most Gen-Zs saw the platform as just another digital distraction from their daily lives, of which there were many substitutes.
"I'll probably switch to YouTube. It's better if I'm off TikTok anyway because it shortens my attention span," said one young woman matter-of-factly.
Another shared that she'd be "more productive". "I turn to TikTok for entertainment, so I think I will stop using my phone so much."
Only one respondent, a student in uniform, admitted that she's "not a fan of TikTok" as she "finds it boring". Her friend, however, had the opposite response.
"I'll cry," said the friend to the question. "My world revolves around TikTok," she added.
When asked what she would do if the platform were to be actually banned in Singapore, she answered simply: "Beg for it to come back."
The possibility of TikTok getting banned here seems remote, but the issue is currently being hotly debated in the US, where the government is considering restricting access to the platform due to security concerns.
TikTok, which is owned by Chinese company ByteDance, has come under US scrutiny in recent months due to fears that TikTok and ByteDance may place sensitive user data into the hands of the Chinese government, The New York Times reported. 
On Thursday (March 23), TikTok's Singaporean CEO Chew Shou Zi was grilled during a US Congress hearing, as lawmakers sought to enforce a nation-wide ban on the app.
His calm and steady responses while under fire, however, have won him plaudits online.
Across social media platforms and on TikTok especially, fans swooned over his appearance and demeanour, earning him the moniker "Zaddy" — internet slang for a fashionable and attractive older man.
In the video, too, some interviewees rated Shou Zi's performance favourably, praising his even temperament. Not all, however, were clued in on the debate.
Commenters' main gripe with the clip appeared to be towards the Gen-Z respondents' apparent ignorance to the reasons why US wished to ban TikTok in the first place.


candicecai@asiaone.com