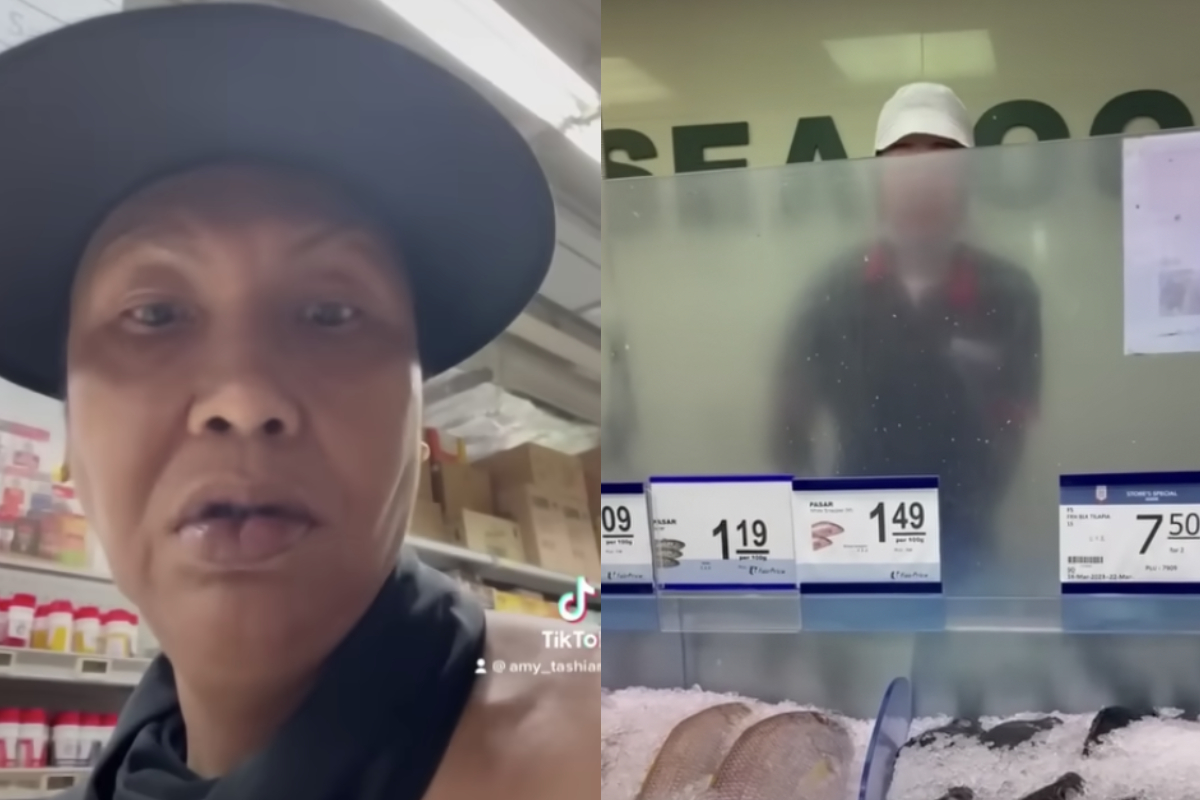 Exasperated by a FairPrice staff who couldn't speak English and misunderstood her instructions, one woman decided to air her grievances on social media. 
On Tuesday (March 22), local influencer and model Amy Tashiana posted a nine-minute clip of her interaction with a female staff at the City Square Mall outlet of NTUC FairPrice on YouTube. 
The video shows a frustrated Tashiana trying to communicate with the staff behind the counter cutting fish. 
"You cannot speak English, and you're working here in NTUC in Singapore?" 
Tashiana then switches to Mandarin and asks why the woman is unable to speak English. 
"I'm going to complain to NTUC that you cannot speak English," she told the staff.
"I'm learning!" replied the woman.
Unable to understand her reply, Tashiana then approached a team leader at the supermarket to seek some recourse. 
Speaking to the team leader about the problem, Tashiana insisted that the woman should not be working behind the counter if she cannot speak English. 
"If she cannot communicate, how can you put her there?... It's not miscommunication, she cannot communicate!" 
She also told the second staff member that the woman had cut her fish wrongly. She had also chopped off the entire fishtail — which Tashiana deemed as an incorrect way of handling the fish. 
"She should know how to clean the fish lah, the tail also must cut like pedicure. Tail also don't know how to cut then what is she doing there?" she questioned. 
Eventually, the male staff brings Tashiana back to the fish counter to rectify the mistake made by the woman. 
The staff had also offered to return the chopped-off tail to Tashiana, who replied snarkily: "No need to give me back the tail, ask her go and cook tonight, the tail!" 
Tashiana's video was also reposted on Reddit, where some netizens empathised with her frustration, saying that it's ridiculous to expect customers to speak and understand Chinese. 
Others however felt that even though the staff doesn't understand English, it doesn't give Tashiana "the right to berate the staff".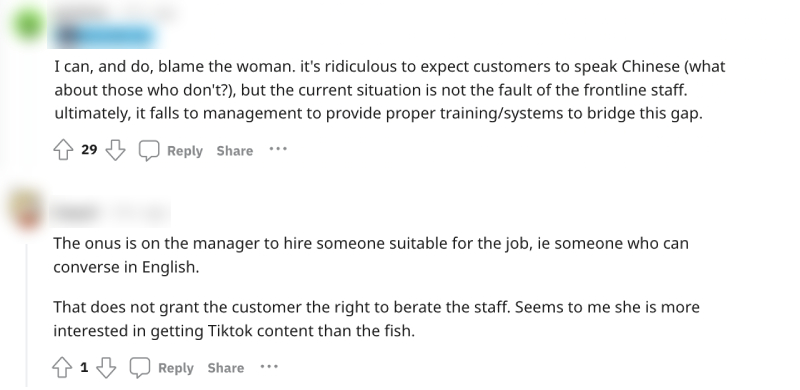 When contacted by AsiaOne, FairPrice said that they are aware of the video posted online regarding this incident. 
"We acknowledge that the customer in the video could have had a better shopping experience and rest assured that we will conduct a thorough investigation into this matter," said a FairPrice spokesperson.
The supermarket chain requests the customer to contact them directly at 6380 5858 or via fairprice.com.sg/help/feedback-general to provide more details.
The company added that training programmes on food preparation, safety and cleanliness are in place to ensure that employees have the skills and knowledge to handle and prepare food safely. 
And that customers can be assured of their 'Freshness Guaranteed' policy where they can return or exchange fresh food products that are of an unsatisfactory quality at the same store of purchase, together with their receipt. 
"We would also like to remind all our customers to treat our employees with respect as our in-store teams do their best daily to provide a pleasant shopping experience for all," said a FairPrice spokesperson. 
AsiaOne has contacted Tashiana for comment.
claudiatan@asiaone.com