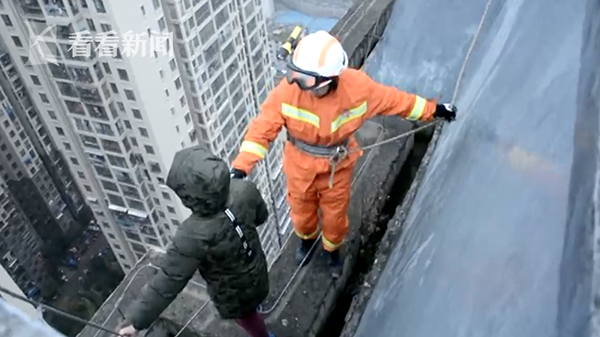 Just as some adults drag their feet to work, it is understandable that children go through bad days too where they just don't want to go to school.
But one 8-year-old boy took this reluctance to the extreme by threatening to jump off the roof of a 33-storey building. 
The incident occurred in the city of Bijie in China's Guizhou province, on Sunday, Oct 21, just before the start of a brand new school week.
Workers on a construction crane who called the authorities reportedly spotted the primary school pupil standing precariously on the edge of the building, wailing: "I don't want to go to school!"
According to his parents, the situation resulted after the boy's threats escalated and spiralled out of control.
Firefighters who got to the scene dispersed the crowds gathered around, to prevent causing the boy additional stress. 
The boy's parents, teacher and rescuers collectively spent 10 minutes to persuade him to step off from the ledge.
Footage showed a firefighter securing the boy with a rope before lifting him up and over the building wall to safety.
According to Shanghaiist, the boy was trembling and crying softly about not wanting to go to school when the firefighter eventually reached him. 
The case has prompted queries as to whether children are under too much pressure in school.
Earlier this year, another primary school kid in Fuzhou, Jiangxi province attempted suicide by jumping from the 15th floor of a building. The girl survived due to air cushions placed on the ground by rescuers. She reportedly felt stressed as she had not finished the homework that was assigned over the winter break.
In Singapore, school stress has been blamed for the suicide of an 11-year-old boy who failed his exams. 
HELPLINES
Samaritans of Singapore (SOS): 1800-2214444
Singapore Association for Mental Health: 1800-2837019
Sage Counselling Centre: 1800-5555555
Care Corner Mandarin Counselling: 1800-3535800
candicec@sph.com.sg