Chinese man abducted as child leaves billionaire adoptive family, discovers birth parents are multi-millionaires
PUBLISHED ON
February 10, 2023 8:49 AM
By
Wong Dao En
While many of us spend much of our lives pursuing the riches, there are some who naturally attract wealth.
Take this Chinese man for example.
Kidnapped some 25 years ago as a toddler, he was subsequently adopted by a billionaire family.
And after reuniting with his birth parents recently, he found out that they are multi-millionaires, reported the South China Morning Post. 
In June last year, Mei Zhiqing was nicknamed the "natural-born fu er dai (rich second-generation)" and the "abducted young master" on Chinese social media when his reunion with his birth parents went viral.
In an interview with Jiupai News uploaded on Feb 3 this year, Mei went public about his decision to rejoin his birth family, quoting the old adage "money can't buy happiness".
Abducted outside home
Mei, now 27, was abducted as a toddler in 1997 while playing outside his home in Yunnan.
When his parents learned that he went missing, they embarked on a desperate and arduous search for their son for the next two decades – a process which Mei's father said got them acting like "two mad people".
Mei Xianhua and Pan Chang'e were migrant workers from Jiangxi province.
The trio reunited last June when the parents' friend helped them to match the DNA of Mei Zhiqiang, who was residing with his affluent adoptive parents in Fujian province.
Speaking to Jiupai News, Mei Zhiqiang said that he was adopted after another family who bought him from human traffickers ditched him for being "too thin and small".
But despite growing up with two elder sisters and a younger brother who are all biological children of his adoptive parents, Mei claimed that he always had a "vague feeling" that he was not their offspring.
He also never went to university after finishing his secondary school studies and worked for a hospital owned by his adoptive parents instead, who believed that "studying was useless".
'Their love is different from ours'
Meanwhile, Mei's birth father said their family were never able to celebrate Mid-Autumn Festival properly after their child went missing.
His birth family – which also includes his elder sister and two younger brothers – would also celebrate his birthday annually without fail.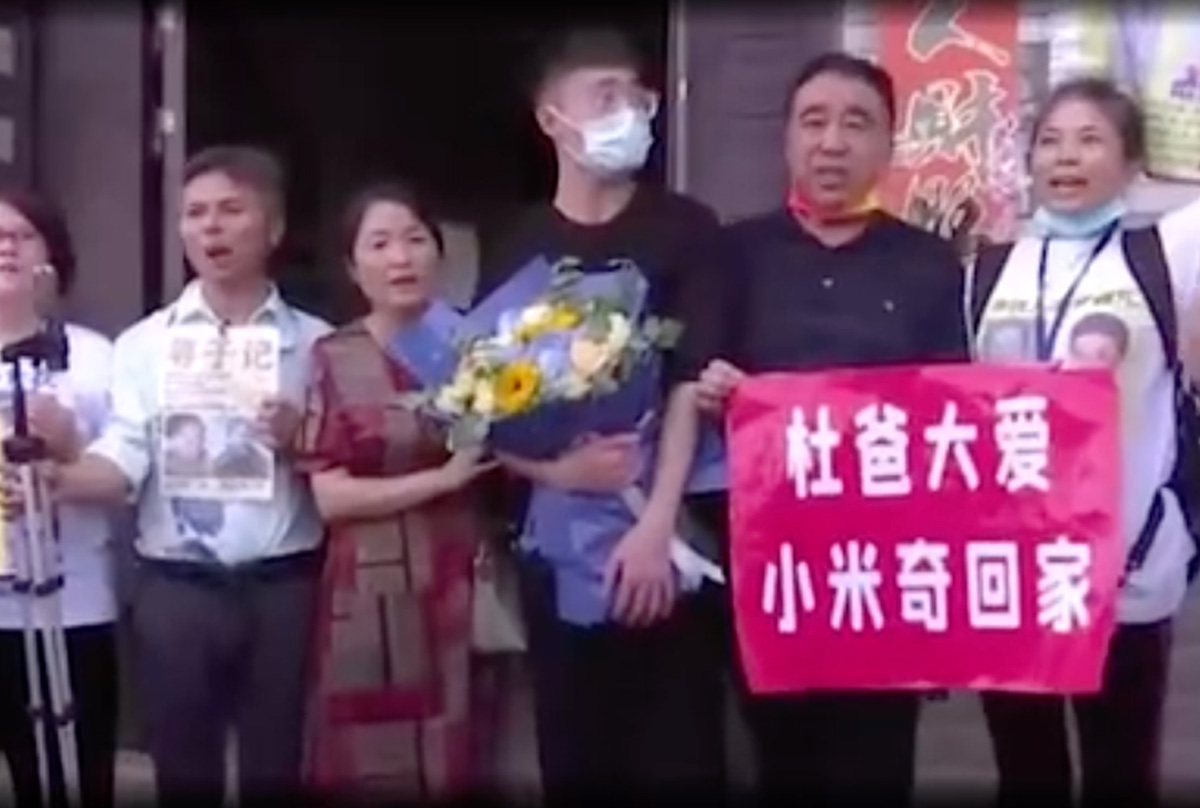 They even bought a house for him, holding on to the belief that he would eventually return to them.
Mei is now working for his biological parents' family business, a hotel supplies firm, and his father said that he would teach him how to run a company and eventually hand the company over to him.
"No matter how rich they are, their love is different from ours – the love of birth parents," Mei's father told Jiupai News.
Hanging out with his birth family, Mei added that he didn't feel strange as he could feel that his biological family's love was genuine.
He also wishes to live a simple and ordinary life in the future, he explained. 
According to South China Morning Post, child abduction in China was rampant between the 1980s and 2010s, right after then-president Deng Xiaoping imposed the one-child policy in 1980.
As such, headlines documenting stories of abducted children reuniting with their birth families have become relatively commonplace.
Although cases of child trafficking in the country has been dwindling, it still remains a persistent issue, with policymakers making it a top priority to tackle it in years to come.
Rejected by birth parents
Some trafficked children, however, were not as lucky as Mei.
In January last year, a Chinese teenager from Hainan who was sold by his biological parents at birth allegedly committed suicide after he was rejected by his parents again.
Liu Xuezhou, 17, penned a lengthy note on Weibo and Douyin detailing that his birth parents had cut him off after they reunited a month earlier.
The week prior to his death, Liu had publicly argued with his birth parents after he asked them for a separate place to live, saying that they refused to let him live with them or visit their homes.
He then asked them to buy or rent a place for him, which his mother later told the media she can't afford.
The row with his parents also led to a wave of online abuse, which he said had become unbearable.
ALSO READ: 90-year-old woman reunites with daughter she gave away 58 years ago
wongdaoen@asiaone.com