APOL wants you to know that their chairs are really not just for gamers
When I referred to APOL's line of desk chairs as gaming chairs, Jason Lin was quick to correct me. 
"They're actually ergonomic chairs," affirmed the company's co-founder, who figured that naming his startup A Piece Of Lifestyle (thus, APOL) would associate the brand with something more Herman Miller than Secretlab. 
But really though, everyone knows a gaming chair when they see one. The race car bucket seats. The flashy neon colours. The high backrest that can tilt way back. The adjustable armrests that can move all sorts of ways. Plush foam cushions that you can sink into. Everything that gaming chair icon DXRacer pioneered in the mid-aughts, you can find in an APOL chair. 
But Lin and his business partner Toh Leong Chin started the company not with the intention to corner the lucrative gamer market; they've got their sights set on a bigger picture. The APOL founders believe that their chairs are built to suit everyone, from CBD office workers with lower back issues to students burning the midnight oil to prep for exams.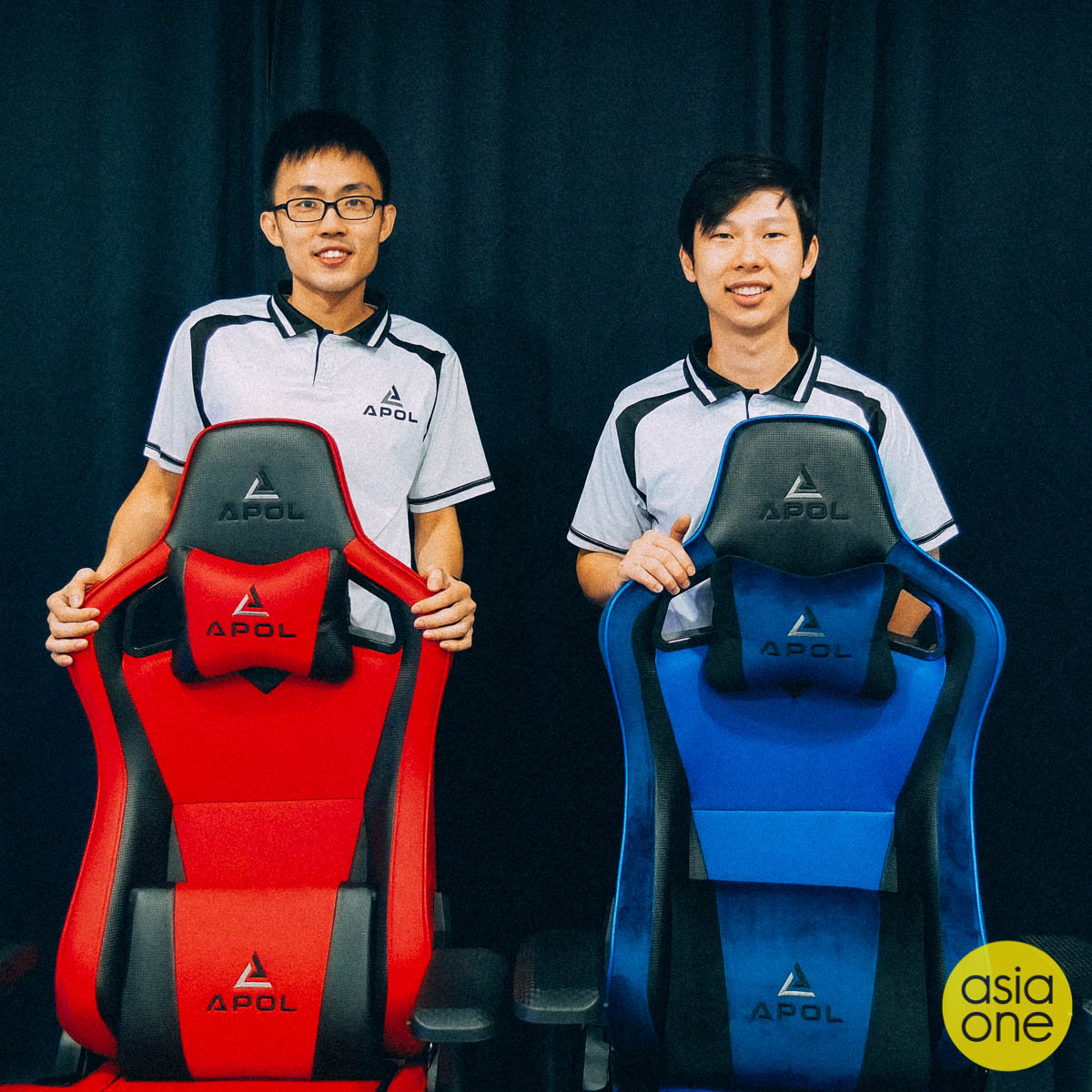 Great lumbar support is serious business, after all. After years of endearing itself to the esports and social media influencer crowd, homegrown gaming chair makers Secretlab secured its first external investor earlier this month in the form of Heliconia Capital Management, a subsidiary of state-owned enterprise Temasek Holdings. The partnership's valued between $200 million and $300 million, according to The Straits Times, and that's a decent chunk of change for a brand that makes chairs with wheels. 
Looking for lumbar
But what does APOL provide that other brands don't? For one, affordable ergonomics, stated Lin when I dropped by the company's showroom in Ang Mo Kio's industrial district. The lack of comfortable, wallet-friendly desk chairs in the local market pushed the 33-year-old to quit his real estate career and make his own series. 
[embed]https://www.youtube.com/watch?v=_x-6Oz_F_uU[/embed]
"I was changing my chairs a lot of times. I went online to do some research and found some good ergonomic chairs — but they're all very pricey. When I looked at all the good brands available here, the options are limited and pretty expensive too," said Lin. 
Tired from years of backaches, he grew frustrated with the limited solutions he could get for a lower price range, and Secretlab's chairs were off the table due to its relatively high prices. So he got some way cheaper chairs from e-commerce sites, but those turned out to be of poor quality. Being a cheapskate and regular patron of Aliexpress, I can attest to his assessment.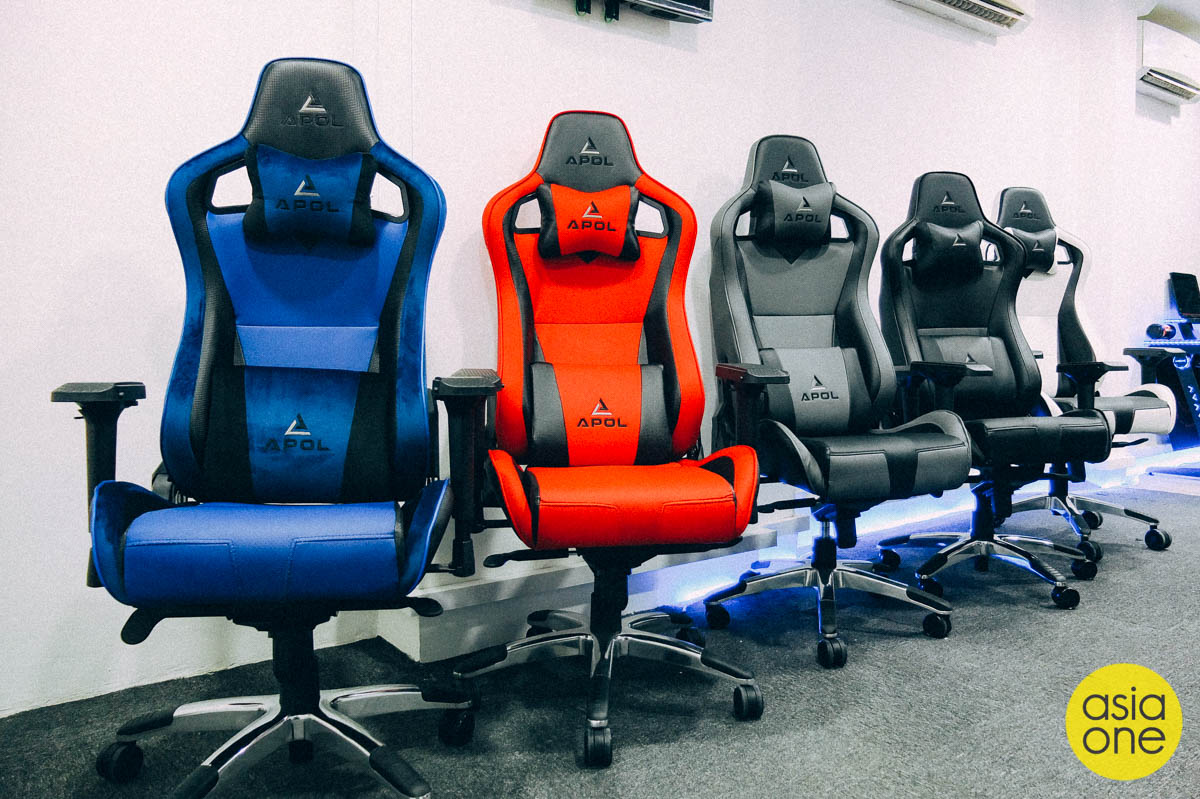 "To be honest, if we had a lot of options for good ergonomic chairs to choose from in Singapore, I wouldn't have started in this business. It's a great opportunity — if I as a consumer can't get a very good chair within a reasonable price range, it would be good to provide it for other consumers," Lin added. 
In the case of pricier chairs similar to APOL's, Lin notes that the bigger price tag is more due to the brand's name and marketing cost more than anything else.
Breaking back
Having known each other since secondary school, Lin, Toh and another associate jumped into the business together in 2017, spending months researching more about how to source such chairs. The path led them to China, where they had to visit various industrial districts to find a manufacturer that could fit their standards. 
After some hiccups at the start (the first chair they produced turned out to be pretty defective), APOL started rolling out their Classic series — basic racer-seat chairs that are pretty easy on the wallet with a starting price point of $248. It wasn't until last December that the company founders really found their footing with their signature series: the Kraken and the Behemoth. 
The one I was sitting on during our interview was the Kraken, a comfy throne that hugged my lower back quite snugly. It's also the one that Lin personally designed. 
"I wanted something that has an ergonomic, curved shape that supports the lower portion of my spine. Sometimes when you're aching, you want something that can properly wrap around your back," Lin enthused. 
[embed]https://www.facebook.com/APOL.SG/posts/2063887407242141?__tn__=-R[/embed]
As for the Behemoth, it was designed in response to his friends' feedback about wanting something that offers a lot more space. Thus the flatter, wider seat base that can accommodate bigger folks and or just those who like to sit cross-legged on chairs. 
[embed]https://www.facebook.com/APOL.SG/posts/2067552686875613?__xts__%5B0%5D=68.ARCrIM-PqYeWEIKWHnzhwL3kRxjbTLYi8doAx8FPD8kAE6BAW4cUDi[/embed]

It's $398 each for either of APOL's higher-end chairs, which is quite reasonable when Secretlab's cheapest offering goes for $429, while the ones by the likes of Steelcase and Herman Miller often hit above the $600 mark. Lin has an argument against Ikea chairs as well. 
"If you go to Ikea and look through all the ergonomic office chairs available, they're either priced the same (as APOL's items) or way more expensive because they're designer items. In terms of sitting comfort…" Lin shook his head and laughed. 
The iron price
Here's one long-held issue I have with gaming chairs. What's with the massive price tag? As amazing as Secretlab's products are, the complaints found online allege that their PU leather material will typically peel and flake off after a year of usage. (Secretlab has since countered that less than 1 per cent of users worldwide actually face this issue, and even so, it mostly occurs after 36 months on its older series).
But props to the company for acknowledging the issue. Secretlab's 2020 series now comes with an improved PU leather — rigorously tested and certified to be four times more durable than regular PU leather — and a 5-year peel protection guarantee.
Still, the issue lies with the pricing — why am I paying so much for gaming chairs anyway if everyone knows they're made for cheap in China? 
Toh explains that the scale and level of manufacturing technology in China has actually increased exponentially in the last decade, and with that, so has the cost price. 
"There are still a lot of players across China of course, and you can still find really cheap manufacturers. As consumers ourselves, we fully understand the concerns about pricing," Toh states. 
"But what general consumers don't see on the surface are the choices we make to ensure that the quality that goes into the mechanisms and materials are good enough to deserve our price tag." 
What makes APOL different from the rest of the pack, Toh said, is that they're really more of an ergonomic chair brand than a gaming chair outfit. Even if their chairs do look like something that'd fit perfectly in a Twitch gameplay live stream. 
[embed]https://www.facebook.com/watch/?v=423803441536595[/embed]
"For us, that's not really our general direction. We're trying to focus more on the benefits of how our ergonomic chairs can fix sitting postures and back pains — we're working with medical professionals and chiropractors to teach us how to make APOL chairs better," he said. 
"It creates more value for customers. We want them to know exactly the health benefits of buying chairs that fit them better." 
ilyas@asiaone.com