The global games market was predicted to be worth US$134.9 billion (S$183.7 billion) last year, according to a Newzoo research, and the largest sector of this was (no surprise here!) mobile gaming with a 47 per cent market share. That's US$63.2 billion!
No wonder the world of gaming smartphones is such a competitive one, with the likes of Razer, Huawei and ASUS ROG all vying for gamers to use their respective Android smartphones to play PUBG Mobile, Fortnite, or Mobile Legends.
And now ASUS has announced the ROG Phone II, only their second gaming smartphone in less than a year, upping the ante with what is quite possibly the most powerful smartphone on the planet - gaming be damn.
The ROG Phone II has an incredibly powerful chipset, a fast and beautiful looking OLED display, and one of the biggest batteries I've seen in a smartphone. As mentioned a while back, the handset will be the first to be powered by Qualcomm's Snapdragon 855 Plus chipset. It's based on the Snapdragon 855, which is already available on quite a few modern smartphones, but its increased processor and graphics speeds will ensure that the ROG Phone II gives you a performance advantage in any PvP sessions. ASUS has claimed that its cooling system, just like the original ROG Phone that includes a vapour chamber and vents, will prevent throttling of the 855 Plus' peak speeds.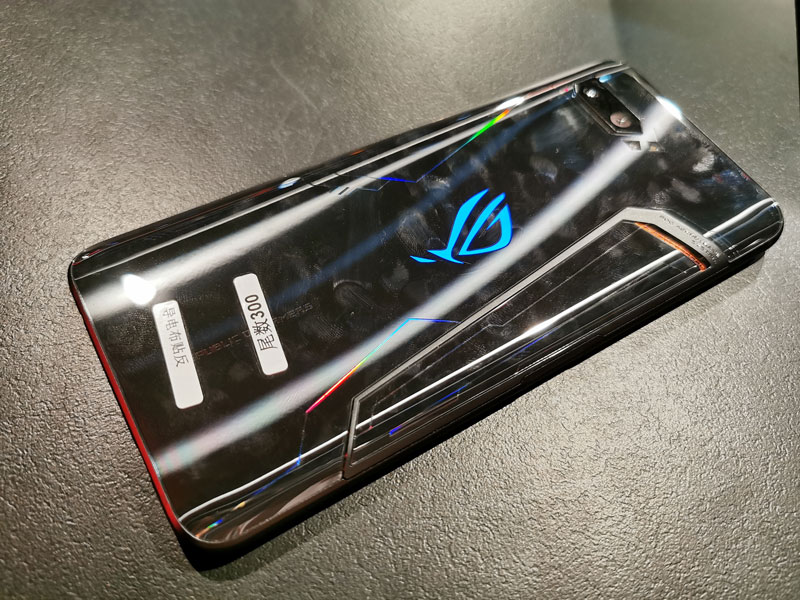 The glossy surface of the phone meant that smudges can be a sight for sore eyes. Photo: Hardware Zone
The ROG Phone II's display also received a major upgrade over its predecessor. It now sports a 1080p AMOLED panel with a fast 120Hz refresh rate. The screen also comes with an integrated fingerprint sensor and support for 10-bit HDR. Competitive mobile gamers will also be pleased to know that the touch sampling rate has been improved, at 240Hz, and ASUS has claimed its touch latency of 49ms is the lowest of any phone in the market today.
Another impressive feature in the ROG Phone II is its massive 6,000mAh battery, which is among the biggest I've seen in a smartphone. According to an ASUS executive, who have been using an engineering sample version of the phone for the past month, he only needed to charge the phone once every two days. This includes normal usage (emails, Facebook, YouTube, etc) as well as having his winner winner chicken dinner moments in PUBG Mobile.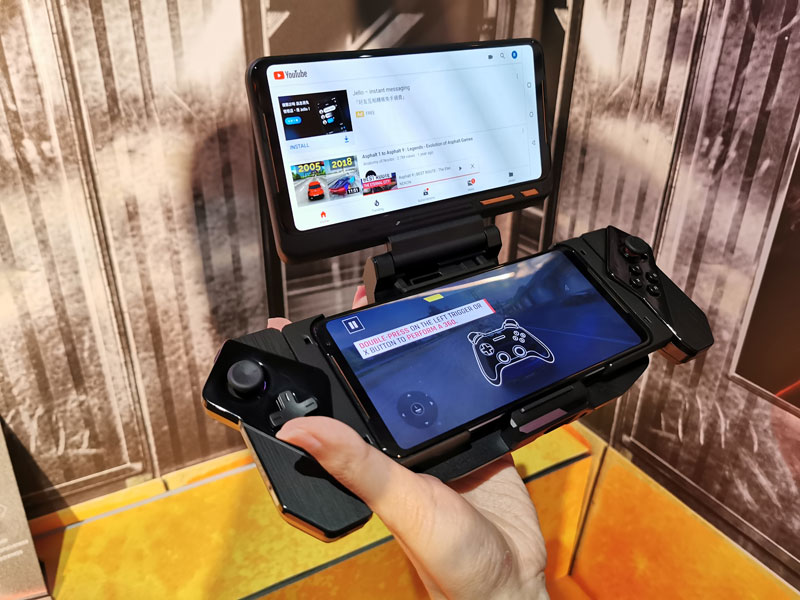 Photo: Hardware Zone
The original ROG Phone's most jaw-dropping feature was its suite of gaming accessories that came in a not-so-subtle trolley suitcase, and ASUS will be updating the range for the new phone. This includes tweaked versions of the dual-screen TwinView dock, and the Nintendo Switch-like Kunai gamepad attachment that comes with two split controllers attached to both ends of the ROG Phone II.
The rest of the phone looks almost identical to the original ROG Phone, except with a 6.59-inch body instead of 6-inches, an impressive 48MP camera instead of 12MP, a 3.5mm headphone jack, and two USB-C ports. It also has 12GB of RAM and up to 512GB of storage.
ASUS declined to reveal the price for the ROG Phone II, but I was told to expect it to come at a level similar to the original phone. Considering that came at a fiery S$1,598, I'd hazard a guess that the ROG Phone II will likely cost more. So, will the device be worth its high price tag? We'll let you know when we review it. But one thing is for sure, that's some expensive gaming privilege, if you ask me.
In a partnership with Tencent, the ROG Phone II will first be available in China this month. The phone will be available for sale this September globally, with launch details for this region to be announced later.
This article was first published in Hardware Zone.