Brainwave recorders, eye trackers, sweat detectors and emotional involvement readers… pretty advanced neuroscience gizmos to gauge reactions towards a short film. 
And not just any film. It's a flick commissioned by PUB, Singapore's National Water Agency, to emphasise the importance of "family values and the preciousness of water" — pretty standard messages to get folks to be good citizens.
Here's the thing though: the film put out on March 25 is genuinely, legitimately moving. Heck, even the manliest of men — local football legend Fandi Ahmad — couldn't help but weep after watching it. 
The Frog Prince is part of PUB's commemoration of Qing Ming, the traditional Chinese festival taking place today (April 4), when families visit temples and columbaria to conduct rites, prayers and give offerings to their deceased ancestors. With the ongoing coronavirus outbreak though, hosting hundreds of thousands of devotees will not be possible, so the rituals are being moved online.
As for the film itself, it was written and produced by Tribal Worldwide Singapore, the creative agency responsible for PUB's Hari Raya short last year, which also managed to move people to tears. Directed by award-winning filmmaker Caleb Huang, the 10-minute flick is an ode to honouring the values passed down by parents to their children.
While also encouraging people to conserve water, of course. 
Finished watching? Alright. Once you've wiped the tears from your eyes, remember you're not strapped to an array of gadgets to record how emotional you got. 
In a follow-up, Tribal Worldwide Singapore invited famous father-son duos for a special screening of The Frog Prince. And since sometimes men don't fare that well when it comes to expressing feelings (accurate) with each other, the agency let modern technology do the job for the four pairs of men, including Fandi Ahmad and his football star son Ilhan, as well as renowned thespian Adrian Pang and his eldest son Zachary, who's following in his father's acting footsteps. 
It became clear that the film hit all the right emotional chords with the four fathers involved in the screening.
"The story showed what people living in that era had to go through," said Tan Jwee Meng, the father of actor Andie Chen. Fandi proved to be the most teary-eyed of the lot as he shared how he imparted values such as honesty and fairness to Ilhan and his four other children.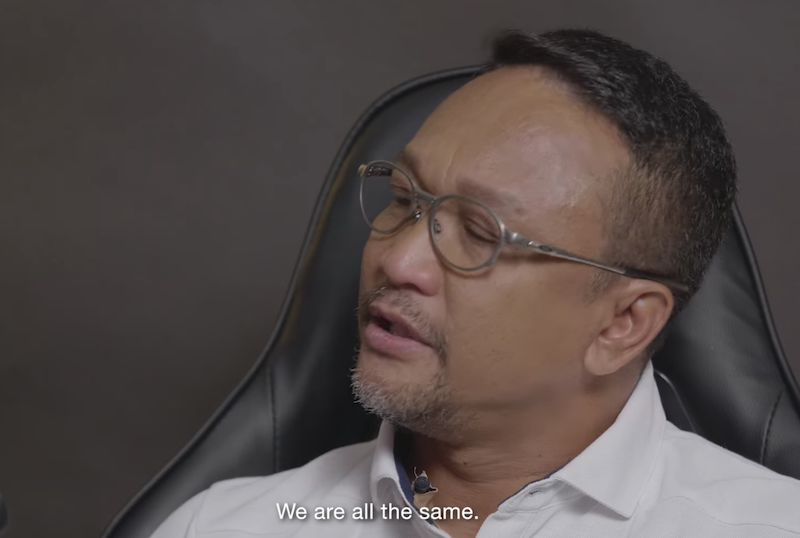 Perhaps the neuroscience gadgets weren't necessary to get some emotional reading after all.
ilyas@asiaone.com