Upcoming changes to the LiveUp membership programme have proven to be pretty unpopular with its current members — enough for them to consider ditching it altogether. 
In its current iteration, LiveUp's benefits look legitimately attractive. For just $49.90 a year, members get to enjoy big savings and rewards from multiple online services, including the likes of Lazada, Redmart, Netflix, Grab and Foodpanda. It just made sense to be a member. You get months of free Netflix subscriptions; significant rebates on Redmart purchases; and (most importantly) delivery charges waived for all orders made on Lazada. 
But that'll change come July 1. LiveUp is modifying its benefits pretty dramatically, and it begins with an extra $10 per year to be a member. The second biggest change? No more free delivery for Lazada orders — except for purchases above $40 on RedMart, that is. No more free delivery on orders from Lazada's Taobao collection too.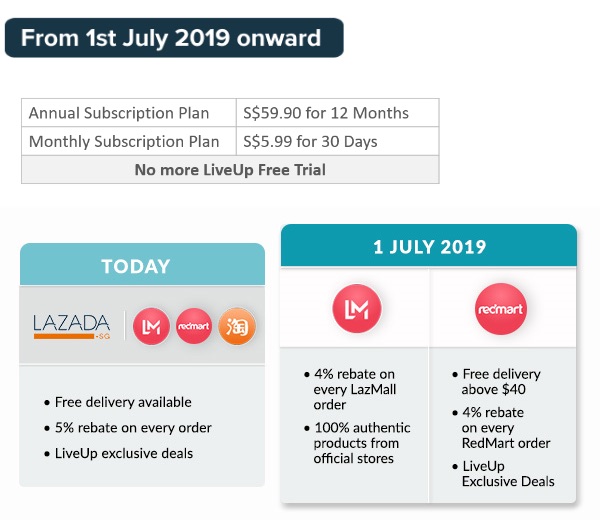 Lazada confirmed to AsiaOne that the popular e-commerce site is doing away with its popular LiveUp membership benefit as part of its regular review of the programme. 
When probed, Lazada touted that the increase in rebate caps from $30 to $50 a month would benefit and reward regular shoppers, even if there are no longer free deliveries for anything outside of RedMart. 
That may be so, but the percentage of rebates will decrease. The current 5 percent rebates on every Lazada and RedMart order will drop to 4 percent next month. 
Lazada also acknowledged that the monthly rebate cap was originally $50 when LiveUp was launched, but decreased it to $30 months ago. Come July, it'll switch back to the $50 but Lazada didn't offer any reason behind the transition except asserting that it regularly reviews the LiveUp programme. 

"Aside from increasing the monthly rebate cap, we are also offering customers the added flexibility of a monthly membership to cater to different shopping needs," the spokesperson noted in reference to how folks can soon opt for a $5.99 monthly membership in lieu of an annual subscription plan. 
To be fair, Lazada has made it slightly more accessible for folks to purchase groceries on RedMart. LiveUp non-members are already able to enjoy free delivery for orders above $60, instead of the previous purchase requirement of $100. No change though for LiveUp members, who'll still get free delivery for orders above $40 and access to exclusive promotions. 
To combat the plague of scams like customers receiving prayer beads instead of what they actually ordered online, Lazada also highlighted that users can shop with a peace of mind on its LazMall shopfront, where genuine, authentic goods are sold. But really, that's been known since last year, when LazMall was launched. 
Unchanged LiveUp benefits include two months of Netflix subscriptions on them; $3 off every three Grab rides; free delivery on FoodPanda orders above $20; and other things that folks may or may not find valuable.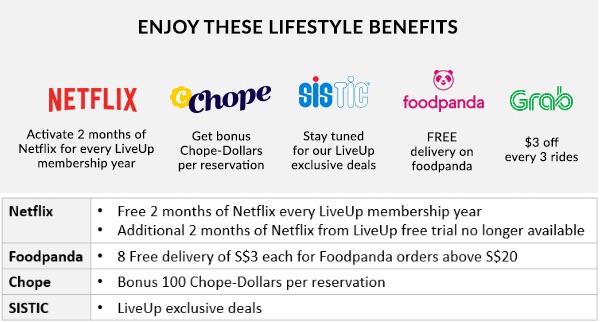 Despite their assurances that customers love rebates, we can't imagine that the absence of free delivery will make some long-time members happy. LiveUp seems to expect an exodus too — members are welcome to cancel their subscriptions and receive a pro-rated refund as long as they do so by August 31. 
Card
"We will continue to seek ways to enhance the overall shopping experience," added the Lazada spokesperson. 
ilyas@asiaone.com