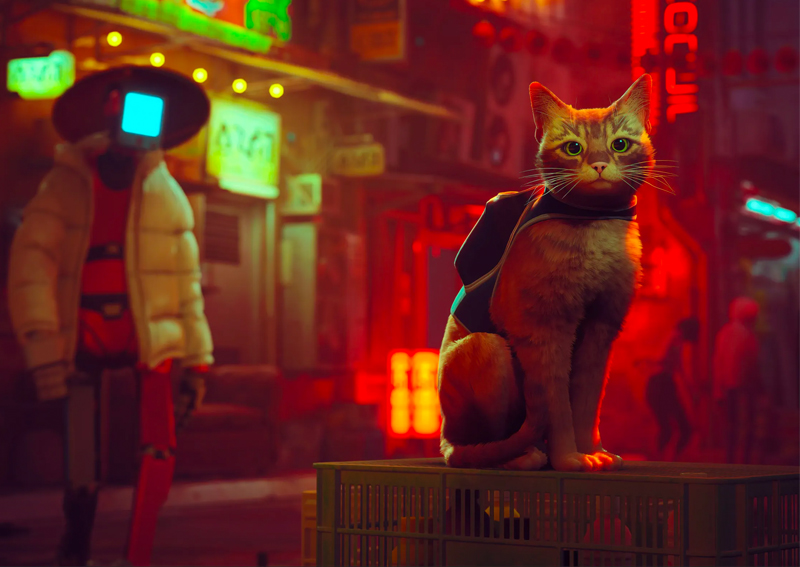 What's better than playing as a cat? Playing as a cat and raising money for real-life felines at the same time.
Annapurna Interactive, the publisher behind the highly-popular cyberpunk cat game Stray, has been raising money for various cat charities, prompting America's Public Broadcasting Service (PBS) to interview some of the parties involved.
"It was a bit of no brainer for us to see if there were organisations that would be more than happy to partner up with us," said marketing director Jeff Legaspi. The result is a very successful canvassing effort, with Brendan Gepson of animal rescue organisation, the Nebreska Humane Society, reporting a total earning of US$8,000 (S$10,600) in funds.
The haul is accumulated from US$5 donations from the public, given in exchange for game codes on social media. Its segment on the programme shows some extremely adorable rescue cats, including Paro, a little three-legged gray Tabby, whose owners did a charity stream of Stray that raised over US$1,500.
"The game is beautiful," says Rafael Almeida of the Brazilian rescue organisation Gatos De Francisca. "Playing with cats is fun. And the objective of the game is to reunite the cats [and] that's exactly what the shelter does after that. […] I love the game. The amount that we've raised in the raffle was the equivalent of spaying 25 cats".
On Annapurna's part, the team has been doing more than giving out codes. Part of its donation efforts also involved sponsoring a walkathon to raise money for the Stray Cat Relief Fund, which raked in over US$6,500 (US$4,000 came from the walkathon).
"[Raising that total] was just absolutely astounding," said Debbie Distanisloa from the organisation. "Just having a stray cat be the star of a video game is just-it's just amazing. We're really hoping that it can [create] some more empathy for the stray cat community.
"Help a stray cat when you see them on the street, please take them in. We don't need any more big kitties out there struggling on the streets".
It's nice to see a game that leverages on humanity's love of cats paying back towards cats that could do with a little bit more affection and care. Stay awesome, Annapurna!
ALSO READ: Video game Stray, in which you play cat dodging danger, is cyberpunk delight
This article was first published in Geek Culture.