Klipsch is one of those audio tech companies that's more familiar to audiophiles than a household name. Synonymous with high-fidelity vintage speakers, you'd probably have seen legacy models like its gorgeous Cornwall series in period films or the pages of a lux home interior rag. 
One thing Klipsch may not be noted for is affordability. And that's okay! The company's array of speakers and amps don't come (that) cheap, but brand loyalists know that you'll get your money's worth with the powerful, rich sound that arrives with each purchase. 
But banging on nostalgia and premium sound has left Klipsch well behind the rest of the pack when it comes to modern developments — like true wireless earbuds. It took some time, but it's finally here: Klipsch's own T5 True Wireless Earphones. 
The relatively unrushed pace to put these buds out is explained away with how the brand's engineers needed some time to perfect the tech good enough to meet Klipsch's standards. And they weren't joking around when they unveiled the T5 at CES earlier this year, where everyone got appropriately awed by the beefy Zippo-lighter-Esque battery case. 
Now that we've got our hands on it, the decision to make the charging case out of hefty brushed metal (instead of the usual plastic) does make a discernible difference in stylish allure. It's solid; it's proudly chunky; it feels good to play around with the clickety-clack of the lid. It doesn't snap open and shut as sharply as a proper Zippo, but the satisfying factor's still about there. Even though you might not be wanting to do any snazzy lighter tricks, what with the $349 in-ear monitors inside. 
But there's a reason for the T5 case being a big boy, and that is the battery life. Fully-charged earbuds already pack a whopping eight hours of battery life, and the charging case provides up to 24 additional hours. Pretty insane for wireless earbuds. I went a week without charging the case, and even with daily usage, there was still some juice left.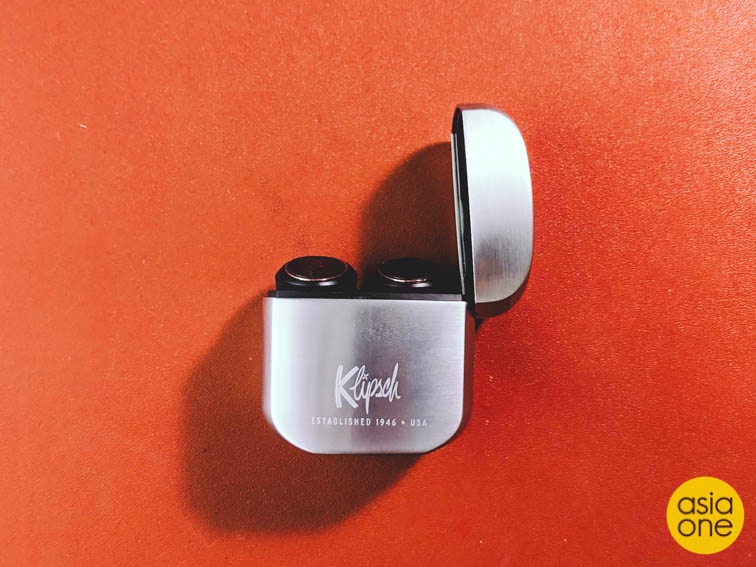 Let's talk specs. It runs on Bluetooth 5.0 and has an IPX 4 water-resistance rating, meaning that they can withstand sweat and rain when you're working out. It has four microphones for crystal-clear voice calls and access to the voice assistant of your choosing. Physical buttons are located on each side of the earbuds, with single or long presses controlling volume and playback. Doing so holds a degree of discomfort — each time you're pressing the buttons, you're plunging the oval-shaped ear tips into your ear canal. 
About those oval ear tips. Klipsch has its own proprietary contour ear gels that are "anatomically designed to accurately fit inside the human ear canal", which just means they've got oval-shaped openings. The shape, according to them, reduces ear fatigue and provide a fantastic seal for noise isolation. Which is more or less accurate when it comes to the T5 buds, which delivers sound straight into your ears way better than the Apple AirPods could. 
So far so good… until you face pairing issues when taking the T5 out of the box. Sure, forgoing wordy instructions in favour of minimalist Ikea-inspired directions looks good in the manual, but by Odin's beard, these were a hassle to set up without proper clarification. The manual asks you to press the button on the right earbud thrice to get it to pair, but what it doesn't tell you is that you'll have to push it quickly. After a couple of unsuccessful tries, I went ahead and just paired both earbuds to my phone, but this resulted in sound only coming out from a single side. 
Tech support (thanks to Klipsch's accommodating local distributors TC Acoustic) arrived, and this resulted in an even more confusing process to get the T5 to pair — something involving pressing each side five times consecutively and waiting for the lights to go purple. What I should have done, they said, is to just pair the right earbud to the phone, and the left will automatically sync. Which wasn't clear at all from the instruction manual. 
Coming off from years of quickly deciphering the guides (in mangled English) to pair dozens of Chinese wireless in-ear monitors bought off AliExpress, facing issues with the T5 says quite a bit about the coherence of its instructions. Or perhaps I'm just too spoiled from the silky-smooth pairing process of wireless earbuds from other brands like Jabra and Sony. 
After you do manage to get everything appropriately settled, sound quality is an absolute beaut. It's enough to forgive the connectivity issues because every thump of the bass and crisp midrange places the T5's audio clarity well above competitors like Shure's SE112 Sound Isolating Earphones or the Jabra Elite 65t. 
The acoustic engineering that goes into the T5 shows, but it's definitely not the hyperbolic PR-spun "best sounding most comfortable headphones on Earth". Still, pretty darn good for a pair of wireless buds — which will only get better when the Klipsch Connect App arrives sometime soon to let you mess around with EQ settings. 
That being said, we're talking about a $349 pair of true wireless earbuds, so nobody should expect anything less. It puts the T5 well in the premium range of things, which begs the question: Would you be willing to fork out that much for portable audio? If you're even asking yourself if the T5 is worth the purchase, you'll probably be perfectly fine with something less high-end. You just won't have the chance to flex with the clacking earbud case. 
ilyas@asiaone.com