To call Huawei's last couple of weeks a rollercoaster ride would be an understatement. The Chinese tech giant had several of its licenses and partnerships with various American companies cancelled after a recent US government order placed Huawei on a blacklist. 
One of the biggest licences that Huawei lost was none other than the Android operating system — Google was simply complying with the government order to revoke the licence. Future Huawei devices would no longer have Play Store access and Google app updates, support, and services. 
Yesterday, Google also quietly removed the Huawei Mate 20 Pro from its Android Q beta programme. And as sudden as the move was, the Mate 20 Pro was reinstated today. What a trip!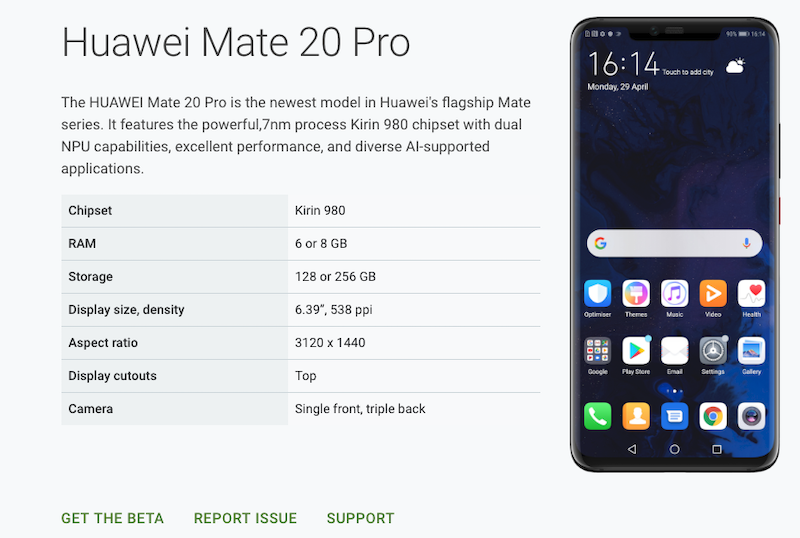 Screengrab from Android Q Beta devices page
9to5Google pointed out that the reappearance of Huawei's phone on the Android Q Beta page could have something to do with the temporary 90-day general license granted to the Chinese firm. What the license does is allow Huawei to provide service and support — including software updates or patches — to its existing handsets. 
Which is, of course, good news for both Huawei and its phone users. With the reinstatement, current devices should continue to receive updates with the third phase of Android Q, which brings features like dark mode, improved gestural navigation, live captions, and most importantly, security patches. 
The good news arrived just as the firm also got its membership with SD, WiFi and Bluetooth alliances restored, meaning future devices could have access to the aforementioned services. 
"[The reinstitutions are] a momentous update for the company in light of recent events that your readers may be keen to know about," wrote a Huawei spokesperson to AsiaOne. 
"While the current situation is still developing, we will continue to provide the latest updates as soon as we have them."
ilyas@asiaone.com