Google Stadia is here to disrupt gaming for good, and what better way to do so by having its own video showcase (ala Nintendo Direct) a week before E3 — gaming's most anticipated spectacle of the year — kicks off? 
They did just that this morning in the very first Stadia Connect event, where Google answered some burning questions about its upcoming cloud gaming streaming service, including its price, its release date, and more crucially, the library of games available at launch. 
Just to catch you up to speed before diving in, Google Stadia is a platform that'll let subscribers stream and play blockbuster video game titles on just about any device they have — be it on TV, desktops, laptops, tablets and smartphones — without the worry of hardware limitations. A Netflix for console-quality gaming, so to speak, and something that could very well do away with traditional high-end gaming machines, if Google manages to pull things off smoothly. 
The aim is to "build a game platform for everyone" said Google's chief exec Sundar Pichai during the Stadia announcement three months ago. Phil Harrison, head of all things Google Stadia, echoed the sentiments in the reveal today.
"Google's mission has always been to make information more accessible for everyone," he said. "With Stadia, our goal is to make *gaming* more accessible for everyone too."
While it remains to be seen just how effective Google can be, its launch plans could either make or break the system. If it's bad, Stadia could just be another flop in the long, lag-filled history of cloud gaming. If it all goes well (and I sure as hell hope it does), we could all finally detach ourselves from expensive, specialised gaming hardware. 
We'll only know later this year, I suppose. Anyway, here's what Google revealed. 
---
Launch platforms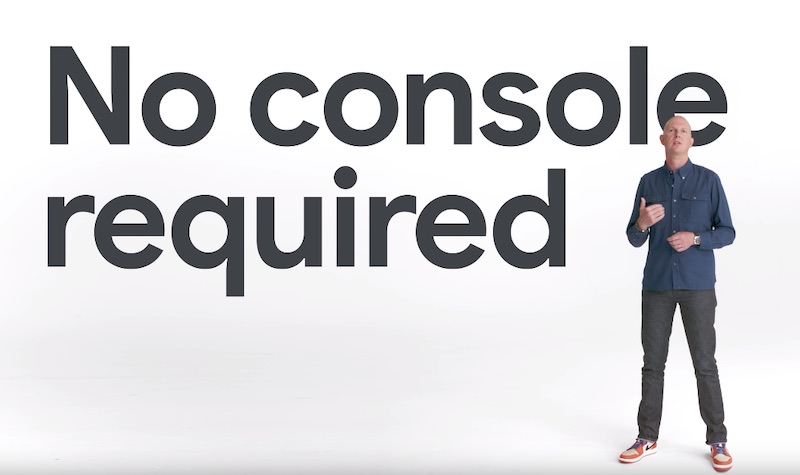 At launch, Google promises that everyone will be able to stream games on televisions (you'll need a Chromecast Ultra though), desktops, laptops, tablets, and Pixel smartphones (specifically, the Pixel 3 and Pixel 3A series). Stadia support for more phones are coming, Harrison assured. 
No console required, because Google's data centres and servers will run all the gameplay processing and graphics. 
Requirements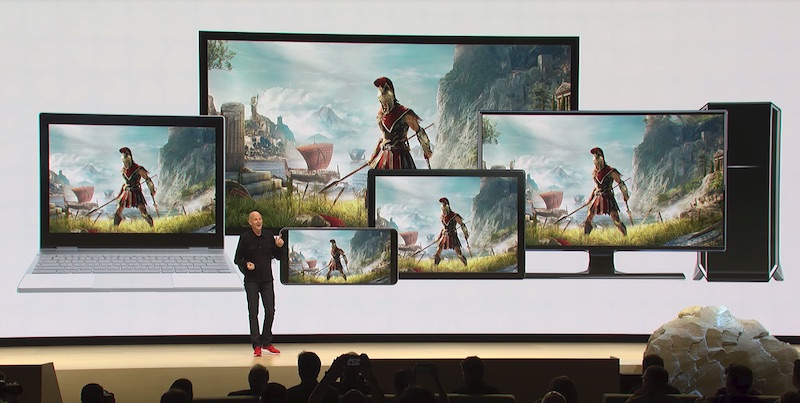 So what exactly do you need to run Stadia then? On laptops, desktops, and tablets, you apparently just need to run games on Chrome browsers. For TVs, you'll need to hook up a Chromecast Ultra dongle to stream games in 4K res with HDR. On the Pixel phones, there'll be a standalone Stadia app. 
To play the games, users can simply use their mouse and keyboards — or any other supported game controller (we're guessing the usual Xbox and PS4 controllers; no Mad Catz please). 
Google, however, recommends using its Stadia controller for the best streaming experience, given that it'll connect directly over Wi-FI to Stadia's data centers. The controllers come in three standard colours (Clearly White, Just Black, Wasabi), and aren't that much different than other console controllers. There are special buttons though, with one that triggers Google Assistant to hear your pleas through an in-built microphone, and another that captures clips and screen grabs during gameplay. 
Latency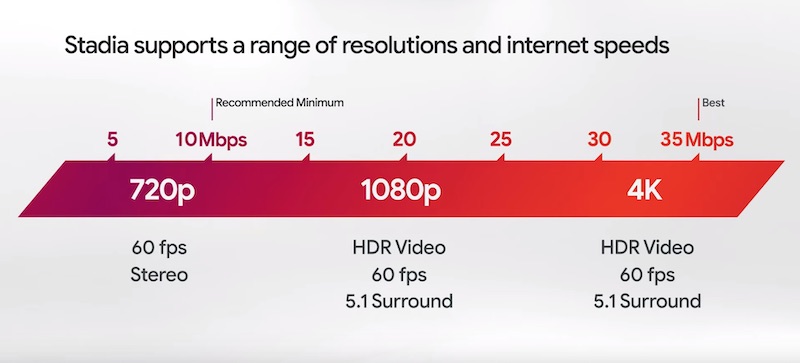 Latency has always been the issue when it comes to cloud gaming — who in their right mind would want to play a stuttering, laggy mess? But Google promised that a stable 35Mbps internet connection is all you need to enjoy gameplay at 60 frames per second with 4K resolution, HDR colour and 5.1 Surround sound. Which is great news, considering our internet speeds here clock faster than that. 
But even at lower speeds, Google ensures that gameplay can still run smoothly, albeit with 720p streams and stereo sound at the bare minimum of 10Mbps. 
Harrison assured that the experience gained from 20 years of optimising Google networks and data centres to support billions of users will help with Stadia's gaming service. "The latency and speed demands of online gaming aren't far from the demands we've been meeting for years," he said. 
Confidence levels are high — Google promises to deliver lag-free latency that could even suit fast-paced fighting games like Mortal Kombat 11. 
Games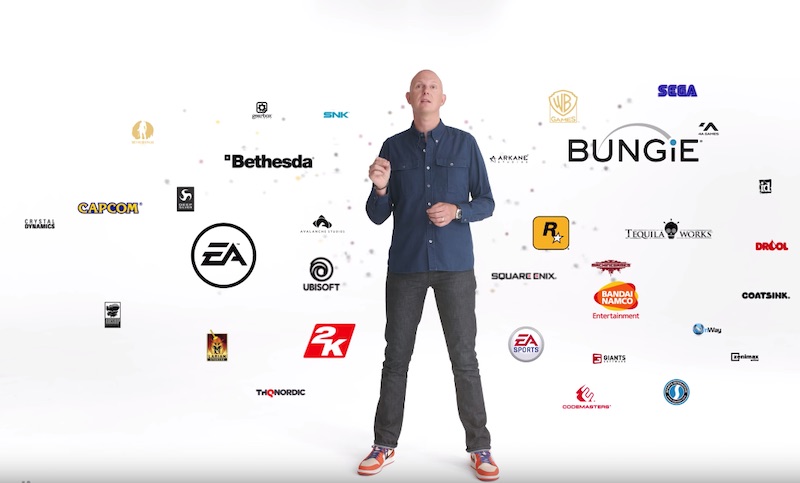 But what's a cloud service without games? Even before launch, Stadia has already partnered up with a tonne of game studios, including big names like Sega, Ubisoft, EA, Bethesda, Rockstar Games as well as smaller players like Tequila Works and Drool. 
The big reveal was none other than Baldur's Gate 3, which will now be helmed by Larian Studios. It's a huge get for Google, because (a) the Baldur's Gate series are still considered one of the best RPGs on PC and (b) it's being made by the people who made the critically acclaimed Divinity: Original Sin games.
The other big pull is the complete Destiny 2 experience with full access to all base and expanded content, raids, packs, as well as its upcoming Shadowkeep campaign. 
Then of course, there're the 29 other games available at launch. Here's the list: 
Assassin's Creed Odyssey
Borderlands 3
The Crew 2
Darksiders Genesis
Doom
Doom Eternal
Dragon Ball Xenoverse 2
The Elder Scrolls Online
Farming Simulator 19
Final Fantasy 15
Football Manager
Get Packed
GRID
Gylt
Just Dance
Metro Exodus
Mortal Kombat 11 
NBA 2K
Power Rangers: Battle for the Grid
Rage 2
Rise of the Tomb Raider
Samurai Shodown
Shadow of the Tomb Raider
Tom Clancy's Ghost Recon Breakpoint
Tom Clancy's The Division 2
Tomb Raider Definitive Edition
Thumper
Trials Rising
Wolfenstein: Youngblood
Pricing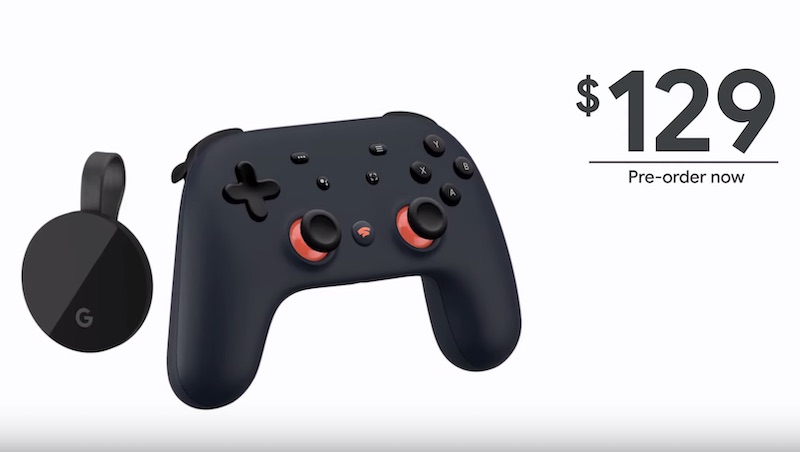 Though it may change in the future, getting access to all those games anywhere on any devices is surprisingly affordable — US$9.99 a month. 
That's if you're subscribing to the Stadia Pro tier, which gives you the best streaming experience with 4K res, HDR color, 60FPS and 5.1 Surround Sound. Alternatively, there's Stadia Base, a lower tier that'll only allow 1080p resolution streams with stereo sound, and access to games that you'll have to purchase on your own through Stadia. 
If you're willing to cash out to be an early adopter, there's the Stadia Founder's Edition, which is now up for pre-order at US$129. For that amount of cash, you'll get everything you need to get started with Stadia, including a Chromecast Ultra dongle, a limited-edition Night Blue Stadia controller, first dibs on usernames, three months of Stadia Pro, and a three-month Buddy Pass to let someone else join in the fun. But that friend will probably need a Stadia controller too, which can be bought for US$69 each. 
Availability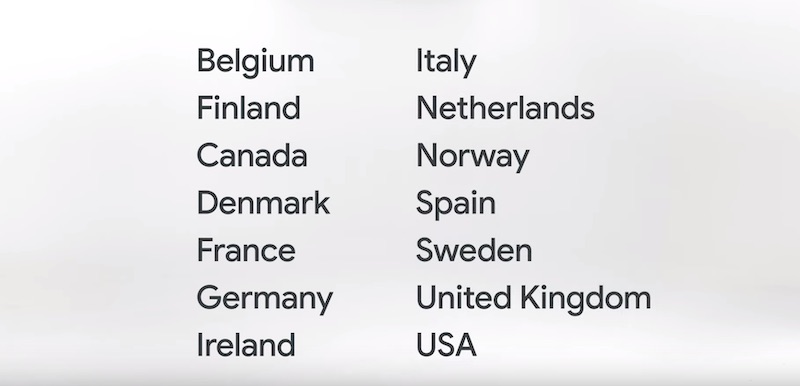 No luck at all for us in Asia. Stadia will launch in only 14 countries at an unspecified time later this year. "We're working hard to expand Stadia to additional countries in 2020 and beyond," said Google's John Justice. 
ilyas@asiaone.com