Internet goes aww seeing Singapore Zoo animals getting new ways to play amidst park closure
PHOTO: Wildlife Reserves Singapore
Zoological parks across the country have been closed since April 7 in line with Singapore's circuit breaker measures, but that doesn't mean that the animals within have to undergo the same stay-at-home rules like the rest of us. 
No, the tigers and lions aren't left free to roam about the Singapore Zoo right now. But the African penguins certainly are. 
Wildlife Reserves Singapore recently posted a video of the wee flightless birds waddling about around the park amidst its closure, and they certainly looked like they enjoyed themselves. 
Animals benefit from enrichment, noted WRS on Facebook, and the closure presented opportunities for their penguins to satiate their curiosity about what exists beyond their enclosures.
It would seem that penguins around the world are having a whale of a time during the temporary closures of their artificial habitats. Penguins have been let out to roam the premises of Chicago's Sheed Aquarium, Saint Louis Zoo, and Florida's ZooTampa. 
[embed]https://www.youtube.com/watch?v=LHHkJwQQU0o[/embed]
As for the Singapore Zoo's orangutans, the zookeepers are keeping the apes entertained with bubbles getting blown into their enclosure. "Singapore Zoo's animal care team, giving our adorable apes new forms of play while stimulating their minds," read the video caption. 
The closures due to heightened safety measures against the coronavirus outbreak will certainly be a blow to the Singapore Zoo, which attracts 1.7 million visitors each year. But the shutdown has presented them with new opportunities for outreach, and netizens — probably in need of some wholesome news and entertainment during the circuit breaker — are certainly responding positively.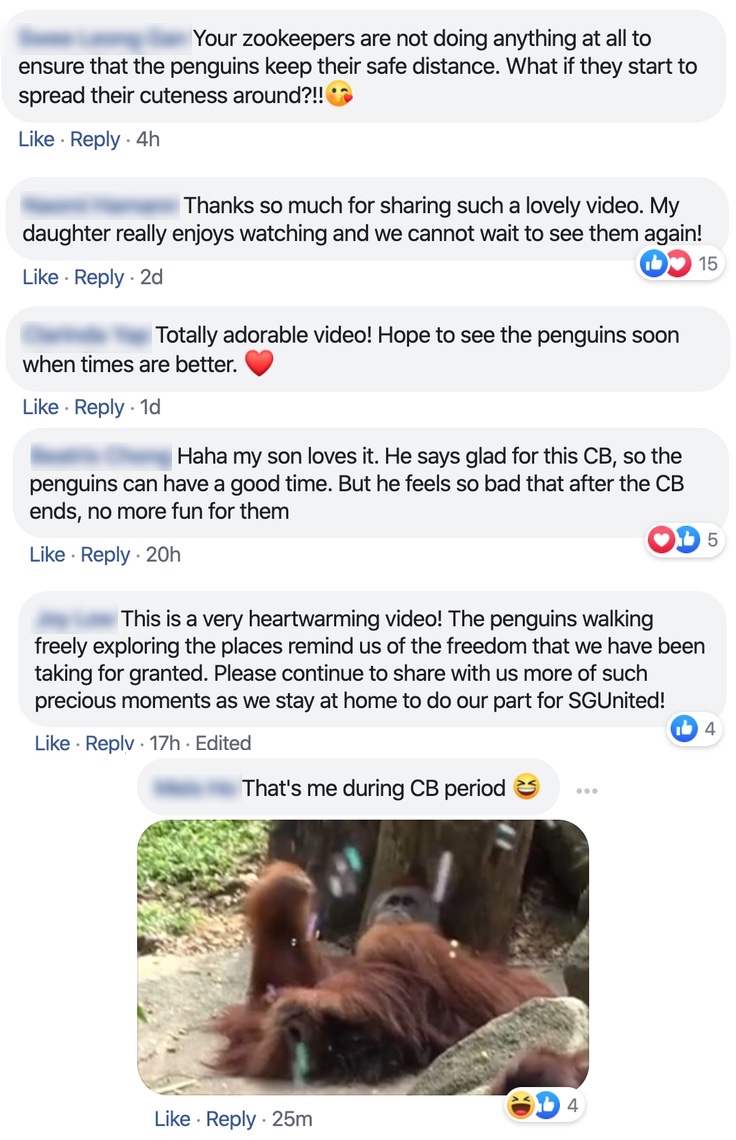 It's all part of the efforts by WRS to keep nearly 15,000 animals across all its parks — including Jurong Bird Park, Night Safari, River Safari and the Singapore Zoo — cared for throughout the period of closure. 
"We will miss you, and plan to continue sharing amazing stories about our animal family and their care teams over the coming weeks," WRS assured. 
ilyas@asiaone.com