A motorcyclist has won internet points for showcasing remarkable defensive riding skills that could've meant injury or death if he wasn't careful enough. 
The same cannot be said for a van driver who very nearly caused a major multi-vehicle accident while driving on the drenched roads of the Ayer Rajah Expressway last Friday (Feb 21). 
In a heart-stopping video posted by the SG Road Vigilante Facebook page, the motorcyclist can be seen riding along the middle lane of the expressway when an overtaking van on the right skidded and went drifting about before hitting a road barrier. 
Eventually, the driver managed to wrestle back control of the van and it ended up at the road shoulder. Rather miraculously, the motorcyclist managed to avoid any impact whatsoever with the careening van, despite the wet conditions. 
The absence of a serious accident is a testament to the motorcyclist's riding capabilities, the internet points out. It's even more praiseworthy if the rider just received a driver's licence, considering there appears to be a probation plate affixed to the front of the motorbike. 
PHOTO: Facebook screengrab
As for why the van suddenly went loco, one commenter has an explanation.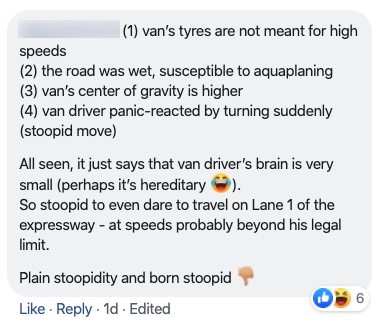 PHOTO: Facebook screengrab
ilyas@asiaone.com