The relationship between Singaporeans and McDonald's holds a long and storied history, involving things like Hello Kitty dolls, curry sauce, and Chicken McCrispy (RIP). 
In another one for the history books, the country's biggest fast-food chain did what was thought impossible yesterday: close down. Until May 4, that is. 
Announcing the sudden move on Facebook Sunday (April 19) morning, McDonald's Singapore said that all restaurant operations will be suspended, including its delivery and takeaway services. A preventive action in the fight against Covid-19, the company wrote, especially after seven of its employees contracted the virus. 
But with over 130 outlets closed islandwide, where does one go to get one's regular dosage of McSpicy, McNuggets and McGriddles? Why, Carousell of course, the platform where other McStuff like printed pyjamas and Happy Meal toys are resold once they're no longer available in stores. 
Don't take it so seriously though, it's safe to assume that the listings on the online marketplace were made for laughs. 
Stuff like McDonald's packeted butter, curry sauce and burgers are being scalped at hilariously ridiculous prices — perhaps an amusing nudge at our penchant for anything produced by the fast-food chain.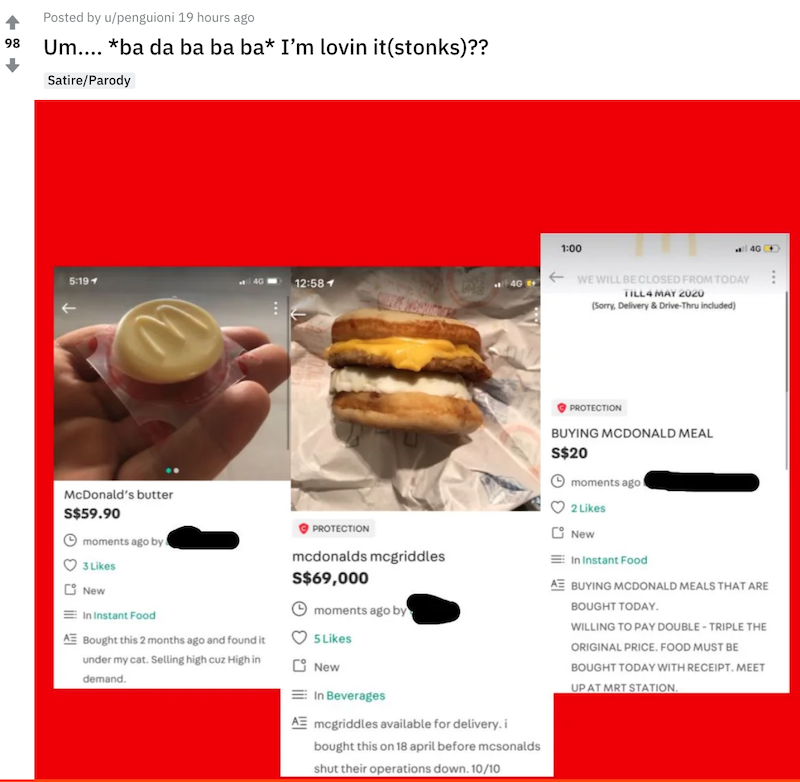 PHOTO: Reddit screengrab / 
u/penguioni
Don't try looking for the listings on Carousell though, they've all been taken down. You'll just have to wait for May 4 for the outlets to reopen and expect long lines of people outside them, along with the dozens of inevitable online articles about said queues.
ilyas@asiaone.com