The iPhone XR might be over a year old now but it still remains super popular.
According to a report by research firm Omdia, it estimated that Apple shipped 46.3 million units of the iPhone XR in 2019.
This makes it the most popular smartphone by some margin. The second most popular smartphone was the iPhone 11, which shipped an estimated 37.3 million units.
Other phones in the top 10 list include a quartet of Samsung phones, the Galaxy A10, A50, A20, and J2 Core which took up third, fourth, fifth, and tenth place respectively.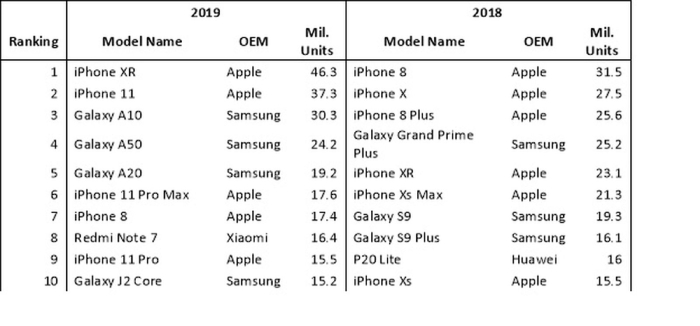 Interestingly, despite their high prices, the iPhone 11 Pro and 11 Pro Max both made the top 10 list.
The larger iPhone 11 Pro Max was the more popular of the two, shipping an estimated 17.6 million units. The iPhone 11 Pro, on the other hand, shipped an estimated 15.5 million units.
The only phone that wasn't from Apple or Samsung in the top 10 list was Xiaomi's Redmi Note 7, which came in eight, shipping an estimated 16.4 million units.
It's also interesting to note that the most popular Apple model also happens to one of their more affordable ones.
Apple is rumoured to be launching a more affordable iPhone variant in March.
This article was first published in Hardware Zone.