The gaming chair scene is no stranger to collaborations and crossovers, having spawned many themed collections over the years.
With a strong record of tie-ins across various mediums, the anime genre continues to be a popular choice, and it's only natural that Royale Ergonomics has hopped onboard the hype train to unveil an all-new Demon Slayer lineup.
The Royale Poseidon: Demon Slayer series is the result of a partnership between the company and Muse Communication Singapore, and will feature design elements from the well-loved title.
Tanjiro Kamado and his sister Nezuko, as well as sidekicks Inosuke Hashibira and Zenitsu Agatsuma, are the stars of the collection, with each getting a personalised style to call their own.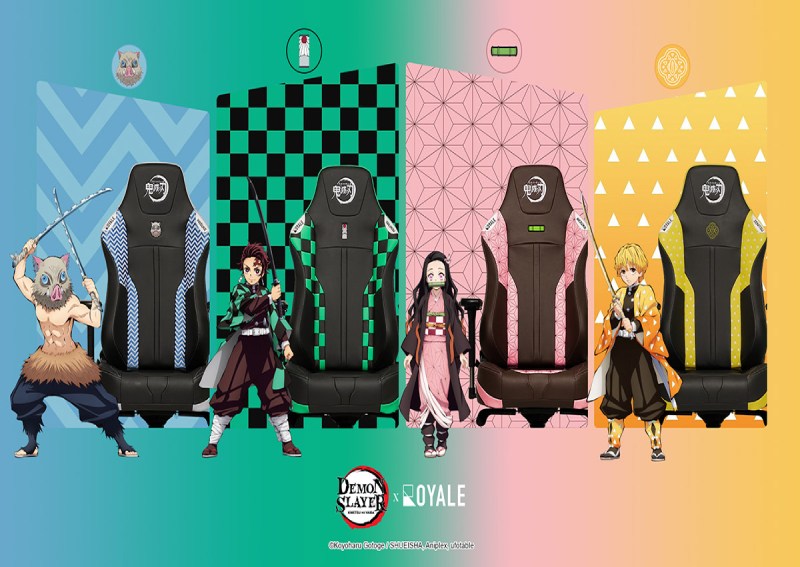 Each character chair comes adorned with premium stitch-ons, a logo unique to the respective individual, a signature pattern that runs across the entire build, the iconic Wisteria Crest of the Demon Slayer Corps, and of course, the character's name on both the front and back.
Accompanying the aesthetics are a handful of ergonomic features for increased comfort, including a multi-directional armrest, a 165-degree maximum recline, and balanced weight distribution.
The entire line-up may be viewed below in all its glory, with Tanjiro's design being a personal favourite:
While not as jaw-dropping as Lenovo's ingenious katana-holding gaming chair that was inspired by Demon Slayer's Giyū Tomioka, the overall clean and artful look here should prove to be more of a hit than a miss.
The Royale Poseidon: Demon Slayer series is available now on Royale.sg at S$549. No matter the choice, you'll be able to sit on the chair just in time to enjoy the second season of Demon Slayer: Kimetsu no Yaiba when it premieres in Oct.
Alternatively, you could also opt to revisit some emotional moments in Demon Slayer: Kimetsu no Yaiba: Infinity Train, which has recently landed on Netflix.
This article was first published in Geek Culture.