Ever since a cooking blog (jokingly) referred to roti prata as the "Asian flat croissant", lifelong lovers of the "flatbread with Indian origins" have not been able to let go of the atas association. 
Those who didn't get the quip were certainly triggered enough to express their aversion on social media. Nyonya Cooking — an outlet founded by Malaysian Grace Teo — provoked vehement reactions from both Singaporeans and Malaysians, who accused the publication of whitewashing. 
This, despite Grace explaining to angry folks that the dish has always been referred to by its Malaysian moniker roti canai on the website, and that "Asian flat croissant" was just a fun title for marketing content. 
The hubbub has pretty much died down since then, but that didn't stop netizens from coming up with other creative denominations for local fare. Like cai png (mixed rice), for example, which should now be known as the "Singapore protein bowl", thanks to local branding and marketing agency Grimm & Company. 
"Usually eaten with rice, curry or braised soya sauce and accompanied by toppings which nobody knows by name and a lot of finger-pointing," the copy reads. Too true. 
Kenny Leck, founder of indie bookstore BooksActually, joined in the rebranding fun. Who knew that roti prata could look French? 
Animation artist Hillary Yeo flipped the tables and rechristened croissants as the "Ang Moh rolled prata kosong", wryly urging folks to eat proper prata at local stalls to support hawkers. 
Domino's Pizza didn't want to miss out as well and classified its pepperoni pizza by its exotic name: "The Italian flat naan". 
Meanwhile, netizens from both sides of the border chimed in with their own takes on the rebranding exercise.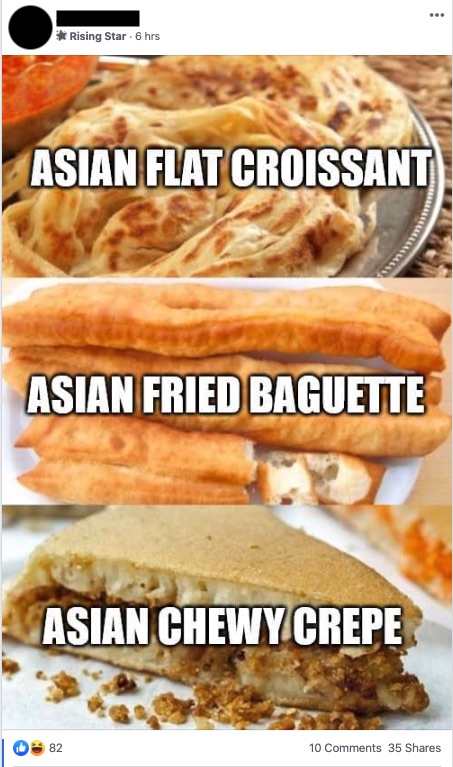 Some Italian style tomato ramen pic.twitter.com/sC4RIL5Ed3

— John Denver Hoxha (@jondEnverHawksa) February 24, 2020
We also have
Spanish seafood nasi goreng
The sweet breakfast okonomiyaki
Cheese & cucumber stuffed naan
And a big Cornish gyoza pic.twitter.com/P2W9yI4ziA

— Jodie Azhar ? GDC (@JodieAzhar) February 24, 2020
Now, if you'll excuse me, I need to prep my dinner: Spanish mackerel cuts and blanched wheat vermicelli submerged in bone broth with a side of bespoke chilled citrus chai. But in case you're feeling a wee bit peckish for some late-night nosh, check out some of the best Asian flat croissant purveyors here. 
ilyas@asiaone.com