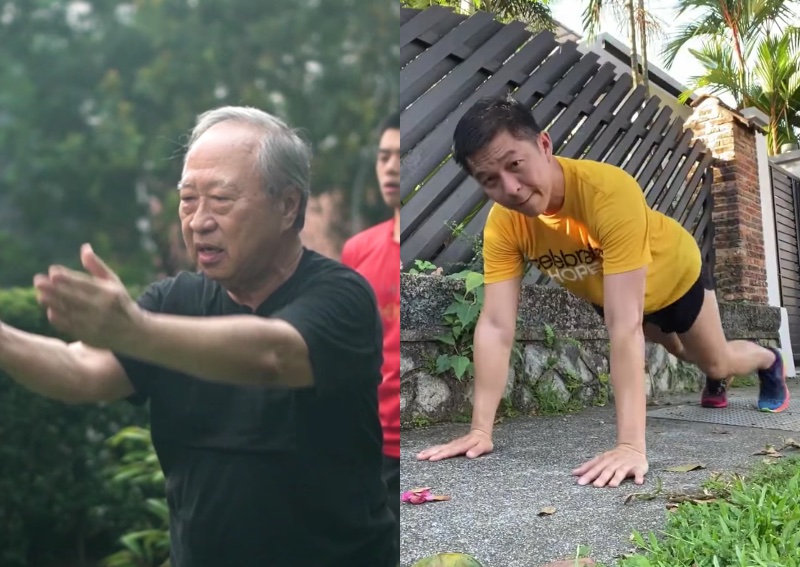 If politicians aged 50 and up can do it, there really is no excuse for the rest of us. 
While campaigning on the ground is no longer in the books for all politicians across the divide, nobody's stopping them from moving into the online health and wellness realm as a way to keep in touch with their constituents. 
Yes, people, they've gone fitspo. 
Probably well aware of how home workout videos are trending on social media feeds during a global pandemic, Singapore's political figures are also doing their part to encourage fitness within the confines of their immediate vicinity. Case in point: Speaker of Parliament Tan Chuan-Jin, who proved to be a rather sprightly exercise instructor in a video posted on his Facebook and Instagram accounts on Easter Sunday (April 12). 
Prefacing the video by noting that the Health Promotion Board tasked him to do so, the 51-year-old proceeded to demonstrate a couple of basic static workouts that one can do at home during the circuit breaker period. With commendable form, the man showcased various styles of push-ups, planking exercises, mountain climbers, burpees and lunges. In his caption, he described the sets and repetitions to follow when carrying out the workouts. 
The opportunity to quip about activities in small spaces was right there, and the Speaker of Parliament took it. 
"We also don't need much space for exercise," he wrote. "This I know for sure can be done and can demonstrate to you...unlike other activities that can also be done in small spaces😬 😉but those I won't demonstrate."
Fellow People's Action Party member and the Minister for Culture, Community and Youth Grace Fu wasn't far behind. In her own video posted today (April 14), the 56-year-old showed how she's keeping fit in her own home which includes the hashtag #imissmyyogaclass. 
Meanwhile in Siglap, Workers' Party chief Pritam Singh didn't exactly post a workout video but mentioned how happy he was to get a jogging session in after the Siglap Park Connector reopened. The 43-year-old opposition politician did, however, bump into national marathon record holder Soh Rui Yong, who shared a couple of words of encouragement and advice with folks who'd like to jog and run during the circuit breaker period. 
The true OG of fitspo realness, however, was none other than the former presidential candidate and Progress Singapore Party Secretary-General Dr Tan Cheng Bock. At the ripe age of 79, high-intensity interval training is out of the question, but still, he had a couple of exercises that anyone — young, old, fit or unfit — can do. 
Heck, just watching him and his fellow party members demonstrate their breathing exercises is enough to soothe your soul. 
ilyas@asiaone.com