Just as Covid-19 has forcefully accelerated companies big and small into digitisation, so has the pandemic pushed humble hawkers into digital transformation. 
As Singapore winds down into a month-long circuit breaker mode, F&B outlets are left vulnerable to the government-mandated measures. Dining outside is no longer an option under current regulations, which stipulate that patrons are only allowed to order food for takeaways and eat their meals at home unless they want to face hefty fines. 
While owners of restaurants and cafes already onboard the online food delivery bandwagon may not face that much of an issue in their operations, it's the hawkers who are currently struggling to keep up. Fortunately for them, a Facebook group has been set up by a local hawker as a fuss-free way for fellow vendors to promote their stalls, their menu, and the delivery options available.
Now with over 157,000 members (and counting), Hawkers United - Dabao 2020 is a vital platform for hawkers to stay visible and a great resource for those hankering for good ol' local food while working from home. 
PHOTO: Facebook / Hawkers United - Dabao 2020
Inside the group, you can see hawker stalls getting promoted with various images of its food as well as details about delivery services — most of which are island-wide. Local suppliers and distributors are getting in on the publicity game as well, offering raw vegetables, meat, and other stocks for cooking. 
Unlike food delivery services like Foodpanda and GrabFood, the advantage of being in Hawkers United is that there's no middleman that will get a percentage of the sale. Consumers and hawkers can communicate directly with each other, while the money spent by consumers can all go towards the merchant. It's definitely heartwarming too when seeing members post on behalf of their hawker parents who might not be as savvy when it comes to online marketing. 
The man who founded the group is none other than Melvin Chew, a second-generation hawker who runs Jin Ji Teochew Braised Duck and Kway Chap in Chinatown Complex. Speaking to The Business Times, the 42-year-old mentioned that he started the group with the intention to "showcase all hawkers doing delivery and takeaway so that customers can search them up easily".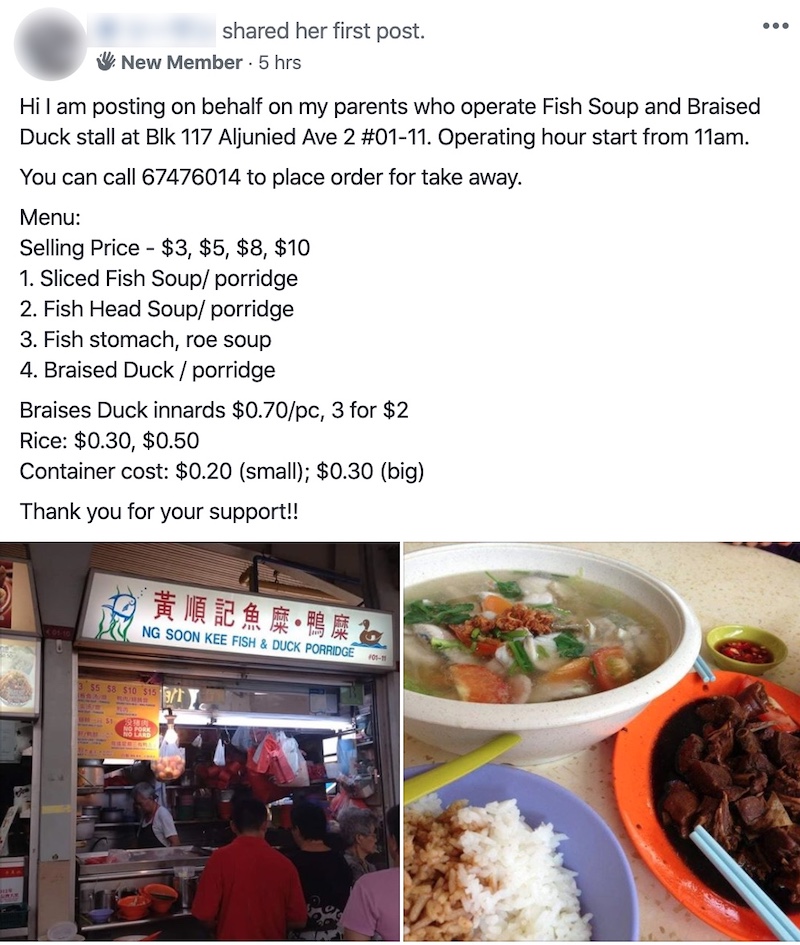 PHOTO: Facebook screengrab
On the more atas side of things, Facebook group Singapore Restaurant Rescue is a platform for local eateries to promote themselves and provide details on their independent delivery services. Useful for consumers wanting fancier (and costlier) fare such as fine French cuisine and gourmet fusion fare. 
PHOTO: Facebook screengrab
The local F&B industry will need all the help it can get during heightened safety measures against the coronavirus outbreak — 93 per cent of restaurants have already seen a dip in revenue, and 78 per cent are not prepared to last longer than six months if things don't get any better, according to a Chope survey. 
ilyas@asiaone.com