Most people think the "gaming dream" is all about being the best player in the world, standing atop the champion's podium defending your title.
Sure, that's one way to put it, but some of us, including Japanese gaming furniture maker Bauhutte, wish for the simpler things in life.
More specifically, we'd like to eat, sleep, drink and game without having to move our lazy butts so much.
So, in the spirit of Shia Labeouf's "Don't let your dreams be dreams", they've created what some gamers might consider the Eighth Wonder of the Modern World - an actual, dedicated Gaming Bed.
Yes, a gaming bed. We'll let that sink in for a bit.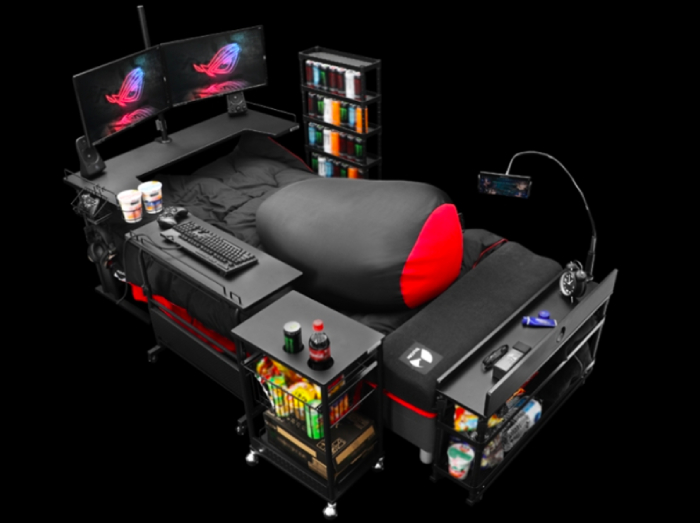 As you awaken from your momentary fantasy, your eyes might be drawn to the monitors mounted at the foot of the bed, accompanied by speakers arranged neatly on the shelves beside it.
Your keyboard and console controllers are tucked away just within reach as well, while an adjustable smartphone holder hangs just behind the headboard.
Additionally, when the urge arises, you can always stretch out your hand and grab some snacks or drinks off the fully stocked caddies, which naturally includes holders for that staple food we call cup ramen as well.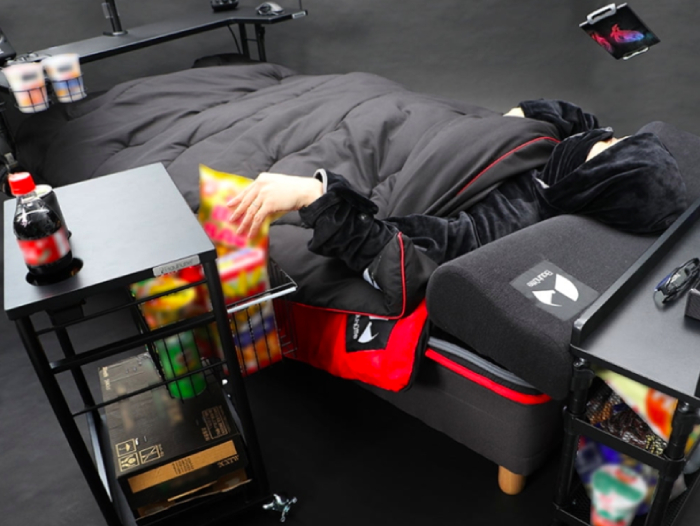 Yes, it's a dream, but it's a rather pricey dream.
The full setup above will set you back 113,250 yen (S$1,500), but since it's a modular build, you can just order the parts that you like.
And before you ask, yes, all configurations include that snazzy Damegi jumpsuit.
Anyway, if such a...sedentary approach to gaming doesn't exactly appeal to you, Bauhutte also offers other options, including a Standing Desk and an Exercise Bike (are you serious, though?), both of which are exactly as they sound.
We still like the bed best, but hey - whatever floats your boat!
This article was first published in Hardware Zone.