It was a night where things were More Than Meets The Eye, as Transformers fans gathered as one at Singapore's Gardens by the Bay, to witness the first in Asia unveiling of two massive life-sized statues of Autobot leader Optimus Prime and Maximal leader Optimus Primal, at a special fan event organised by Geek Culture in collaboration with exhibitor UIP Singapore.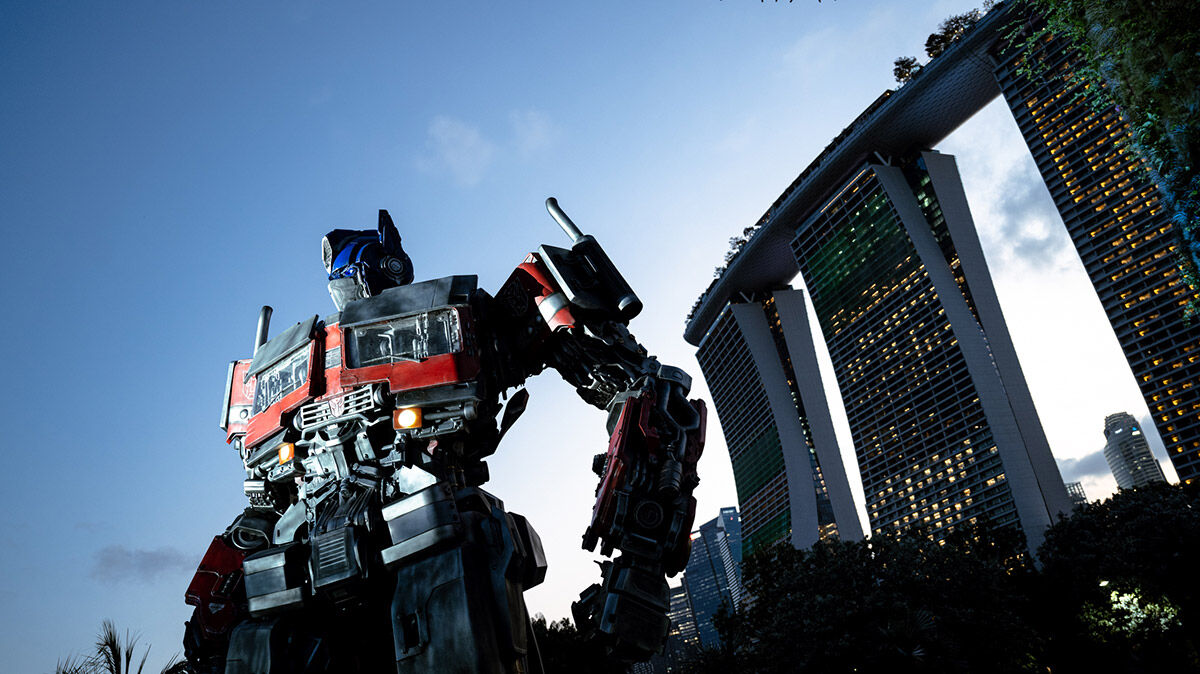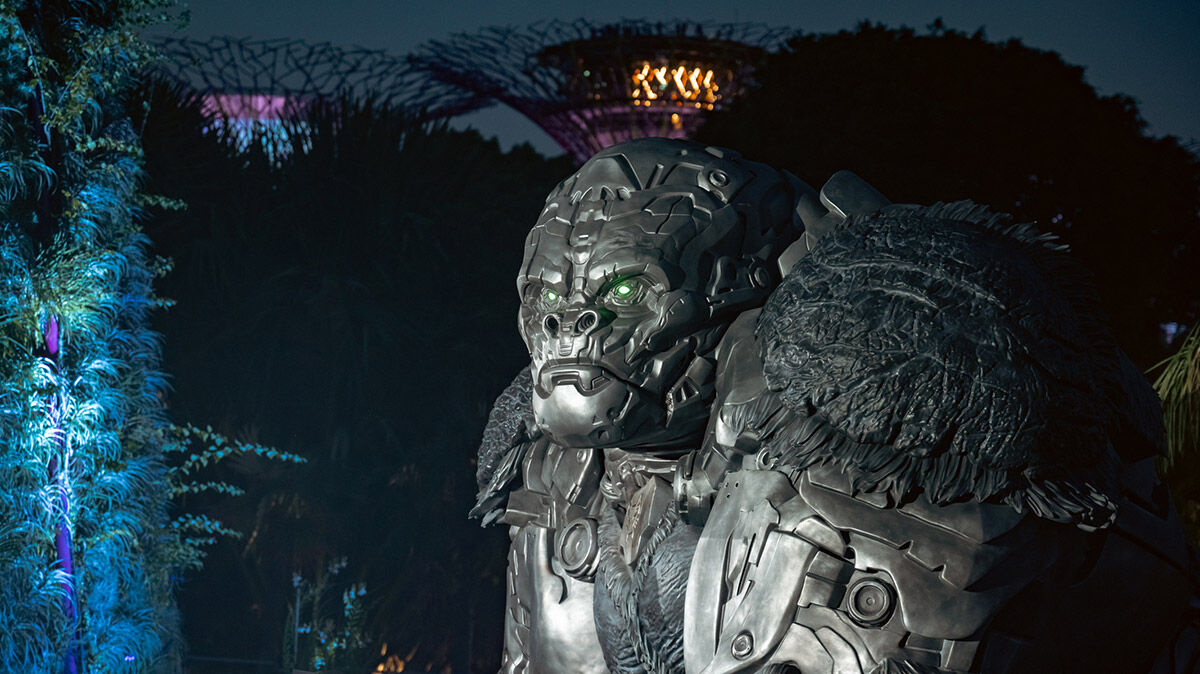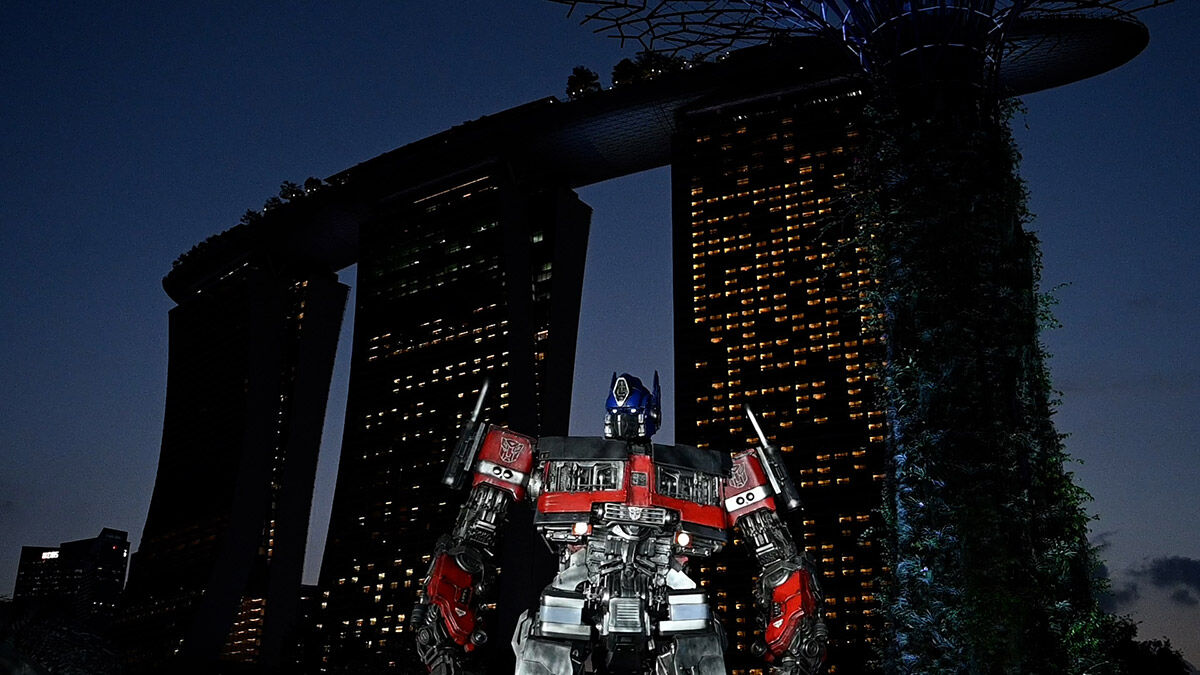 The two statues were presented across an evening of activities in Singapore as part of a world tour in a lead up to the upcoming blockbuster film, Transformers: Rise of the Beasts, set to premiere on June 8, 2023.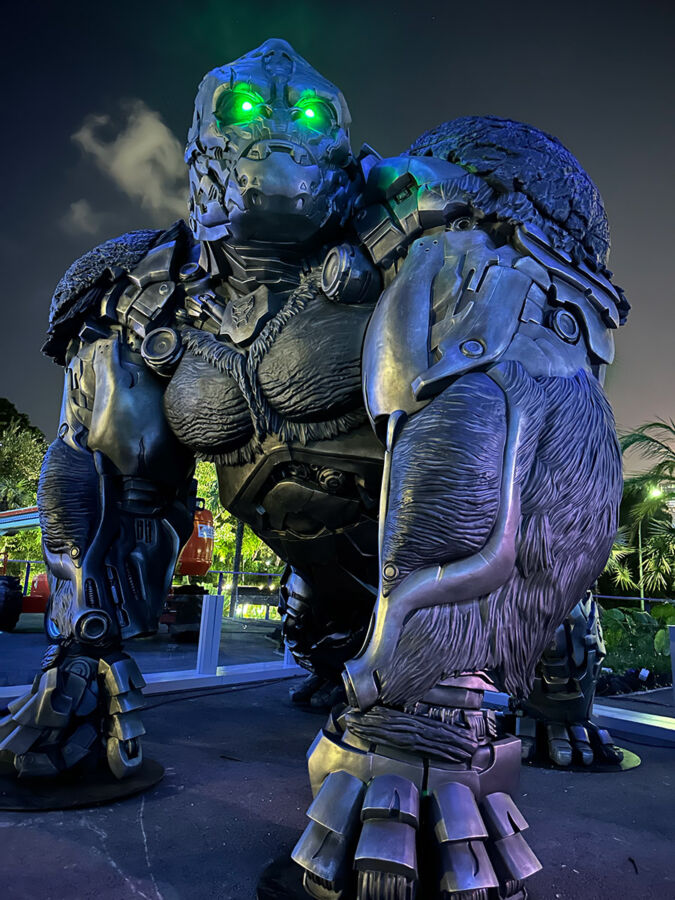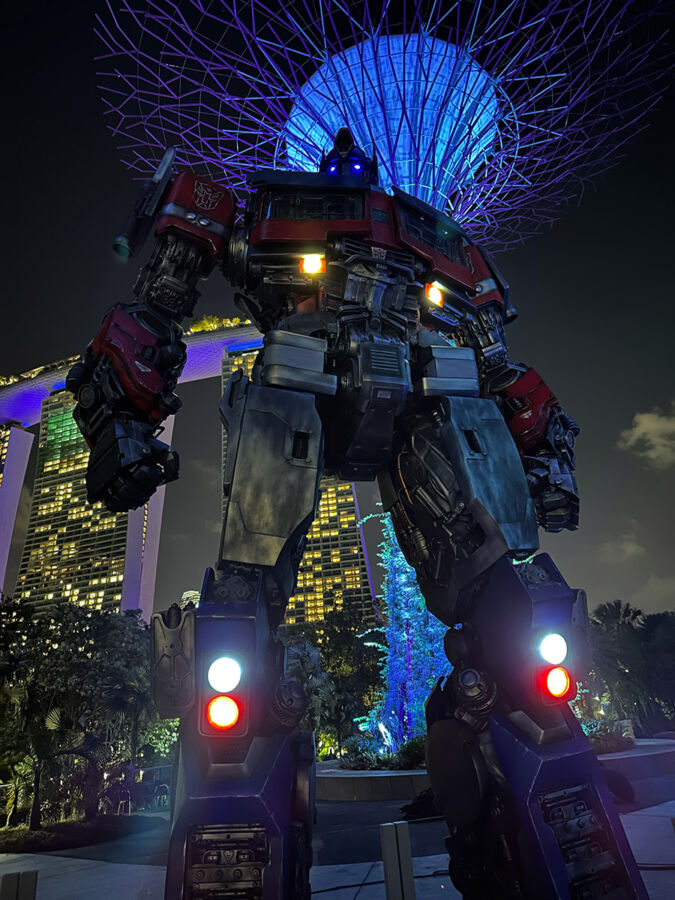 And just like in the movies with the Robots in Disguise, both heroic leaders stood tall, with Optimus Primal standing at over 4 metres tall, in his gorilla form, while Optimus Prime towering at a magnificent 6 metres tall. In Transformers lore, Optimus Prime leads the heroic Autobots, while Optimus Primal leads another heroic faction known as the Maximals. While the Autobots transform into vehicles and items, the Maximals transform into organic animals.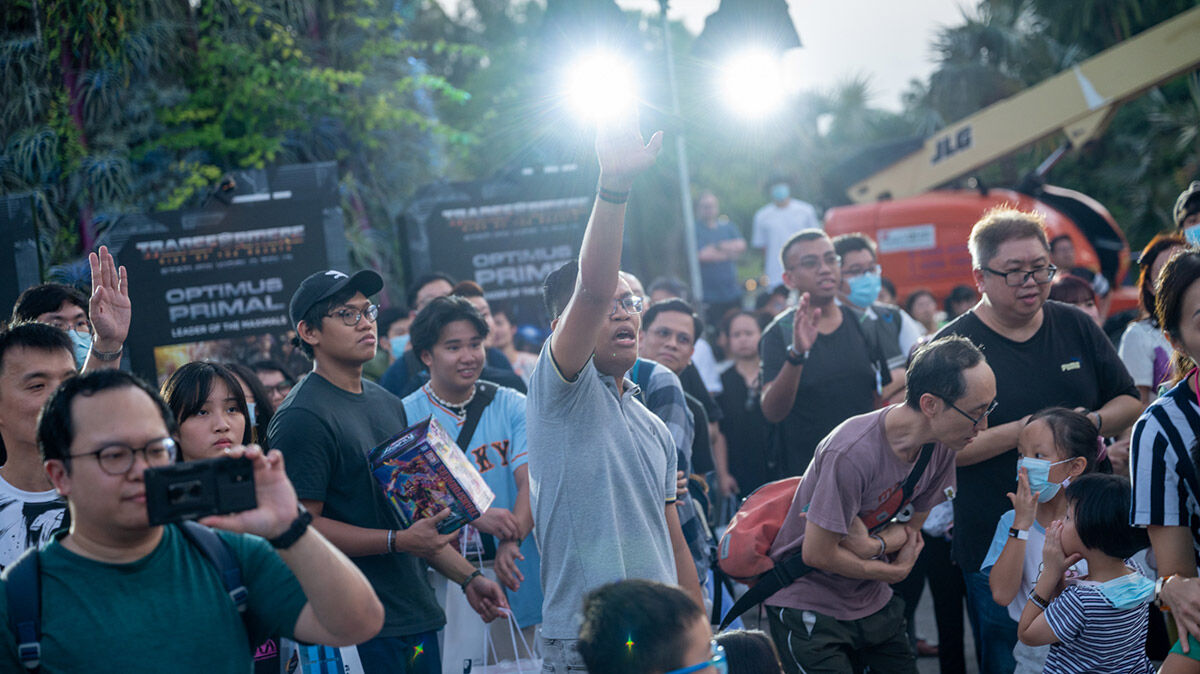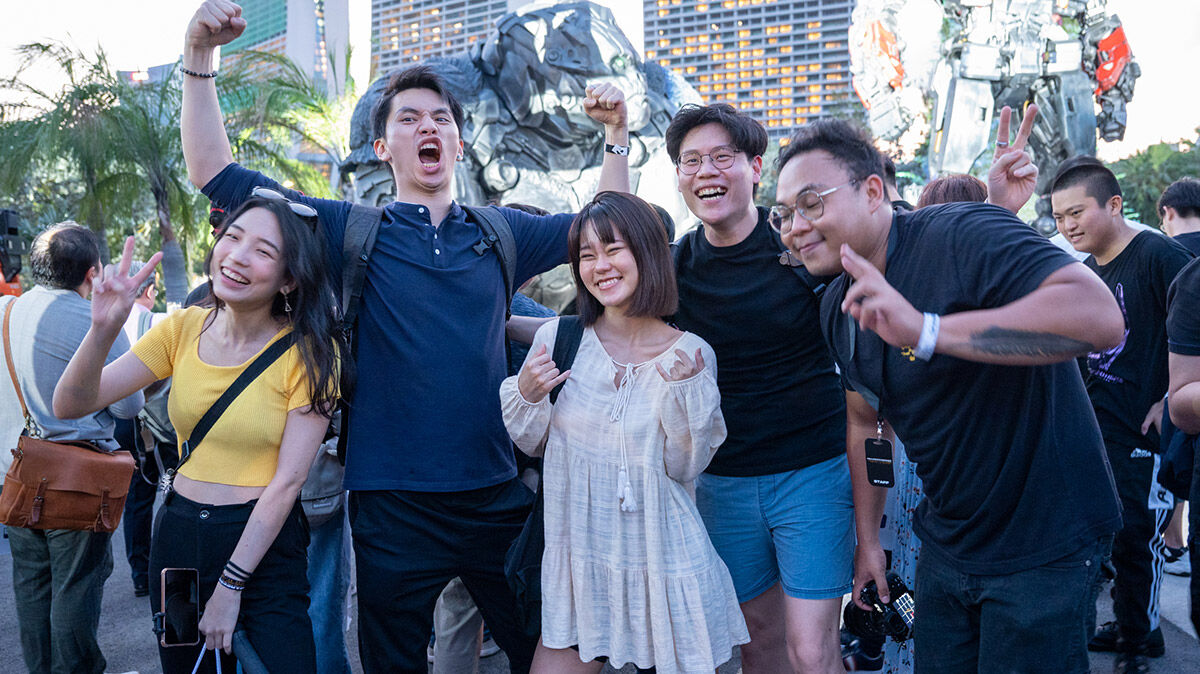 Both statues also have electronics, and their eyes light up, in blue for Prime, and in green for Primal, providing the perfect photo opportunity for all Transformers fans, both in the day, and at night. Both statues will be on display at Gardens by the Bay from March 17 to April 10, and access to see the statues is free.
Don't forget to scan the QR code below the statues to load up the AR app on your phone, and direct it to each of the statues to unlock cool interactive features.
As part of the festivities, fans got a first-hand look at the new range of upcoming Transformers: Rise of the Beasts lineup of Hasbro toys, and one lucky fan even managed to walk away with a custom diorama set of the new Studios Series comprising of Cheetor, Airazor, Bumblebee and Battletrap.
Fans who won exclusive invitations to the event, courtesy of Geek Culture and UIP Singapore, stormed the event, snapping photos of both statues against the backdrop of the Supertrees at Gardens by the Bay, which proved to be the perfect backdrop for the Cybertronian warriors debut in Singapore.
"It's the perfect spot for Optimus Prime and Optimus Primal, sitting right amidst the iconic Supertrees and rich foliage of the Gardens." said Jay Chen, who participated in the giveaway. "As a longtime fan of Transformers, seeing these life-sized statues in person is a dream come true."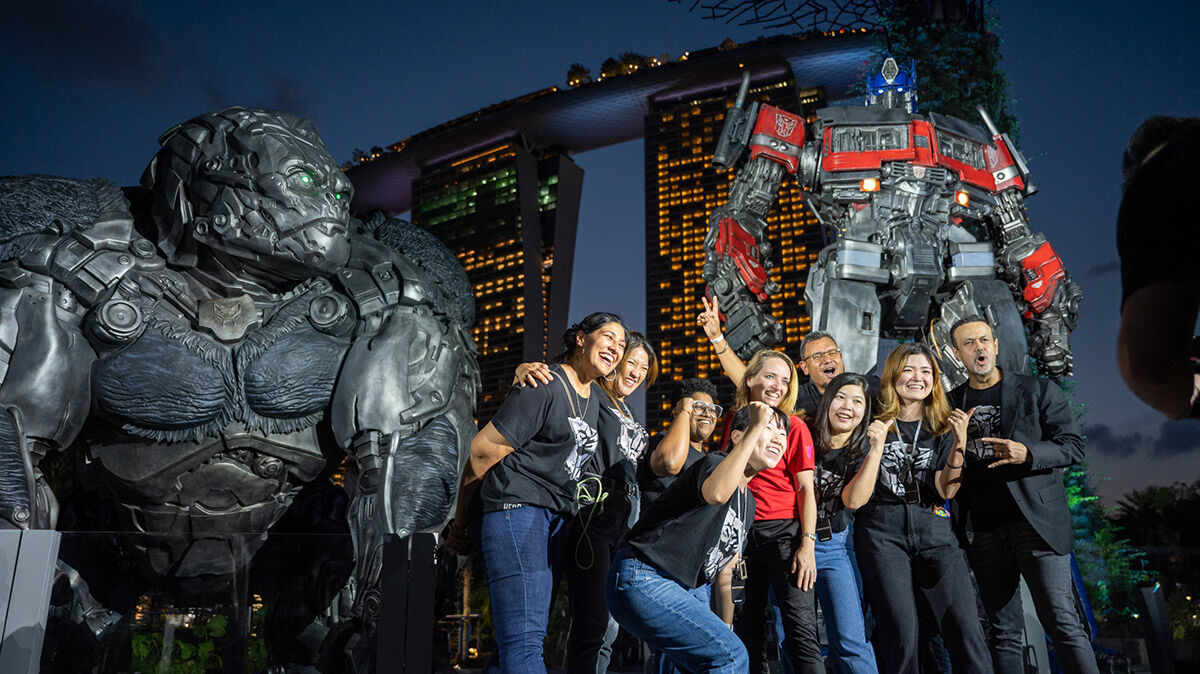 "This is a treat for Transformers fans everywhere, to see Optimus Prime in full life size glory alongside Optimus Primal" noted James Seah, a Transformer fan since 1984.
"They represent a cultural phenomenon that has captivated fans around the world for decades."
On top of that, there will also be plenty of Transformers toys, premiums and collectibles worth more than $4,000 to be won from Hasbro, XM, Mighty Jaxx, Bricks World & The Falcon's Hangar for the biggest Transformers fans. Several young Transformers fans even won exclusive tickets to the upcoming Singapore premiere of Transformers: Rise of the Beasts in June as well.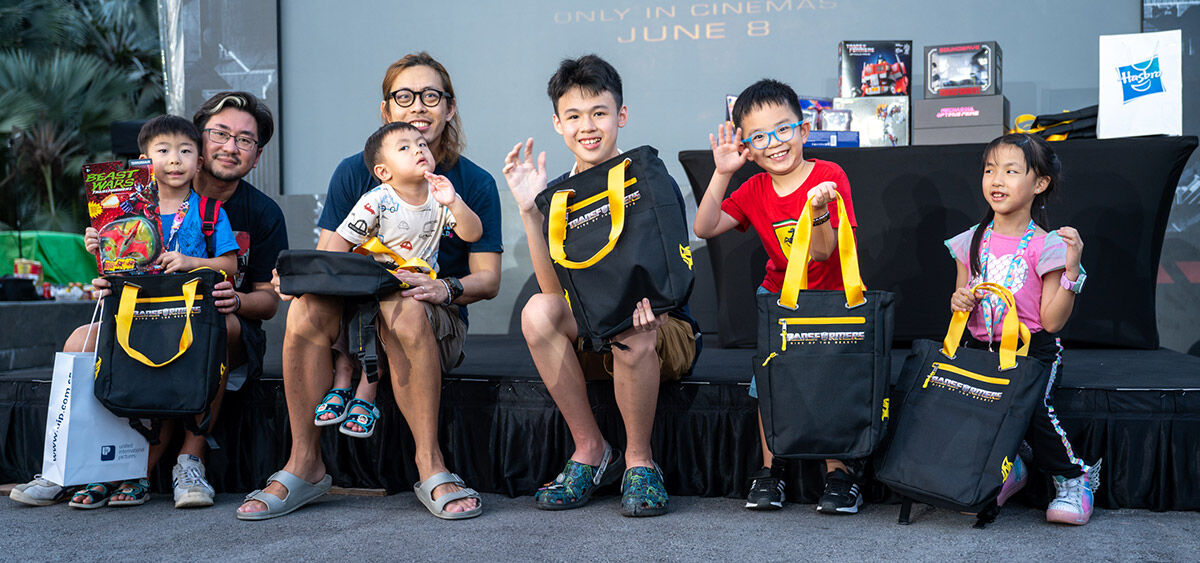 Directed by Steven Caple Jr. (Creed II), the upcoming film is the seventh instalment in the massively popular Transformers live-action movie franchise, and will serve as a sequel to 2018's Bumblebee. Legendary Transformers voice actor Peter Cullen returns to voice Optimus Prime, a role he originated in the 1984 animated series that started it all, and he will be joined by series newcomers Ron Perlman as Optimus Primal, Michelle Yeoh as Airazor, Pete Davidson as Mirage, and Peter Dinklage as Scourge, the leader of the Terrorcons.
Two other noteworthy collectibles fans got to win were the Mechasoul Optimus Prime polystone bust (worth US$359) (S$483) and the Transformers x Quiccs: Soundwave vinyl bust (worth US$249).
The grand prize of the night was a 1:10 scale cold-cast porcelain premium statue of Bumblebee by XM worth $1,599. It even comes with a swappable battle mask head sculpt and vehicle mode companion statue. There are only 258 pieces made worldwide.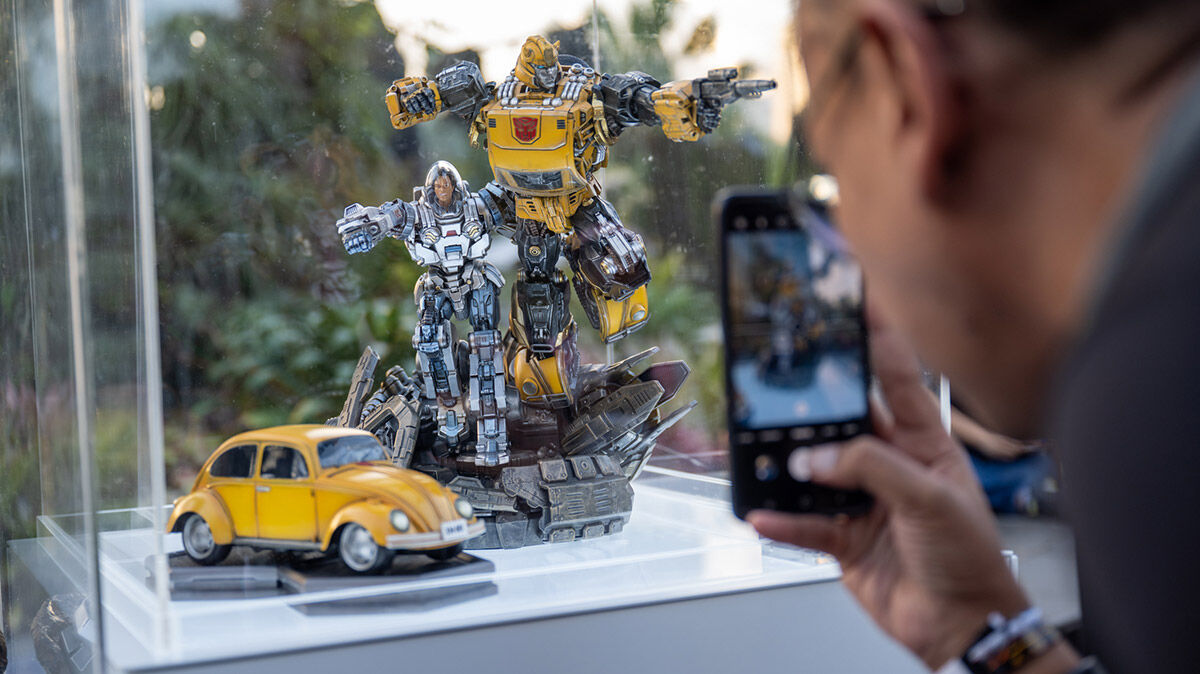 The night ended with a special outdoor screening of 2018's Bumblebee, which was open to all attendees and the general public. For fans who remember that film which debuted a Cybertron and group of Autobots who were more similar looking to the original animated series, the 3-minute opening sequence of that film was definitely a sight to behold, especially with the two life size statues standing tall amongst the Supertrees.
Both statues will be on display at the Silver Garden located at Gardens by the Bay, from March 17 till April 10. Be sure to grab a selfie or two with the two leaders of the heroic Transformers before they make a return to Cybertron. More importantly, you can catch Optimus Prime and Optimus Primal in Transformers: Rise of the Beasts, in cinemas from June 8.
ALSO READ: Transformers: Rise of the Beasts teaser: Every character identified
This article was first published in Geek Culture.