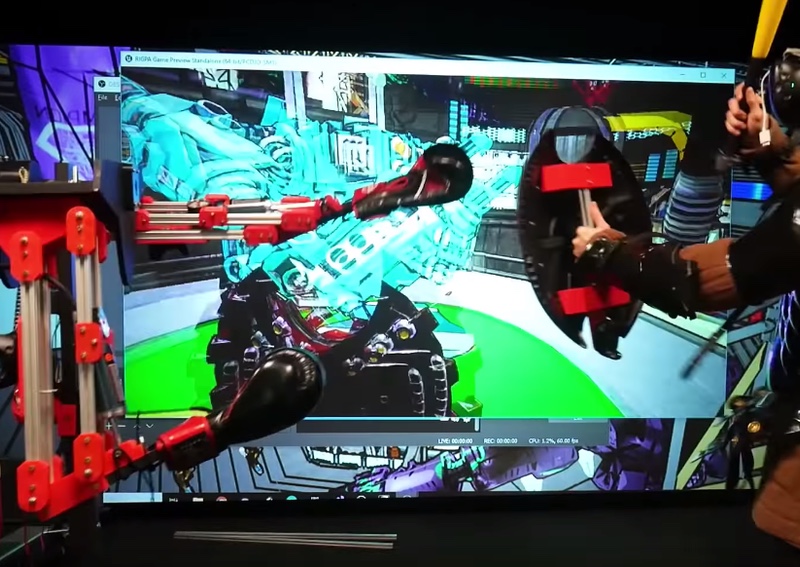 Talk about painfully accurate immersion. YouTuber and engineer James Bruton teamed up with students in the University of Portsmouth's Computer Games Technology faculty to build a robot that can deal some serious hurt if you suck at video games. 
No stranger to building some really remarkable contraptions, Bruton's latest project involves hooking up a robot to a virtual reality game — a gladiator style fighting game in which the player will have to beat up a robot opponent.
This robot, however, hits back and replicates the punches thrown inside the game into real life. Such is the power of coding, electrical engineering, motors, and a pair of pneumatic arms. 
It's no rinky-dink machine either. The robot can tilt and swivel so it can really reach out and swipe its opponent's head. The player gets to attack the robot with a baseball bat and a shield, which act as controllers. Like we said, if you suck at the game, you're gonna get thumped. 
Of course, the robot will have to wear boxing gloves so it won't be simply stabbing its human opponent. But seeing as the player can only see the game world while wearing the Vive VR headset, a diabolic saboteur can simply switch out the gloves for knives to dole out some lethal damage. You didn't hear it from us, though. 
ilyas@asiaone.com