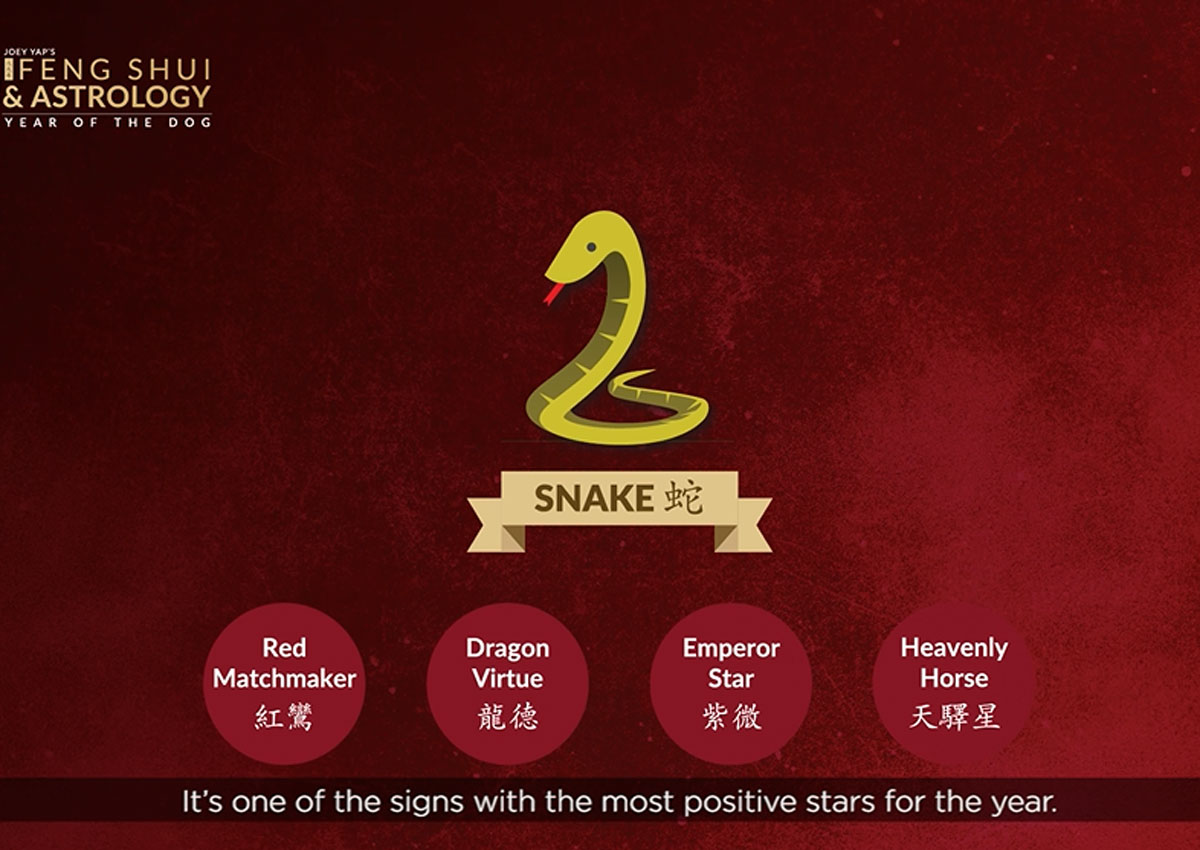 The Snake is among the top five animals signs in 2018 as it has the most positive stars for the year. This means you can take more risks this year due to the auspicious energies.
If you're thinking of building new bonds or relationships with people, this year is a great year. For couples, it may mean marriage or having children.
People seem to respond to you better this year, all because you are able to connect better. So this is one of those years where you should get out of your house, go out and proactively meet more people. 
NEED HELP? ASK FOR IT AND YOU SHALL RECEIVE
If you're thinking of starting a new career, business or project this year and you need help with resources, rest assured that you can get it but you'll have to ask for it. Make sure you get out of your comfort zone to get the resources that you need.
Issues lingering from 2017 will resolve in 2018. You will be able to find solutions and when you're able to conquer all the challenges, you'll find happiness.
This year is a good year for travelling overseas, cross-border business or making connections out of your country or town. It may also mean connecting with people online from different countries or cultures. It also means it's a good year for international business opportunities.
ABRUPT INTERRUPTIONS
However, there may be abrupt interruption or ending to things. This may apply to relationships, business or work. It may be uncomfortable but sometimes when things are not working out, changing direction may be great. Because of the positive stars this year, these changes may be good for you.
FORGETFULNESS AND OTHER MINOR ISSUES
In 2018, there may be a tendency to forget things that you intend to do. These are small matters that can be easily resolved if you make the effort to be a bit more organised, such as keeping track of your calendar, or maybe get a personal or virtual assistant to help you.
There may also be minor health issues and petty people around you. But because of your auspicious stars this year, these will not pose too much of a problem to you.