Children should not pay for the 'sins' of their father.
However, some netizens seemed to have missed that memo. They lashed out at Hong Kong actress Anita Yuen's teenage son Morton as they were upset that his dad, actor Julian Cheung Chi-lam, had rubbed shoulders with the Hong Kong police at a dinner banquet.
Their outburst prompted 48-year-old Anita to defend her son from the cyber bullies.
According to Chinese media, Julian, 48, was present at a dinner on Sunday (Feb 16) hosted by the football teams from Hong Kong Movie Star Sports Association and Sun Hei Sports Club. The teams had faced off against a police football team earlier that day.
Julian's presence was uncovered by netizens after a photo of him with a retired high-ranking cop was circulated, and it caused a rift between netizens who were pro- and anti-police. It was reported that some netizens, who were also fans of Julian, were so outraged at his association with the police that they smashed his old album records.
Aside from calling out Julian on social media, they also went after his wife Anita and 13-year-old son Morton. Some of the comments that were left on Morton's Instagram included "If Chi-lam thinks China is so good, why did he send you to an international school?" and "I'm very disappointed with your father".
It was at this point that Anita stepped in to chide netizens. She wrote a comment on Morton's Instagram: "The child did nothing wrong, can we stop treating him like this? Thanks."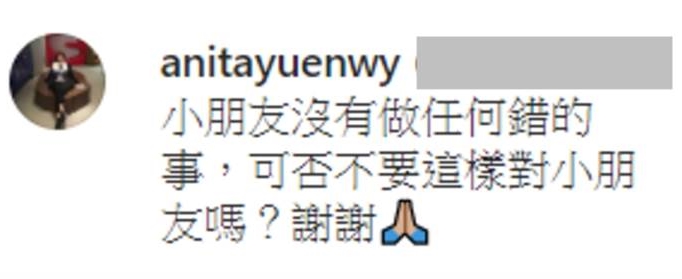 The comment was subsequently deleted, according to Oriental Daily. In addition, Morton's Instagram account has been made private.
It was also reported that Anita comes from a family of policemen and women, and her father, brother, aunt, uncle, and cousin are all on the force.
JACKIE CHAN, ERIC TSANG ATTENDED BANQUET TOO
Julian wasn't the only celebrity present at the banquet. It was reported by South China Morning Post that a video of actors Jackie Chan, Eric Tsang Chi-wai, and veteran singer Alan Tam Wing-lun at the event went viral.
According to the Hong Kong paper, the trio are known for their support of the government and police during the Hong Kong protests.
ALSO READ: Videos of Hong Kong police officers dining with Jackie Chan and other pro-establishment, anti-protest entertainers go viral
bryanlim@asiaone.com