Benjamin Kheng leaves Joseph Schooling impressed with his swimming on The Star Athlete
PHOTO: Screengrab/Instagram/Benjamin Kheng, Instagram/Joseph Schooling
PUBLISHED ON
March 16, 2023 10:01 AM
By
Drima Chakraborty
They say you never forget how to ride a bike, but does the same apply to swimming?
In Benjamin Kheng's case, the singer-songwriter took like a fish to water in his surprise appearance on The Star Athlete, a new Mediacorp variety show that features celebrities taking on challenges in different sports.
While the swimming segment in episode three included national athletes — Pang Sheng Jun and sisters Quah Ting Wen and Jing Wen — Benjamin was hardly out of place as he was once among their ranks too.
Though he is best known as a musician, the 32-year-old used to be a national youth swimmer. In fact, he introduced himself as Pang's senior on The Star Athlete, and the latter admitted that he used to look up to Benjamin.
Benjamin shared a clip from the show on his Instagram yesterday (March 15) but remained humble, writing: "Real ones know my form was awful, and everyone knows my Mandarin is too.
He added in Chinese: "But I'm practising hard, stay tuned!"
On The Star Athlete, Benjamin joined Qi Yuwu's team as a contestant, and left opposing team leader Lee Teng disheartened.
"You see, my heart sank into the abyss," Lee Teng said, after seeing Benjamin swim. "He's awesome, he swims butterfly style. It's going to be a difficult day."
[embed]https://www.instagram.com/p/CpzmIeDAKVQ/[/embed]
Not only did Benjamin grab the attention of the celebrities in the variety show, he also got the seal of approval from Olympic gold medallist Joseph Schooling in the comment section as well.
The national swimmer deemed Benjamin's "side breath action" as the number one key highlight of the clip, before making a jab at Pang's Mandarin skills.
Joining in the ribbing, Benjamin replied about his technique: "Had to give @pangshengjun the side eye."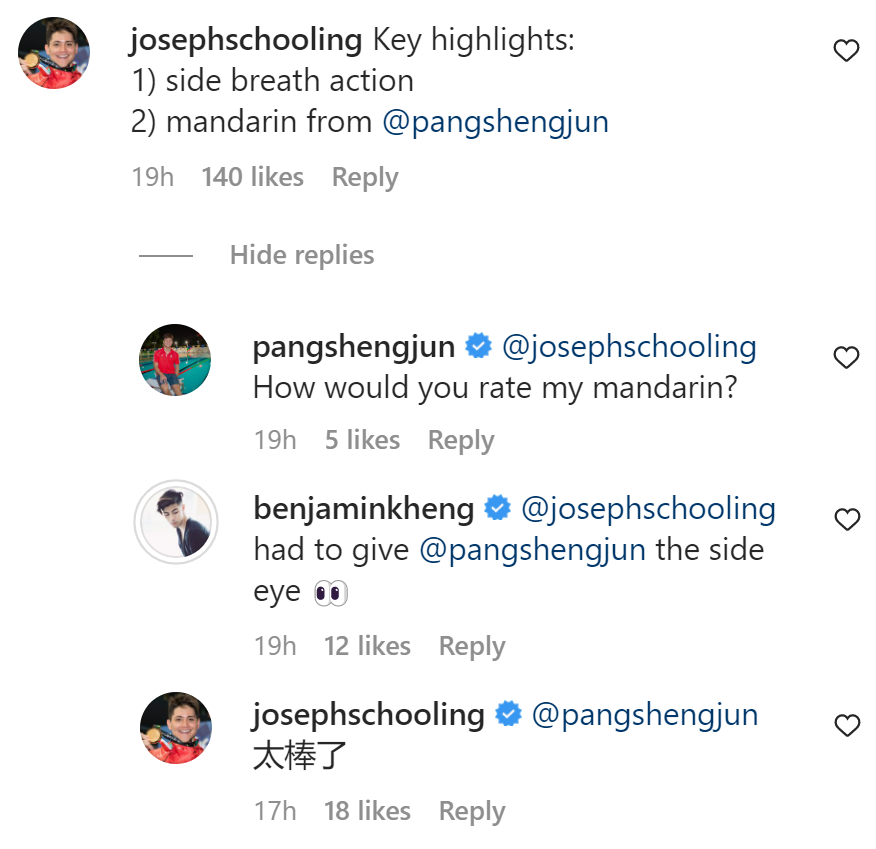 Benjamin started swimming when he was six and attended the Singapore Sports School before he "realised that my passions lay somewhere else". He returned to competitive swimming after a 15-year hiatus, joining the Masters (over 25) category in 2021.
[embed]https://www.instagram.com/p/CTcMTVSF9bN/[/embed]
One comment on yesterday's Instagram post agreed that his form was not up to standard, reading: "Oh no, that dive" with a skull emoji.
Benjamin, in his defence, wrote: "It's the only one I've ever learnt."
"You're too humble. You killed it," another comment disagreed.
Actor Joshua Tan had a different priority altogether, commenting: "Those speedos!"
Opinions on Benjamin's ability to speak Mandarin were a mixed bag as well, ranging from "not bad" and "pretty decent" to calling it a "struggle bus", but the singer definitely knows how to poke fun at himself about it.
In January, Benjamin collaborated with fellow singer-songwriter Annette Lee and released an ode to the Singaporean Chinese identity, titled We Are…
In it, the duo described themselves as: "We need hanyu pinyin to read Chinese characters — that type of Chinese."
[embed]https://www.youtube.com/watch?v=mw2vkXfjdFc&ab_channel=Entertainment-Mediacorp[/embed]
ALSO READ: 'It's not about whose body is better': Qi Yuwu gets teased for baring his chest on The Star Athlete
drimac@asiaone.com
No part of this article can be reproduced without permission from AsiaOne.