Guess what? Singapore's got its own hero minted by Deadpool star Ryan Reynolds.
Because when the Canadian-American actor called, Tan Min-Liang answered.
The homegrown entrepreneur and chief executive officer (CEO) of Razer has been hailed as a hero by the celebrated actor in what is arguably one of the bigger intersections of pop and geek cultures in 2020.
Yesterday (April 6), Ryan, 43, shared a request made by Hayley Wickenheiser on Twitter for personal protective equipment (PPE). The Canadian Olympic ice hockey medalist made the request on behalf of her friends working in the frontlines in Toronto, and she needed — among other equipment — 13,500 surgical masks.
https://twitter.com/VancityReynolds/status/1246969255557545984
Ryan added: "People who help Hayley get this critical PPE gear will get something awesome from me. I'll send you personalised videos. I'll sign whatever you want. I'll send Deadpool Bobbleheads and/or movie memorabilia."
Tan, 42, responded: "I can see if we can route some surgical masks over from the donations we are making globally."
In a subsequent tweet, Tan wrote: "We repurposed a few of our manufacturing lines/procuring from other companies for masks — and are donating 1M surgical masks globally — shipments going out now. If you get me an address asap, I'll route it over to you guys."
Last month, Tan stated that his engineers and designers have been working to temporarily convert a portion of the company's production facilities to produce surgical masks in lieu of gaming peripherals. Shortly after, he followed up with an announcement that Razer is set to start production with help from local companies.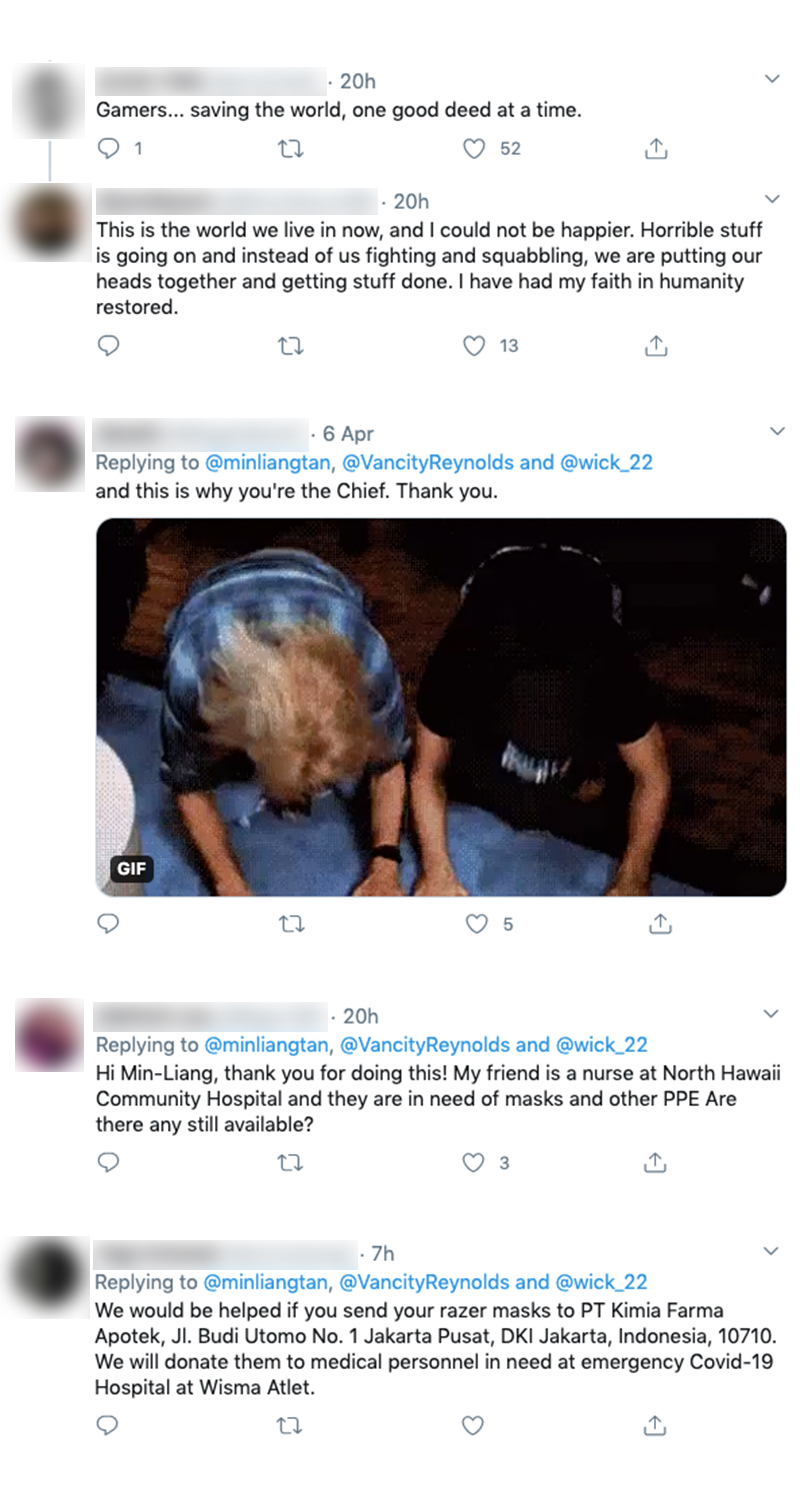 PHOTO: Screengrabs from Twitter/VancityReynolds
Justifiably, netizens and Razer fans were filled with praise for Tan. Some even asked if he was able to donate masks to their own friends at the frontlines who are in need of PPE as well.
Ryan was also wowed by Tan's magnanimous donation, which he dubbed as "actual heroism". In response, Tan said: "Wait, did Deadpool just call us heroes?"
Well, sounds about right.
For the latest updates on the coronavirus, visit here.
bryanlim@asiaone.com