Hong Kong actor Donnie Yen may have left his iconic Ip Man role behind, but he's still kicking ass and taking names.
In his new role as Commander Tung in Disney's live-action movie Mulan, his prowess with a sword left director Niki Caro gobsmacked. She told AsiaOne via email that her jaw "hit the floor" after she witnessed his brilliant display with the weapon.
Caro, 53, recounted: "One of my favourite moments on set was the first time I experienced Donnie Yen's martial arts skills in real life. As Commander Tung, he does a sword display in front of all the recruits and my jaw hit the floor.
"The way that man moves, and the way he moves his sword — (it was) so fast I literally couldn't see it move in real time. I had to shoot the sequence again in slow motion, just so I could see what he was doing. It was astonishing!"
For the adaptation of the beloved 1998 Disney animated hit, the filmmaker has assembled some of the biggest Asian names in showbiz. Aside from Donnie, heavy hitters such as Jet Li, Gong Li, and Cheng Pei-pei are also part of the production, and Caro found the experience of working with an extraordinary cast of "almost entirely ethnically Chinese representing the breadth of Chinese experience" to be a dream.
She added: "Jet Li brought gravitas and heart to the role of the Emperor. Working with Gong Li on a character that's a counterpoint to Mulan was a creative highlight of working on this film. Cheng Pei-pei's brilliant comedic timing provides a fun wink and a nod for the fans of the animated classic."
As for the titular heroine, Caro asserted that no one else could have inhabited the role apart from Chinese actress Liu Yifei. Not only did Yifei embody the physicality and tenacity of Mulan, she also "raised the bar and inspired all of us".
Caro explained: "During the first round of casting, we did an extensive tour of China and found some young women that were amazing, but I never felt that we'd truly found our warrior. A year later, Yifei came to Los Angeles to meet with me, and ended up in the audition room with absolutely no sleep.
"She was required to do five dialogue scenes, one of which was five pages long, but she never faltered. I saw immediately how strong of an actor she is. Then we sent her to a gruelling physical assessment. Again, she never complained. She never quit. I knew I had found my warrior."
'CULTURAL AUTHENTICITY WAS DISCUSSED AT EVERY STEP'
Stepping in as director for a film that's culturally significant to those of Chinese descent meant Caro had to convince naysayers before her work even started, as she is of Western descent and hails from New Zealand. However, she is confident in her ability to surpass the cultural barrier based on her previous works.
With previous projects like McFarland USA (a film adaptation of the true story of a Mexican-American cross country team) and Whale Rider (a film about a Maori girl who proves to the men in her tribe and her grandfather that she can be a leader), Caro maintained that she's dedicated to "authenticity" and "collaborating across communities" to deliver "epic films with deep cultural roots".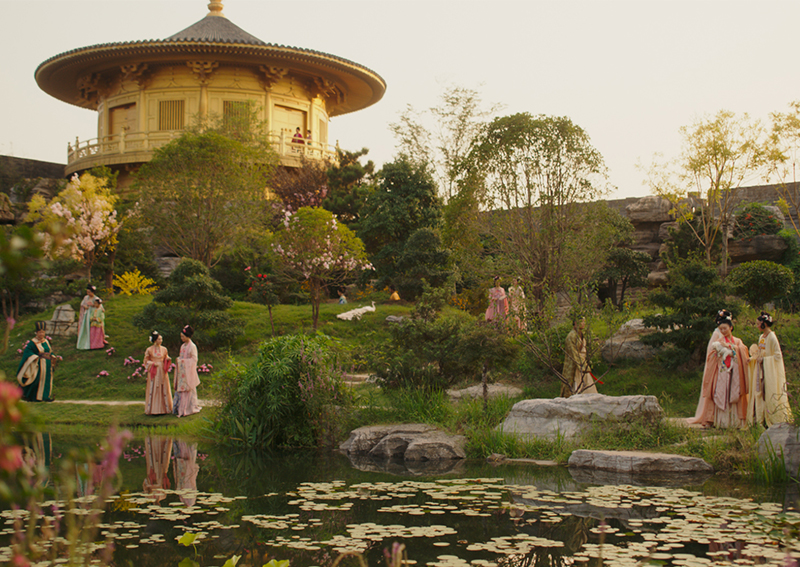 And it was the same approach she took with Mulan.
"Cultural authenticity was discussed at every step of the process. My approach was to steep myself in research and surround myself with a diverse creative team representing different perspectives on Chinese identity, culture, and people. This influenced every aspect of production, leading to authentic cultural celebration and perspective," she explained.
To honour the ballad and the Chinese culture, the research process started during the writing of the script and continued through to pre-production, production and post-production. The script was also workshopped with "a diverse group of Chinese diasporic writers" whose notes and perspectives were incorporated.
Caro revealed that each department conducted deep research into Chinese culture, painting, history, and accounts of war, so that every detail was as authentic as possible. She said: "We researched matchmaking services, trading along the Silk Road, and the incredible beauty and diversity of China. We took the responsibility of telling this story authentically so seriously."
WHY NO MUSHU?
When details of the live-action film were announced, fans of the animated classic were dismayed to hear that the adaptation had several major differences - such as the removal of songs and characters like Captain Li Shang (Mulan's love interest) and her dragon companion Mushu.
In a recent interview with Collider, producer Jason Reed explained that Li Shang was removed in light of the #MeToo movement because they felt it was uncomfortable and inappropriate to have a commanding officer who is also a sexual love interest. Instead, the character has been split into Mulan's mentor Commander Tung and Honghui, her "equal in the squad".
As for the songs, Caro previously said that the music from the 1998 film will be honoured in a "very significant" way. It was also recently reported that Reflection singer Christina Aguilera has recorded new material for the movie, including a new take on the iconic ballad.
But when it came to Mushu, Caro explained to us that his removal was to make certain elements of the animated classic "more relevant for audiences today".
Caro added: "But we still love the humour and companionship for Mulan that he brought to the animated classic, so we found those traits in some new characters. We hope the fans will enjoy this new take!"
Mulan opens in Singapore on March 26.
ALSO READ: Mulan sparks different questions about Chinese identity in East and West
bryanlim@asiaone.com