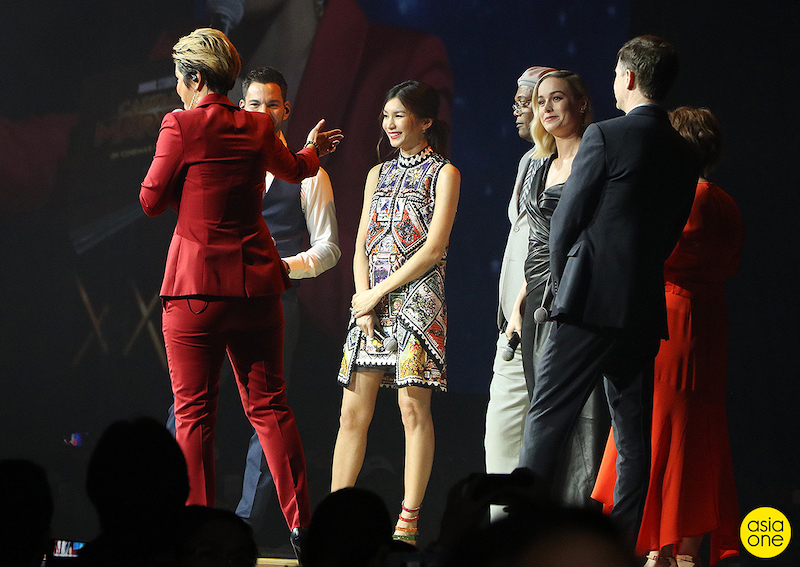 All eyes were on Captain Marvel stars Brie Larson, Samuel L. Jackson, Gemma Chan, as well as directors Anna Boden and Ryan Fleck during the movie's red carpet fan event in Singapore on Valentine's Day (Thursday, Feb 14).
The event, which started just before 8pm, was held at the Marina Bay Sands Expo and Convention Centre, where a press conference took place earlier in the morning.
The stars chatted, took selfies, and signed autographs for screaming fans from all around the world as they made their way down the red carpet.
Here are some highlights from the evening:
There was never a dull moment with hosts Nikki Muller and Bobby Tonelli as they bantered with the stars and fans, who jostled for the best views at the event.
More than a handful of lucky fans got to meet their favourite Captain Marvel stars and vied for selfies with them.
During the nearly two-hour event, fans tried all means to stand out among the crowd in order to make Brie, Gemma and Samuel take notice -- and stand out they did.
For some, the Captain Marvel red carpet event was certainly an out-of-this-world experience.
Singapore marks the Captain Marvel movie's first – and only stop in Asia – on its global press tour. The fan event was so popular that the organisers released another batch of tickets on the event day itself, after the first round ran out on Sunday.
The movie opens in Singapore on March 7.
ALSO READ: Captain Marvel role made Brie Larson want to 'throw people'
lynette@asiaone.com