'It's not criticism we're afraid of': Jack Neo and Ah Girls Go Army cast on hate comments
PUBLISHED ON
June 15, 2022 9:24 AM
By
Claudia Tan
Ah Girls Go Army might have done very well in the box office earlier this year but the movie has also received a fair amount of criticism from detractors, who disparaged the plot down to some of the characters' names. 
So, how does the cast feel about the backlash?
During the media event for the franchise's sequel Ah Girls Go Army Again on Tuesday (June 14), AsiaOne asked local director Jack Neo and some of the cast members how they felt about the negative remarks they received after the first movie was released. 
Xixi Lim, who plays recruit Yuan Yuanyuan in the movie, said: "I think for me it's pretty normal because I'm putting myself out there and I look very different from the rest of the artistes."
"The very first time I went on screen, I got a lot of backlash. It's quite common for me because I'm an easy target," she added. 
The 34-year-old has also gotten pretty creative with the way she responds to hate comments. She once received a comment telling her that she "took up 80 per cent of the screen", to which she responded: "I didn't know I have an auto-zoom function, that's something new!" 
"You just wanna let them know you've seen the comment but it's not gonna hurt you in any way," she explained. 
Going on to address the issue of stereotyping, Belle Chua, who plays recruit Joey Tay, felt that these comments came from people who projected their own stereotypes onto the characters.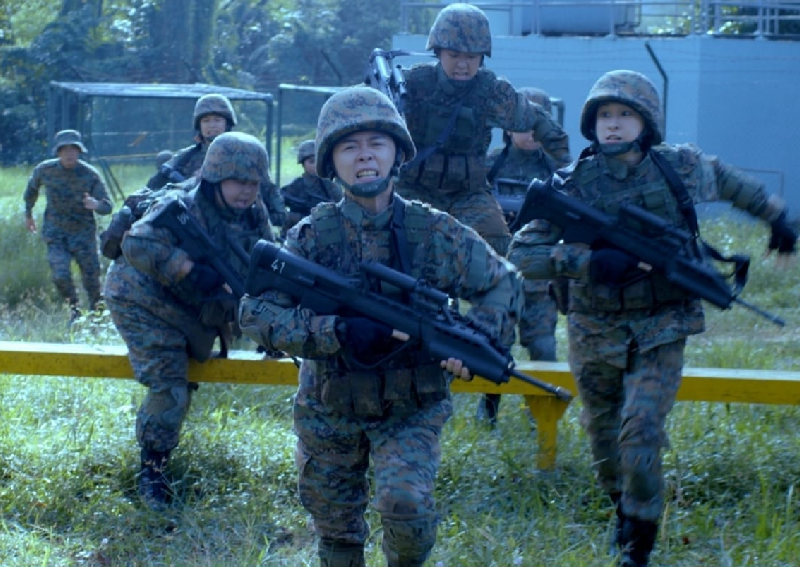 "We're really trying to break away from a lot of stereotypes in the movie, about how girls can't do this or can't do that, or because I'm big-sized I can't run or do push-ups," Xixi added. 
"They're just projecting their own sexism onto us," remarked Kelly Kimberly Cheong, 27, who was previously criticised for her character's original name Amanda Man. 
Agreeing with his co-stars, Glenn Yong, 25, who plays Sergeant Chow, pointed out: "I think this movie is really about women empowerment. It's showing that girls can do it as well — they can rough it out, even though the forest is dirty and muddy... I think that should be the focal point." 
Twenty-five-year-old Yang Guang Ke Le, who plays Princess See, added: "I once heard an influencer say, 'I don't care what you say about me as long as you're talking about me'. As artistes, we're most afraid of people not talking about us. Why are people criticising Ah Girls Go Army? It's because we're a hot topic." 
Since this is no longer their first rodeo, Xixi confidently said that the cast is ready to receive any comments from the public — both good and bad — about the second movie. 
Said Glenn: "I think all the actors are really professional, we have really tough hearts. Because it's fine, for every hater, we have 10 more people who love us or are being entertained by us. I think that's what the cast is choosing to focus on instead of the negativity."
[[nid:583714]]
Jack also contributed his two cents: "Frankly speaking, it's not criticism that we're afraid of, because we can improve. We're more afraid of people being swayed by others — especially if it's on a reputable platform. But I think it's our responsibility to show people different sides of the story. You need to give people the opportunity to judge for themselves." 
Entertaining audiences aside, the Ah Girls Go Army franchise has also created 400 job opportunities.
Jack said: "We hope everyone will recognise our hard work, we also want everyone to love us and appreciate what we've done. We not only entertained audiences, we've also contributed to the economy, so see us from this perspective." 
Ah Girls Go Army Again premieres in Singapore cinemas June 16. 
Catch Ah Girls Go Army and Ah Girls Go Army Again during the marathon shows with cast appearances: 
June 18, 1.30pm at The Cathay Cineplex (Cathay Building) 
June 19, 12.40pm at Cathay Cineplex (AMK Hub) 
Get your tickets here. 
There's also a Meet the Cast event on June 18, 7pm, at the Festive Plaza at Our Tampines Hub
[embed]https://www.youtube.com/watch?v=ohP0Olo0oZQ[/embed]
claudiatan@asiaone.com