Throughout his 48-year career as a stuntman and martial arts actor — which started when he was only 17 — Jackie Chan has carved a reputation as a persistent boundary-pusher who insists on performing dangerous daredevil stunts himself.
Despite all the safety precautions, fate has other plans. Accidents have still occurred.
While filming a pursuit scene in his latest movie Vanguard, for instance, the jet ski he was riding hit a rock and flipped.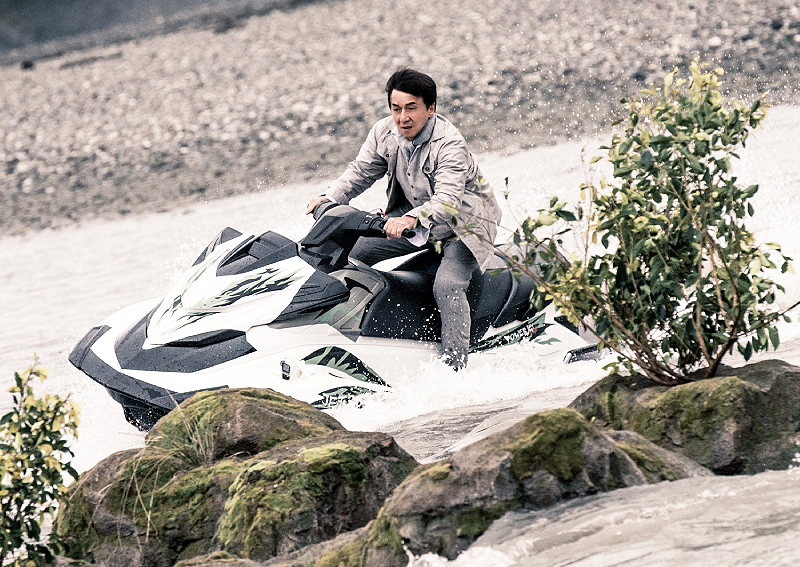 Jackie Chan in the Chinese New Year movie Vanguard. PHOTO: mm2 Entertainment
He was trapped under the vehicle and couldn't pull himself out, but fortunately for him, the crew got to him soon enough. It was only later that night in the shower that he belatedly realised he could have died right there and then.
In a recent email interview with the movie legend, we asked how many near-fatal accidents the icon has had in his career.
Jackie replied to AsiaOne in Chinese: "There have been so many times… probably a few times in each movie and it likely occurred even more often when I was younger… so more than 200 times."
Win! Movie tickets to Vanguard
The 65-year-old added that he doesn't allow himself the luxury of taking time out to collect himself after such accidents.
"There's always an element of danger in action scenes, so we make sure we've all the safeguards in place," he said.
"(When the accident in Vanguard happened) I just changed my clothes, took a sip of water, and continued with filming. You can't leave the entire production crew waiting because of you. Actors must still be professional. I'm only concerned with how to make the action scenes look great, that's all."
The worst accident he's had was during the filming of the 1986 movie Armour of God in former Yugoslavia, he recalled.
The scene required him to jump off a tree, and unsatisfied with his first attempt, he went for another go. However, the branch snapped and he crashed to the ground, injuring his head severely. Today, he still has a metal plate implanted in his skull from the episode.
With all these scares, why not just leave it to the stuntmen?
"I don't want to put my life on the line, too, but the audience wouldn't want me to use stuntmen — and I don't want to as well," Jackie said.
"Now that I'm older, I've changed some of the ways I fight. I still perform my own action scenes — after all my years of training, I'm pretty good in my kung fu basics. Simple punches and kicks don't faze me."
In the interview, Jackie also talked about his latest movie Vanguard. In the action flick, he plays the chief commander of an international security team composed of elite security guards equipped with the most advanced weapons.
When the team goes on a danger-filled, globe-trotting mission to rescue a businessman and his daughter from an aggressive military group, they also have to race against time to stop a terrorist attack. The movie is directed by Jackie's long-time friend and partner, award-winning director Stanley Tong.
Vanguard is Stanley and Jackie's ninth collaboration in 30 years, starting from the Police Story series in the 1990s, and their mutual trust stems from their familiarity with each other. Stanley says he's knows Jackie's personality and his preferred action choreography, while Jackie says they can finish each other's sentences.
When Jackie was caught underwater in the jet ski accident, Stanley was so terrified that he cried. And the first thing Jackie said to his friend once he was pulled back to safety? "This is the first time in so many years that I've seen you cry!"
In Vanguard, both of them took the cast of young actors — Yang Yang, Ai Lun, Mu Qimiya, Xu Ruohan, and Zhu Zhengting — under their wings. They assigned one of Jackie's signature fighting techniques to each actor, and prepared them to execute it on screen. For instance, Jackie taught Yang Yang how to reload a gun in less than a second.
Filming brought Jackie and the cast to nine different locations including London, Dubai, Zambia, and India, with each providing him fresh and exciting experiences.
PHOTO: mm2 Entertainment
Jackie said he got up close with lions in Zambia, raced in a gold-plated sports car in a Dubai shopping mall, and filmed in a beautiful, isolated 1,100-year-old ancient city in India.
He added: "We filmed the movie ending in Dubai, where we celebrated Chinese New Year. The LED screens on Burj Khalifa, the tallest building in the world, broadcast something special for us. I'm not going to reveal it, so watch out for it in Vanguard!"
Click here to find out more about the movie as well as showtimes.
This article was brought to you in partnership with mm2 Entertainment.
---
[UPDATE, Jan 23, 4.50pm]:
An earlier version of this article listed Vanguard opening here on Jan 25. This has been removed as the global release date has been postponed due to the Wuhan coronavirus outbreak. The contest is also closed as a result.
kwokkarpeng@asiaone.com