'No one asked for a refund?' Netizens debate over Fish Leong losing her voice at China concert
PUBLISHED ON
September 19, 2023 10:23 AM
By
Yeo Shu Hui
Malaysian singer Fish Leong was once dubbed the Queen of Love Songs and the Queen of Healing because of her soothing voice and emotional and expressive vocals.
However, one of her performances during her concert at Harbin, China, last Saturday (Sept 16) has sparked off a debate on whether her heydays are long gone.
In multiple videos uploaded on social media platforms such as Weibo and TikTok yesterday, the 45-year-old is seen singing her hit song Swallowtail Butterfly.
In the last stanza of the song, Fish started off well, but seemed to lose her voice, sang off-key and sounded out of breath in the last few lines.
Netizens wondered if she had lost her voice and some commented — rather unkindly — that her singing is "bad".
One netizen wrote: "You still dare to have a concert with such standards? No one asked for a refund?"
Another commented: "With such singing standards, she really had the courage to stand on stage! She didn't find it hard to listen? Can't sing and still try to sing, isn't it embarrassing?"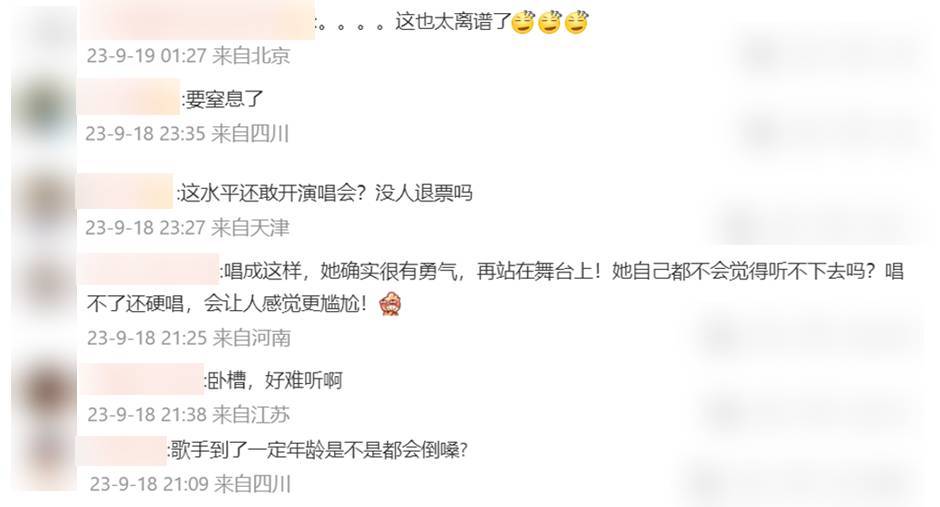 Despite that, other netizens and fans came to Fish's defence, saying that she was probably exhausted or unwell.
A netizen wrote: "She is exhausted, she is also a human being! … Get well soon, Fish!"
"I think her costume is too heavy which affects her voice, that's why she sang out of tune and is short of breath," another wrote.
One of Fish's fans also posted another video of her in the same costume, seemingly in the same concert, singing one of her other songs The Intruder and she sounded just as she always did.
Another fan wrote in the comments section: "You call this loss of voice? This is a celestial voice. I don't understand, some people just want to cause trouble."
ALSO READ: 'Calm down!' Charmaine Sheh, Gallen Lo, Raymond Lam, Benz Hui appear at Kuala Lumpur restaurant, send diners into frenzy
No part of this article can be reproduced without permission from AsiaOne.