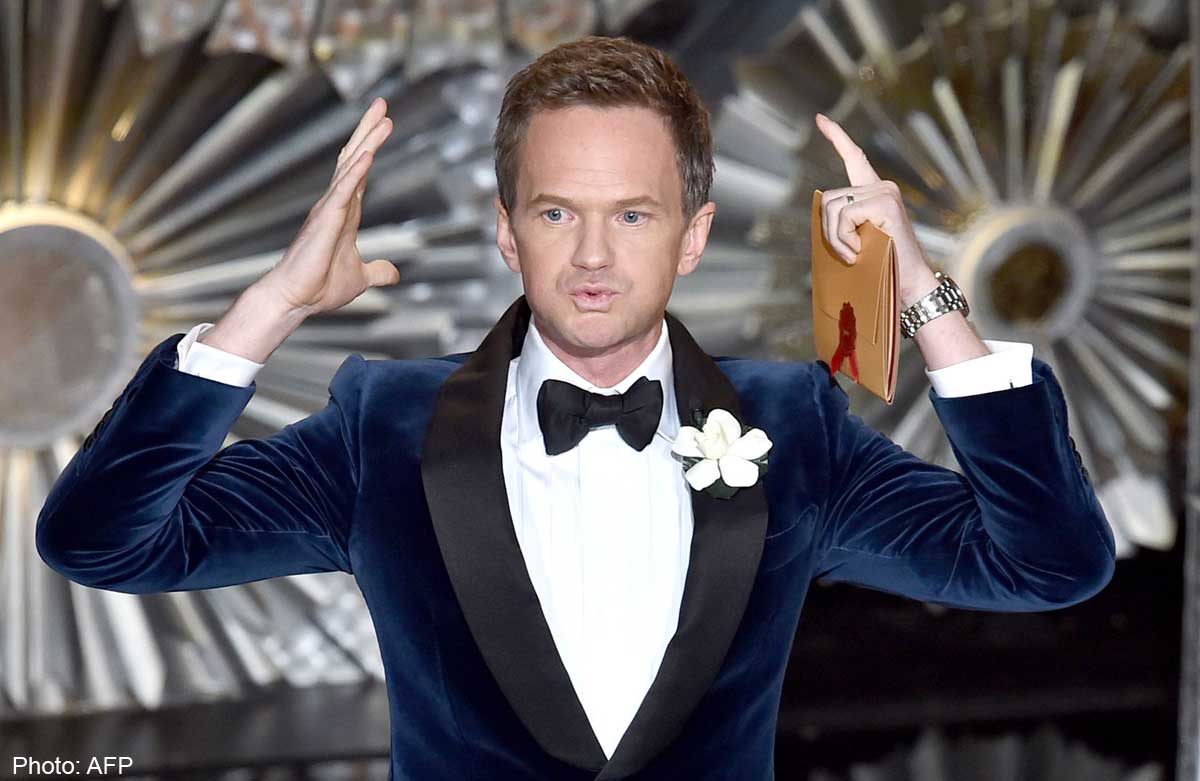 So Birdman bagged Best Picture and Best Director at the Academy Awards in Los Angeles yesterday.
How predictable.
Awards season frontrunners Eddie Redmayne, Julianne Moore, J.K. Simmons and Patricia Arquette were feted with the acting awards too.
Also expected.
Emmy-winning host Neil Patrick Harris was mild, dull and borderline annoying.
Now that's a surprise.
Hollywood's favourite showman, who was emcee for the Tony Awards and Emmy Awards, was seriously off his game in his first Oscars gig.
And it looks like his biggest fear truly happened.
The 41-year-old US actor revealed to US host Ellen DeGeneres on her talk show last week that he had "this horrible, dark cloud above (my) head", as his greatest concern was finding a way to top her Oscars hosting gig last year, which included memorable highlights like her epic star-studded selfie and impromptu pizza delivery.
"Your selfie shot was the most spectacular, successful thing. How do you beat the selfie that broke the Internet? I see that in my nightmares," Harris joked.
Not that he didn't try to make the 3½-hour ceremony entertaining.
But apart from his opening jab at the lack of diversity among this year's nominees ("Tonight, we honour Hollywood's best and whitest. I mean brightest."), and the toe-tapping opening musical number opposite actress Anna Kendrick, his subsequent punchlines fell flat, and some were considered downright distasteful.
There was the elaborate but tired running gag of enlisting Oscar winner Octavia Spencer to keep an eye on his briefcase containing his own Oscar predictions, which ended with a recap of the show's quirkier moments.
It definitely didn't warrant all that tortured set-up.
The stunt didn't sit well with US viewers and invited the ire of the Internet, with people commenting how he gave Spencer a "dumb job" and that she's "not a help", referring to her role in the 2011 movie The Help.
Many took to Twitter to voice their displeasure, and it didn't help that Harris also made fun of other black actors such as David Oyelowo and Oprah Winfrey.
He compared Winfrey to American Sniper because she's "rich", comparing her net worth with the Oscar-nominated movie's huge box-office earnings.
His attempt to get British actor Oyelowo to recite the punchline of a joke about the recent remake of Annie, which starred black actors Jamie Foxx and Quvenzhane Wallis, turned out inappropriate.
Other examples of Harris' lame, corny jokes included his introduction of US actress Reese Witherspoon.
"This next Oscar presenter is so lovely you could eat her up with her spoon."
But Harris' lowest point perhaps was when he stripped down to his white undies - a la Michael Keaton's character in Birdman - not that it saved the show.
Thankfully, there were other highlights that lit the Internet.
PAY FAIR
Patricia Arquette, who won Best Supporting Actress for her role in Richard Linklater's Boyhood, used her acceptance speech to advocate equal pay for women.
"To every woman who gave birth to every taxpayer and citizen of this nation, we have fought for everybody else's equal rights," the 46-year-old said.
"It's our time to have wage equality once and for all, and equal rights for women in the United States of America."
Her passionate plea was applauded by all the women in attendance, none more enthusiastic than Meryl Streep, whose rapturous endorsement quickly became a meme that went viral
BUT I'M A CREEP
Redemption was at hand - quite literally - when John Travolta was given the opportunity to co-present with US singer-actress Idina Menzel after he mangled her name at last year's Oscars.
While he correctly pronounced it this time, what he did after was puzzling - he couldn't keep his hands off her face.
Not only did he wrap his arm tightly around the Frozen star's waist, he grabbed her chin and stroked her cheek, calling her "my darling, my beautiful, my wickedly talented Idina Menzel".
And that wasn't even Travolta's first touchy-feely attempt.
The 61-year-old actor was snapped on the red carpet wrapping his hands around actress Scarlett Johansson before planting a big smooch on her cheek.
She was photographed looking like she could go all Black Widow on him if she wasn't caught so off-guard.
TEARS FOR GLORY
Selma, the Martin Luther King biopic, may have been snubbed by the Oscars, but its emotional theme song, Glory, was the one that got everyone emotional.
After singers John Legend and Common's rousing performance, there wasn't a dry eye in sight.
Selma star Oyelowo and US actors Chris Pine and Jessica Chastain had their faces wet with tears.
More tears and a standing ovation followed after the duo received the Best Original Song nod for Glory.
THE SOUND OF GAGA
Who knew Lady Gaga could make the hills come alive?
The flamboyant US pop star sent chills down spines for her spot-on recreation of Julie Andrews' fine diction and tone in her medley of songs from the classic musical such as My Favourite Things, Edelweiss and Climb Every Mountain.
It was a tribute to the 50th anniversary of The Sound Of Music, the most popular movie musical of all time.
The Twitter-verse may have given Gaga their stamp of approval, but we bet nothing made her day more than an emotional on-stage hug from Andrews herself.
"Dear Lady Gaga," said Andrews.
"Thank you for that wonderful tribute. It really warmed my heart, it really did."

This article was first published on February 24, 2015.
Get The New Paper for more stories.