Golden Bell Award winner Ah Xiang has been photographed kissing fellow television host Cheryl Hsieh on June 8 in images released today (June 12).
The married man then held a damage-control media conference soon after, but instead of admitting to infidelity, he claimed that they are such close friends that they might have crossed the boundaries.
"When we're down, hugs and encouragement are common," the Taiwanese singer-host told reporters.
Despite apologising as well, his explanation has left many people sceptical.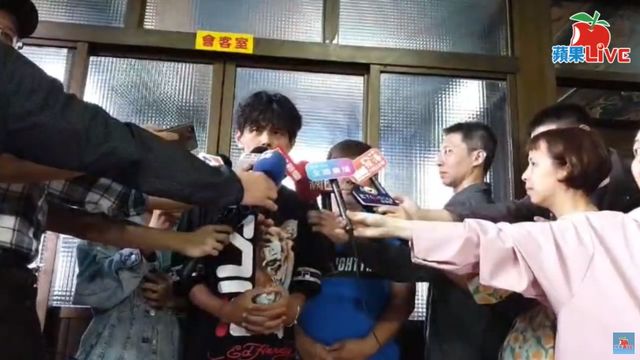 Photos of Ah Xiang kissing Cheryl through his BMW car window were released by Mirror Media this morning, drawing the public's ire.
The 38-year-old is first seen by paparazzi leaving a store and then driving his car to a florist. Cheryl emerges from the shop, before kissing him.
She then returns to the florist while he drives off.
That he has been married to Grace Kung since 2011 has not prevented Ah Xiang from being romantically linked to Cheryl, 37, for years.
Most recently, the two were spotted spending 48 minutes in his car late last year.
Grace had to post a group photo of the trio online with the caption, "We are family", hoping to dispel cheating allegations.
Cheryl had once said that Ah Xiang, one half of music and comedy act Plungon, was not her cup of tea, while his bandmate Hao Zi also vouched that the couple were more like brothers and that an affair "would never happen".
"I am thankful for everyone's concern. I would first like to apologise to my wife, my children and my family," Ah Xiang told the media today.
"Actually it's all along very simple. Our friendship is full of love. I didn't manage the boundaries between good friends well.
"From today onwards, I'll have to properly correct myself and reflect on myself. Hope everyone gives Ah Xiang another chance."
In an irony certain to be seized on by critics, Ah Xiang mentioned infidelity in an episode of game show Genius Go Go Go last week.
When a team failed to answer a question about extramarital affairs, he jokingly quizzed why they haven't had one.
Plungon's food and travel show Super Taste has been airing in Singapore for several years.
The annual Golden Bell Awards are Taiwan's highest honour for television.
tanthiampeng@asiaone.com