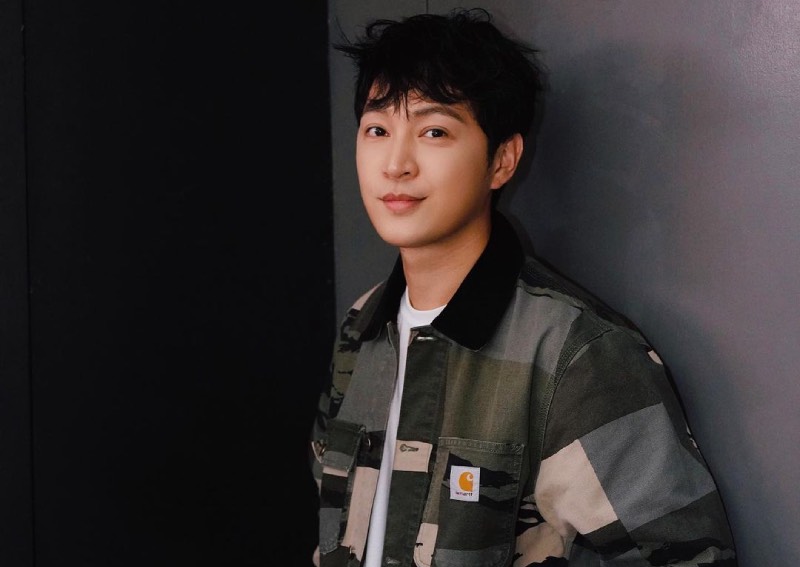 Playing a detestable character may be one of the most stifling experiences ever, and Singapore-based Chinese actor Jeffrey Xu can attest to it.
In the new Mediacorp drama Strike Gold, the 34-year-old plays a domestic abuser Ke Nan, who hits his mother Cardboard Lady (Hong Huifang).
At a recent media conference for the series,, he shared with AsiaOne how he imagined a backstory for the character on his own.
He said: "For example, I imagined he was once married and has a kid, but is divorced probably because of domestic violence too."
He imagined Ke Nan's inclination towards domestic violence to be because of the environment he grew up in: His dad used to hit his mum too.
"At first, when we first started filming, I couldn't quite accept this character," Jeffrey admitted. "I grew up in a happy family — my mother loves me and I love my mother. So having to hit my mother is something very cruel to me."
After researching on the mentality of abusers, he admitted he has complex feelings towards them, stating: "I feel pity towards these perpetrators. It feels like they are trapped in a cage of their own and I feel they need more care and concern.
"So even though my character is despicable and detestable, he is also deserving of sympathy. Perpetrators actually really need help."
He explained the "root of the problem" as being the upbringing of the perpetrator: "The seed of domestic violence might have already been sown in his heart from the time he was a little kid.
"For example, the perpetrator might have seen his dad treat his mum that way. So he may feel that it is acceptable for him to treat his wife that way too. After he got married, he also felt he had to play that specific role. According to an interview I watched, when the perpetrator was asked why he did what he did, he responded, 'Isn't it normal? My dad also did that to my mum!'"
Strike Gold revolves around the residents of Block 88, all wanting to become rich. Yao Wenlong plays Mei Youyong, a former muay thai fighter, and Yvonne Lim plays Lisa Fang, a woman feigning insanity to escape debtors. A chance arises for them to steal Grandma Dudu's (Jin Yinji) pineapple tart recipe in order to make a fortune.
'The scene I hate the most'
Just because Jeffrey did his research on domestic violence doesn't mean it was a walk in the park for him. He felt he had to "consciously convince" himself to accept his role and even resorted to certain desperate measures to get into character.
He said: "On the film set, everybody was happy and relaxed, but I would be much quieter. First of all, I was already rejecting my character, so it was an unstable situation for me. So I feared if I joked around and relaxed, it would be difficult for me to get into character."
Jeffrey shared two scenes which were unforgettable to him. The first took place in the bathroom and has Ke Nan hitting his mother while holding her head under the tap.
He shared: "That was the scene I hated the most, it was very cruel. My character was suddenly overcome by his emotions. I had to communicate with Huifang and the director, and we talked about how we could make that scene more reasonable so it would be believable for the audience."
For the scene, Jeffrey clarified that he did not use pure rage to interpret the character.
"It was more of a mentality of 'let me educate you'. When his father was around, he was 'educating' his own wife. Now that his father is gone, the son feels like it's his role to 'educate' his mother instead. So it felt reasonable to him. If it was pure rage then my acting might not be as layered as I wanted it to be."
Eventually, Ke Nan recognises his abusive ways and the second unforgettable scene for Jeffrey is his reconciliation with his mother.
"When I uttered the line, 'Mum, I am sick', I could feel as if my character was in the midst of healing. I felt very moved by that scene. This is the charm of drama."
Strike Gold also stars Desmond Tan, Edwin Goh, Kiki Lim, Benjamin Tan, Tyler Ten and Ayden Sng. The show is telecast on weekdays at 9pm on Channel 8, and it's also availble on demand for free on meWATCH.
ALSO READ: Dream come true: Yvonne Lim relocating back to Singapore with 2 kids
jolynn.chia@asiaone.com
No part of this story can be reproduced without permission from AsiaOne.