There are no spoilers in this article.
Who are the first few people who get to watch an upcoming movie?
If you think it's the actors, the cast of Transformers: Rise of the Beast will beg to differ.
Before the world premiere and red carpet event at Marina Bay Sands tomorrow (May 27), cast members Anthony Ramos, Dominique Fishback and Tobe Nwigwe, director Steven Caple Jr and producer Lorenzo di Bonaventura held a press conference in Singapore with local and international press who had already caught the movie.
When asked how the cast felt when they watched the movie, they confessed that they hadn't caught it yet, to gasps from press members who had been asking about certain plot points.
"I've not watched the movie. So you all have seen the film?" Anthony, 31, said. When reporters murmured their acknowledgement, he added: "So you're just giving things away?"
Anthony added that he didn't even remember what the script was about as it had been "too long" since filming.
"I second that, I have also not watched the movie," Tobe, 36, said. "So all the questions about the extra stuff? Yeah, we don't wanna hear that."
Tobe added that he had avoided reading beyond his own part in the script because he "wanted to go to the movies like everybody else and be extremely surprised".
Unfortunately, he was given spoilers from the press questions.
"Now I know [at least] two things in the movie for sure," he complained.
At this, producer Lorenzo quipped: "Did you know we killed you?"
Tobe — a Grammy-nominated rapper who makes his movie debut in Transformers: Rise of the Beasts — appeared shocked for a second, before realising he was being teased.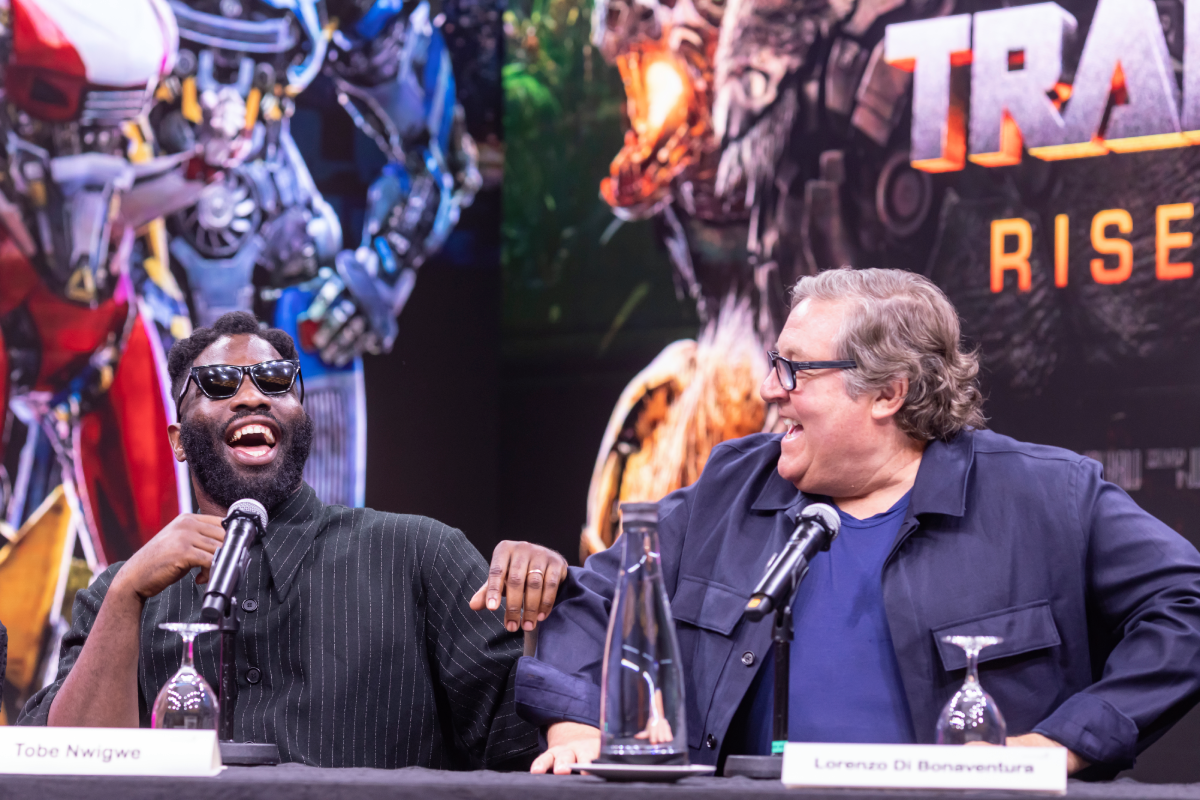 Anthony intends to watch the movie at home in New York with his family when it releases there. Tobe will be watching it tomorrow at the premiere.
The movie also comes with an ending that was so secretive that "no one knew", according to Lorenzo, not even the cast.
"We didn't trust them," he added.
"You people are probably the first to [watch it]," Steven told the press. "This was dropped, what, two weeks ago? This scene was so secretive and [kept] to our chests that no one knew. There was basically a fake script."
The director added there was even a "fake screening going around" that showed a different ending.
"We kept it close, because I felt like [Anthony] shouldn't even know, as a character," he added. "He's just riding along with the movie."
What would the cast like to transform into?
Transformers: Rise of the Beasts follows Noah Diaz (Anthony), an ex-military electronics expert determined to land a civilian job in Brooklyn. Dominique plays Elena Wallace, an archaeologist who investigates a mysterious artefact that has arrived at the museum she works at, while Tobe plays Reek.
Joining them are the Autobots — Optimus Prime (voiced by Peter Cullen), Mirage (Pete Davidson), Bumblebee, Arcee (Liza Koshy), Stratosphere (John DiMaggio) and Wheeljack (Cristo Fernández) — who join forces with the Maximals — Optimus Primal (Ron Perlman), Airazor (Michelle Yeoh), Cheetor (Tongayi Chirisa) and Rhinox (David Sobolov).
Together they fight the Terrorcons — Scourge (Peter Dinklage), Nightbird (Michaela Jae Rodriguez) and Battletrap.
Though Dominique, Anthony and Tobe all played humans in Transformers: Rise of the Beast, they were asked what vehicles or animals they'd like to transform into.
"A plane for me, 100 per cent," Anthony immediately said. "I could go wherever I want to be."
He even said his Transformer name would be "El Avión," or simply 'the plane' in Spanish.
Tobe chimed in that his name should instead be "Planthony".
His choice of Transformer, on the other hand, would be the killer whale, which drew oohs from the press.
"I knew that was going to get you, you ain't seen no underwater Transformers," he said, adding that he got fascinated by the orca because he saw news about them eating sharks.
"Come on, they be eating great whites!"
He suggested his name should be Free Tobe, a la Free Willy.
Dominique, 32, also picked an animal over a vehicle — the wolf.
"My dad's always had a special connection with wolves, so since I was younger I've always enjoyed them and watched videos of them living in packs," she said.
"But I don't know, you will have to give me a wolf name."
The Transformers: Rise of the Beasts red carpet event, accompanied by a pyrotechnic and projection mapping display, will be held on May 27 from 6 to 8pm at the waterfront between Marina Bay Sands and the ArtScience Museum.
The movie will be in cinemas from June 8 with early-bird previews from June 7.
ALSO READ: E-Junkies: 'It's so Chinese, that you need cash in heaven', says Ben Wang from American Born Chinese on his family's traditions and superstitions
drimac@asiaone.com
No part of this article can be reproduced without permission from AsiaOne.