Down from nine members to eight, the absence of Japanese member Mina was clearly felt at K-pop group Twice's Singapore concert, which was filled with highs and lows.
Held at the Singapore Indoor Stadium on Saturday (July 13), the sold-out concert was the third consecutive time that the South Korean girl group has performed in Singapore.
Despite flawless performances one after another, to the group's fanbase (known collectively as 'Once'), something was clearly off.
A statement from their agency on June 11 said that Mina will be pulling out from all concerts of Twice's world tour due to her struggle with "sudden extreme anxiety and insecurity towards performing on stage".
The announcement was followed by the trending Twitter hashtag #GetWellSoonMina, with fans praying for her recovery, and adding a green circle (green being Mina's designated "colour") around their profile pictures to show their support.
Her absence contributed to the show's emotional moments, which saw its fair share of tears both on stage and off.
But it wasn't all gloom and doom.
The show kicked off on a high note, as the remaining members took to the stage with a bang and their upbeat number, Stuck In My Head.
Fan favourites such as Cheer Up and Yes or Yes drove the crowd into a frenzy, with fanchants rising to a deafening level. Certain songs were also revamped and remixed, like Heart Shaker, to display a more mature side to Twice.
Most importantly, for the first time in Singapore, the group showcased their three different sub-units that allowed members to focus on varied aspects of themselves.
Sana, Dahyun and Tzuyu thrilled the crowd with their sexy cover of Beyonce's Dance For You.
While Momo and Jihyo rocked fans' worlds with their powerful yet emotion-filled cover of K-pop artist Taemin's Goodbye.
Meanwhile, Nayeon, Jeongyeon and Chaeyoung delivered a stunning performance with their cover of Lady Gaga's Born This Way, despite missing member Mina.
DIFFERENT COLOURS OF TWICE
Instead of the elaborate stage sets that they had for their Twiceland Zone 2 Fantasy Park tour, Twice stuck to minimal stage decorations, visual effects and props such as batons and handkerchiefs.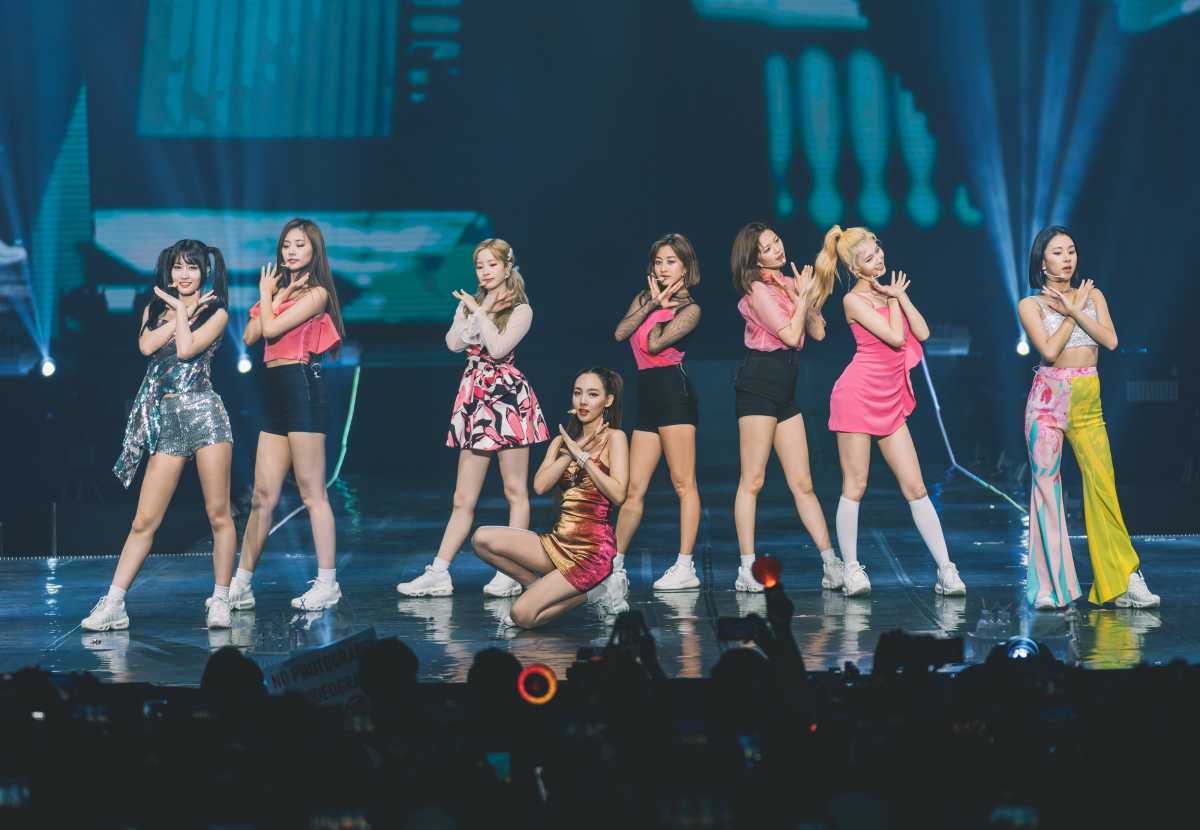 The simple but still stunning stage sets served to highlight their individual "colours", shared member Jeongyeon.
With each colour representing a member of the group, various colour changes, such as black, gold and white, showcased the "different sides of themselves," she said.
Indeed, the girls switched effortlessly between themes, showing their versatility.
ONCE AND TWICE
On more than one occasion, Twice proudly proclaimed their love for Singapore fans, with Momo ranking Singapore 'Onces' as number one, compared to her love for chili crab at number two.
Fans reciprocated the love via loud fan chants, following the groups dance and hand movements, even from their seats.
At the start of After Moon, fans immediately turned their lightsticks mint green, to show their support for Mina.
It was not just the fans that expressed their sadness. Rapper Chaeyoung said onstage through a translator: "We all miss Mina as much as you do. Although we have received lots of energy from 'Onces', but being nine is what Twice is."
Dahyun tearfully promised: "We'll come back as one."
Tear-jerking words aside, the girls could be seen comforting one another during emotional moments in the show, or helping to adjust one another's microphones, leaving little doubt in my mind about the bond between the group's members.
As someone who didn't start off the concert a Twice fan, it's entirely possible that the success of Twice lies not in the flashy outfits, pretty sets or catchy songs, but the genuine warmth and affection that the group and fans have for one another.
The entire night could be summed up by the words of lead vocalist Nayeon: "I will never forget this night ever. Thanks for making it a perfect day".
wongxuemin@asiaone.com