'But you died in the 4th movie': Ip Man 5 is coming, leaving fans wondering about plot
PHOTO: Instagram/Donnie Yen
PUBLISHED ON
May 19, 2023 10:37 AM
By
Yeo Shu Hui
Endings are always new beginnings.
When the last Ip Man movie was released in 2019, fans and audiences thought that they were really saying goodbye to the franchise for good — the movie was even titled Ip Man 4: The Finale.
For those who don't know, spoilers ahead: In the beginning of the fourth film, Ip Man is diagnosed with throat cancer. The film ends with his student Bruce Lee paying respect to the Wing Chun master at his funeral.
So imagine the surprise fans got when Donnie Yen, who plays the titular character, posted on Instagram on Thursday (May 18) a Ip Man 5 movie poster. The movie is one of three new films starring the actor that were announced at the Cannes Film Festival that same day.
After Donnie's post, fans swarmed to express their excitement for the continuation of the franchise in the comments section, including local actor Tyler Ten, who wrote in capital letters: "Omg can't wait!"
A few netizens expressed their bewilderment as Ip Man died in the last movie.
They also came up with their own speculations and interpretations on the plot of the next movie, to some hilarious extent.
A netizen commented that since the number five looks like the letter S in the poster, it could perhaps refer to "clones" of Ip Man.

Others speculated that perhaps Ip Man will be practicing his famous Wing Chun techniques on angels in the afterlife or as a zombie.
Another netizen speculated that the Wing Chun master survived, somehow.
But on a more serious note, a few netizens suspected it may be a prequel to the events that happened in the previous four movies, or a continuation of the last movie, with his sons, Ip Chun and Ip Ching, taking over their father's legacy.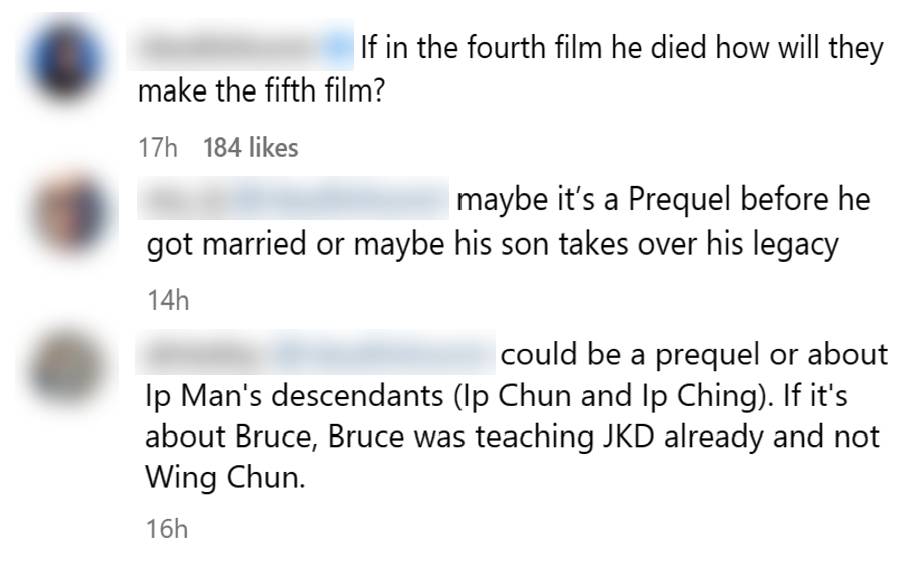 Others believed that the plot may shift towards Ip Man's student Bruce Lee.
No release date for the movie has been announced yet, but the anticipation is real.
ALSO READ: 'Blood was spilling like a shower spray': Donnie Yen reminisces filming with Jet Li, nearly getting blinded by him twice
yeo.shuhui@asiaone.com
No part of this article can be reproduced without permission from AsiaOne.