When you've lived somewhere for a long time, you undoubtedly start to view it as a second home, even after you return to your place of origin.
For former radio host Maddy Barber, who spent nearly a decade in Thailand and met her husband Wez there, building a family home in the country was something that was discussed often over the years.
They finally put it into action in 2022.
Back in December last year, she shared photos of the foundations of her new home in Phuket that's currently under construction.
"I know it's just a hole in the ground, but seeing it fills us with excitement all the same," the 49-year-old wrote on Instagram. "Frankly, I don't think a giant, muddy hole ever looked better or more beautiful to me."
Maddy and her family are currently based in Singapore. 
In a recent interview with AsiaOne, Maddy shared: "Most people say, 'I'll wait for my retirement to actually focus on what's important, like family, your personal relationships, your downtime and your me-time.
"I'm almost 50. I want to live today, since I could be gone tomorrow. So I'm going to build that house and I'm going to start living today."
She added: "Because when you're young, time is cheap, right? You don't really care, you think that you'll live forever. But as you get older, it's like every minute counts."
The Barber family had often discussed over the years that they wished they could live in Thailand once more, but it only became "a viable option" last year for them.
Their Phuket home, which Maddy estimates will be ready by the end of the year, is going to be in the "central to north" part of Phuket, an idyllic part of the island away from the crowded southern side known for its tourism industry.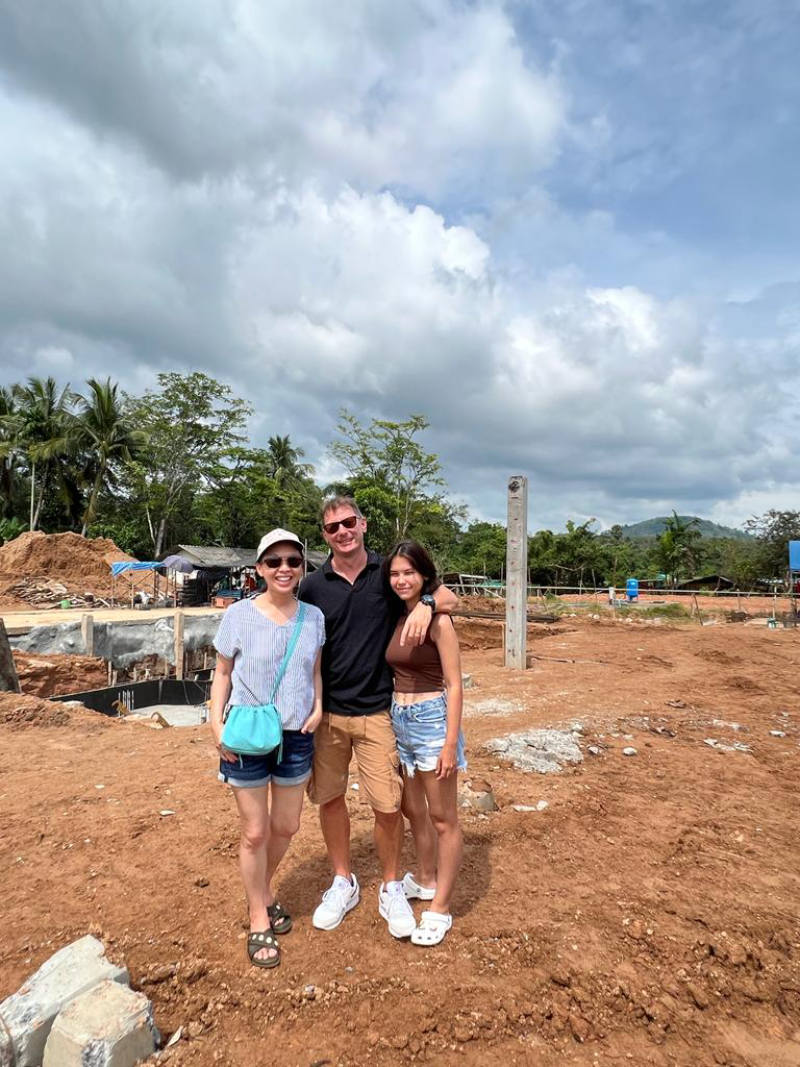 As for the layout, Maddy described it as a four-bedroom villa in a mix of Thai and Balinese styles, with a pool in the centre, a garden and a traditional Thai sala (open pavilion).
"We actually looked at a more modern style too, homes which are bright with high ceilings and floor-to-ceiling window and door panels. But because it's Thailand, my husband really wanted something that was more tropical, which showed the styles in this part of the world.
"And, as cliche as it is, it's more homely and warm, which is why we picked the Thai-Balinese style."
They also chose Phuket over Bangkok, where they once lived, due to the ease of access and relatively cheaper plane fares compared to the capital.
She added: "Many years ago, when my husband and I first met, he had a small guesthouse on Patong Beach in Phuket for backpackers. So it's a place he's very familiar with, and we spent a lot of time there about 15 years ago.
"So it's a bit of a homecoming more than anything."
Maddy's younger daughter Alicia, 17, was also born in Thailand, while Elizabeth, 27, spent her formative years there.
"My eldest daughter has very fond memories of Thailand. She still has Thai friends from when she went to an international school there, and now they're at the age where they have the means to go meet up," Maddy said.
"My younger one doesn't remember as much, but funnily enough, she spoke fluent Thai when she was a kid, because that was the first language she knew.
"Of course, she doesn't speak it now, but she's recently taken an interest in going back to Thailand if she had the chance, and maybe even attend a muay thai boot camp there."
Maddy is the founder of bespoke jewellery company Madly Gems, which will celebrate its 10th anniversary in 2024, where she works alongside her husband Wez.
"It's a very important time in our business, and we have always believed in being business owners who get our hands dirty and are there for our team, and Phuket allows us to do that because it's so close.
"If anything, I can easily hop on a plane and come back, but let's say, if we were to have a place in England (where Wez is from), it's a little harder."
Explaining further, she said she could hop on a plane on Friday night, stay in Phuket for the weekend and fly back for work in the new week.
Despite Phuket being close by and having work on her mind, Maddy wants to have more of a work-life balance this year and spend many weekends there.
"Because my husband and I were working so much in the last few years, sometimes you feel the distance and all you do is talk about work," she said.
"We had a very serious conversation about that and realised that's not how we want the rest of our lives to be. So that's why we're doing this now."
"We really felt that we wanted some place that we could escape to," she added. "We really wanted it for us, and for our family and friends to enjoy, relax and have some kind of work-life balance."
And when the Barber family isn't spending their weekends there, Maddy said: "We already told our friends and even our staff at Madly Gems, 'Hey, if you want to go up for the weekend, or if you want to use it, go right ahead. Just pay for the utilities and stuff, but feel free to go stay there.'"
New year's resolution: Visit one new place every year
Maddy also got to visit her dream destination in the United States earlier this year, which she was ecstatic about in our interview.
"New Orleans is the one place in America I've always, always wanted to go to, for its music and history. Yes, it has a very dark history when it comes to slavery, but all of that gives it flavour.
"We visited the Louisiana swamps and even the French quarters, because I grew up reading Anne Rice. It wasn't as gritty [as the books], it was more commercial, but they still had vampire cafes."
And, like any vampire lover, Maddy had to have a red drink from a "blood bag".
Maddy and Wez made a new year's resolution nearly two decades ago when they first got together to go to a new place each year.
"All except 2020 we've managed to keep to that tradition," she wrote on Instagram.
So what's the next destination for the couple?
"We want to do a road trip into the Deep South one day, along the Mississippi River, Alabama, Georgia, and North and South Carolina. I think that's the most interesting part of America.
"Also the food — I love the Creole cuisine, you have your biscuits, your fried chicken and your gumbo. It's also so rich in culture and heritage."
ALSO READ: Kiss92 FM presenter Maddy Barber sees power in teaching her daughters to say 'no'
drimac@asiaone.com
No part of this story can be reproduced without permission from AsiaOne.