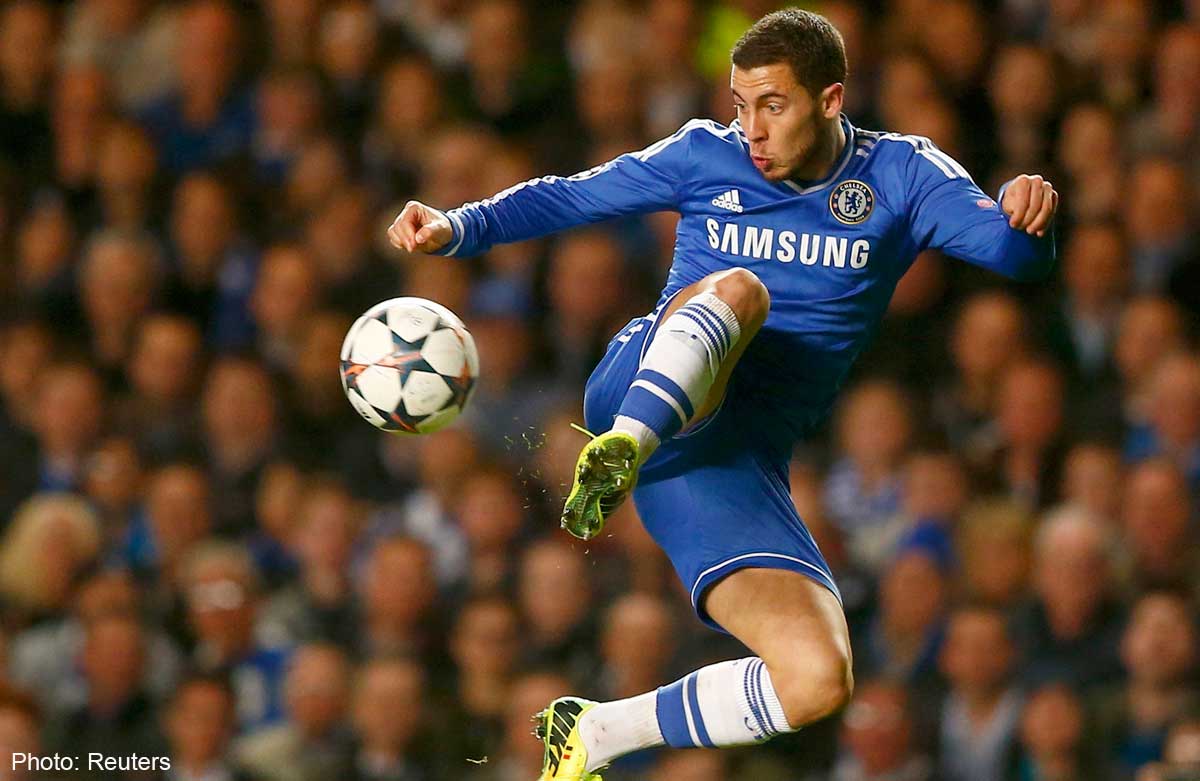 CHELSEA 0
NORWICH 0
Jose Mourinho isn't the Messiah. He isn't a very naughty boy, either.
He hasn't been a success, nor has he truly been a failure. He's a manager at a crossroads.
His definitive journey begins next season.
This campaign didn't make him. But the next one could conceivably break him. If this cautious fare becomes normal service at Stamford Bridge, he will not be allowed to resume in 2015.
Chelsea supporters and detractors alike are now realigning their opinions of the polarising Portuguese manager as the Blues' season peters out.
Loyalists will acknowledge their disappointment at not picking up a trophy - barring a catastrophic collapse from both Manchester City and Liverpool in the last two matches - but also point out the squad's shortcomings.
Mourinho inherited an ageing, brittle backbone and three plodding strikers who were either over the hill or far away from the consistency demanded by their meticulous manager. He made the most of a middling bunch.
DAMAGING
Sceptics, on the other hand, will dangle damaging statistics before Mourinho, including the fact that Chelsea could finish without a trophy and outside of the top two for the first time in almost a decade.
Or that the previous, unpopular Chelsea side under Rafael Benitez still ended last season with a European trophy. Or that they arguably played the more invigorating football, with their creators-in-chief granted the freedom to lead opponents on a merry dance.
Or that the club's most popular artist at the start of the season was sold to Manchester United.
Or that the club's most popular artist by end of the season was dropped for not tracking back enough (and punished for criticising his manager's inherent conservatism).
Quite deservedly, Eden Hazard was presented with the fans' Player of the Year prize before their final home game.
He was in a tracksuit. He had been relegated to the substitutes' bench. His incongruous attire was an embarrassment to all concerned.
When Mourinho apologists see Hazard - despite the recent rift - they see Didier Drogba or Frank Lampard in their prime; dedicated, creative automatons; tenacious totem poles to build future sides around.
When Mourinho critics see Hazard, they see Joe Cole; a diminutive magician whose box of tricks was locked away by the grandmaster, only returning the key on rare, controlled occasions.
The Chelsea manager's treatment of Hazard and Mata, his incessant criticism of his strikeforce and his superb signing Nemanja Matic neatly encapsulate the Portuguese paradox.
After the desperately drab 0-0 draw with the Canaries on Sunday, he lamented his lack of attacking options. But sympathy is in short supply for a club where cash most certainly isn't.
For an exorbitant sum, Diego Costa could conceivably replace Fernando Torres, Samuel Eto'o and Demba Ba after the unsentimental cull takes place.
Atletico Madrid left back Filipe Luis is also tipped to succeed Ashley Cole.
But a radical change in personnel is less important than a shift in mindset.
Chelsea's 2-0 victory at Anfield was Mourinho at his tinkering, tempestuous best, with the magnificent Matic providing the defensive fulcrum.
When he ran along the touchline, beating his chest before a watching Brendan Rodgers, Mourinho was a jovial uncle singing Tom Jones' Delilah at the KTV lounge, desperately trying to convince the young upstarts that he still had it.
Unlike the first time around, the 50-year-old's no longer the new kid on the block; the playful scamp with an endearing twinkle and a cheeky soundbite to contrast with the older, grey suits of Sir Alex Ferguson and Arsene Wenger.
GRUMPY
Mourinho is the grey-bearded suit now. The odd hoodie he wears fails to hide the grumpy middle-aged man who has badgered officials, insulted rivals and sulked like a mini-me Ferguson.
Rodgers, Mauricio Pochettino, Roberto Martinez and Gus Poyet are the young Turks shaking up the establishment and pinching points from Mourinho wherever possible.
When he stands beside them on the touchline, he must see a mirror and a time machine.
But their comparative youth is recognised not only by their birth certificates, but by their team sheets. They are less willing to hand the keys to the bus driver. Mourinho has more money than all of them, but remains more risk-averse.
He is not constrained by personnel or a penny-pinching owner; just his own stifling tactics.
They paid off against Manchester City and Liverpool, twice. But they backfired against Aston Villa, Crystal Palace, Sunderland, West Ham, West Brom and Norwich.
When both teams park buses, it can be a stultifying stalemate.
Abramovich is not one to tolerate a tedious spectacle. Billionaires get bored easily. A second, anti-climatic season will not be accepted. Chelsea's dressing room will undoubtedly be filled with fresh faces in the coming months.
But if Mourinho seeks to win both silverware and his employer's admiration, then he must finetune his philosophy.
This article was published on May 6 in The New Paper.


Get The New Paper for more stories.