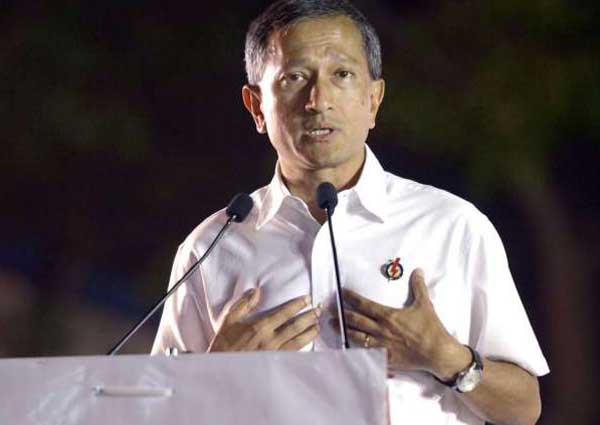 Dr Vivian Balakrishnan has been getting worked up responding to the Singapore Democratic Party (SDP), which is challenging his People's Action Party team in Holland-Bukit Timah GRC.
Some people have told him not to be so fierce in demolishing SDP proposals and questioning the character of the opposition candidates.
Saying this has been a "challenging" election campaign, the Environment and Water Resources Minister explained why he felt the need to respond firmly to ideas that he felt were not in Singapore's best interests. Despite its successes, Singapore remains a fragile country with major challenges, he said yesterday.
"(This is) the reason why I get so uptight, so aggressive when someone comes along, talks very well, but sells 'koyok' and puts our country in danger. I fight back," he said, using the Malay word for snake oil.
It was not that he just wanted to win an argument, he said, but the facts were that the PAP Government was compassionate, had acted to address concerns over issues such as the cost of living, healthcare and the needs of the poor, and it would continue to do so.
It had boosted social safety nets over the past decade by introducing measures such as ComCare, Workfare and MediShield Life. And it had done all this in a way that would not burden taxpayers, unlike the universal benefits model proposed by the SDP.
"We are strengthening our safety nets but we can do it in a responsible way that will not pass the bill to the next generation, and will ensure that we don't put more burdens on the middle class," he said at a PAP rally in Petir Road.
Dr Balakrishnan said he had met voters worried about issues such as living and healthcare costs, retirement adequacy and unfair competition for jobs. Solutions to these issues were already in place or in the works. For example, more hawker centres are being built so that Singaporeans "always have a low-cost option on the table". Recent enhancements to the Central Provident Fund scheme have also made withdrawals more flexible, he said.
His teammates, Mr Liang Eng Hwa, Ms Sim Ann and Mr Christopher de Souza, and Bukit Panjang SMC contender Teo Ho Pin spoke at the rally about their contributions to residents at the local level and in Parliament.
Mr Liang said he hopes to seek more help for families and workers if he is re-elected. He pledged to push for more childcare subsidies and infant-care places to help young mothers get back to work quickly, and better job opportunities for Singaporeans.
Reflecting on the campaign period, he noted that differing viewpoints had been expressed very strongly, but hoped these would be put aside after the polls.
"Life continues after the Sept 11 elections. When the dust settles, we are all still neighbours and friends."
joseow@sph.com.sg
yeosamjo@sph.com.sg

This article was first published on September 10, 2015.
Get a copy of The Straits Times or go to straitstimes.com for more stories.