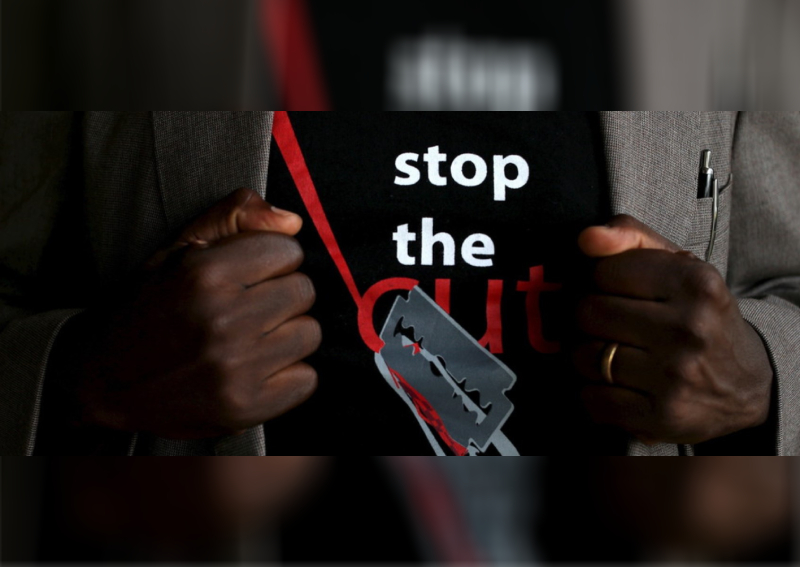 Female genital mutilation and cutting (FGM/C) – known as female circumcision – is socially sanctioned gender-based violence, a harmful practice that has no medical benefits whatsoever.
The invasive procedure on otherwise healthy tissue is one of the most horrifying human rights violations directed toward women and girls, violating their fundamental rights to health, to bodily integrity, to be free from discrimination and from cruel or degrading treatment.
According to the World Health Organisation, FGM/C – commonly associated with Africa – entails the partial or total removal of the female external genitalia or other injury to female genital organs for non-medical reasons.
It can range from scraping and cauterising the genitalia to a total removal of the clitoris, to sewing the labia together to make the vaginal opening smaller. The procedure is mostly carried out on young girls between infancy and age 15.
FGM/C can result in severe physical and psychological harm. It can cause painful intercourse, infection, cysts and infertility and can heighten the risk of HIV, obstetric fistula, complications giving birth and newborn mortality. It can also trigger depression, nightmares, panic and trauma.
Regardless of why it is done, a girl can be harmed for life.
Global human rights instruments unequivocally condemn FGM/C, with WHO declaring that under any circumstances, the practice violates human rights and medical ethics.
Yet 4.1 million girls and women are at risk of being subjected to it in 2020 alone, according to the United Nations Population Fund's (UNFPA) State of World Population 2020: Against My Will – Defying the Practices That Harm Women and Girls and Undermine Equality report, launched in June this year.
Globally, some 200 million girls and women alive today have undergone some form of genital mutilation in 31 countries, suffering not only in the moment but also from a lack of support and services to meet subsequent ongoing needs for physical and mental health care.
According to the report, it is estimated that 49 per cent of girls aged 11 or younger in Indonesia were subjected to FGM in 2013.
"As a young woman who is part of the 49 per cent of women and girls who have undergone female genital mutilation or cutting in Indonesia, I don't want other young girls to experience the same thing," said Prameswari Puspa Dewi, national coordinator for KITASAMA, a youth network that focuses on sexuality and diversity in Indonesia.
"All forms of FGM/C are a violation of the human rights of women and girls, and can lead to a range of physical and psychological consequences," she added.
She was sharing her experience during the Voice from the Frontline session at the 10th Asia Pacific Conference on Reproductive and Sexual Health and Rights (APCRSHR10) virtual conference on Dec 7.
The 13th session on sexual and gender-based violence and sexual reproductive health and rights (SRHR) is part of a series organised by the conference's steering committee, the UNFPA and Citizen News Service (CNS).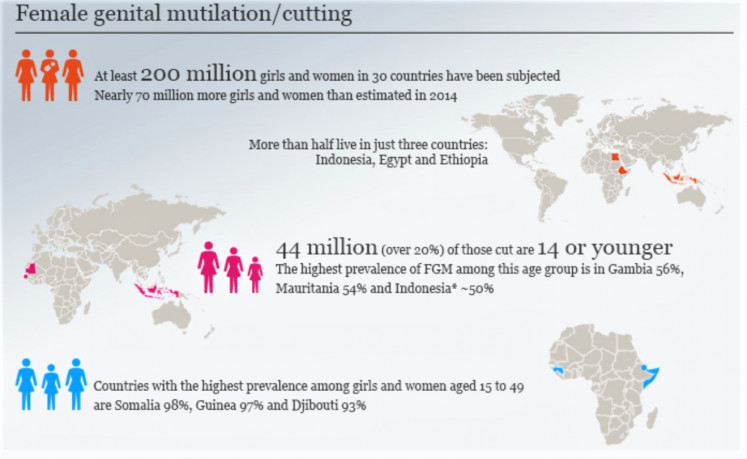 In Indonesia, there is still no clear regulation that totally bans FGM/C. The Health Ministry issued a 2014 regulation that removed a previous regulation that contained guidelines for female circumcision practices.
However, the latest regulation does not ban female circumcision but only emphasizes that it is not a medical procedure and science has not proven the benefits of the practice to the child's health – leaving the doors open for those to continue performing the harmful practice on the grounds of following Islamic and cultural tradition.
A study of gender-based violence in Central Sulawesi found that most female respondents had experienced circumcision.
In the study, conducted from November to December 2018 during the emergency situation in Central Sulawesi's disaster-struck cities of Palu, Sigi and Donggala, the UNFPA covered 304 respondents aged 18-68 years from the three affected districts.
Out of the respondents, interviewed individually, 164 of them were women and 18 men, and 61 boys and 61 girls.
UNFPA Indonesia's national program officer for reproductive health program, Melania Hidayat, disclosed at the conference that most female respondents had experienced circumcision between when they were newborn and 5 years old.
"It was done either by traditional birth attendants or a traditional 'healer'. Decisionmakers were fathers and mothers," Melania said.
"Although all respondents said FGM was a tradition, many women respondents said they would not do it [to their daughters] if they could choose."
The study also found that sexual exploitation had occurred in the camps, although people did not talk about it.
Melania contributed lack of awareness of women's rights and gender equality to the absence of open discussions on gender-based violence.
"Jokes and comments with sexual content are not considered as gender-based violence. Sexual violence, attempted rape and rare are taboo topics," she said.
After experiencing gender-based violence, she said general reactions of the survivors were to remain silent as they were afraid of the reactions of perpetrators and their families, or they ran away from home.
"Survivors often have to bear a double burden: sanctions or punishment and blame from the community," Melania said.
Prameswari said the number of girls being cut globally would rise from some 4.1 million each year to 4.6 million by 2030 due to population growth.
"Over a million of these girls will be in Asia," said the 25-year-old.
She pointed out several recommendations, including to launch a fully funded national action plan to end FGM/C that prioritises community-based programs and a multisectoral approach to end the practice, including programs that are non-judgmental, rights-based and addresses harmful social and gender norms.
She also calls for the engagement of religious leaders, experts and institutions to issue rulings against all forms of the practice and support and fund awareness and education campaigns.
"I may be young, but I have experienced it myself. Ending FGM/C is a battle we can win. It can end with us," Prameswari said.