11 best wine delivery services to get you through Singapore's circuit breaker - by expat Sommelier Daan Suijlen
Welcome to CB life: When a Monday feels like a Friday, 12pm is more like 7pm and it's basically apero time all time!
Here, I'm happy to share my personal favourite wine shops that still deliver great wines to get you through these uncertain times.
I think we all deserve a nice glass of wine. Cheers!
1. Once Upon A Vine
One of my personal favourites, Once Upon a Vine has a great collection of Italian delicious organic wines. By getting your wine here, you support organic winemaking and small family-owned estates in Italy.
The owners build special relationships with all their wineries. The website is full of information.
Tip: Reach out to the owner and sommelier Laura for personalised recommendations. Free delivery +$150
My pick: Check out this grape: Arneis – it's less known but oh so good. White wine with a medium body with great fruits and acidity. The wine is called Recit – little king in the local dialect. Drink it during lunch with a grilled chicken salad.
2. 1855 Bottle Shop
1855 Bottle Shop has a wide selection of wines. It covers a lot of regions and grapes, which is handy if you're looking get a nice variation of wines to last you through the coming weeks. Besides that, it has regular sales and fast delivery.
My pick: Check out these Brunello options. I love to pair pizza with the Sangiovese grape, so a Brunello is perfect for that Friday night (or Thursday, Wednesday, Tuesday) pizza night!
3. Bar.CeLona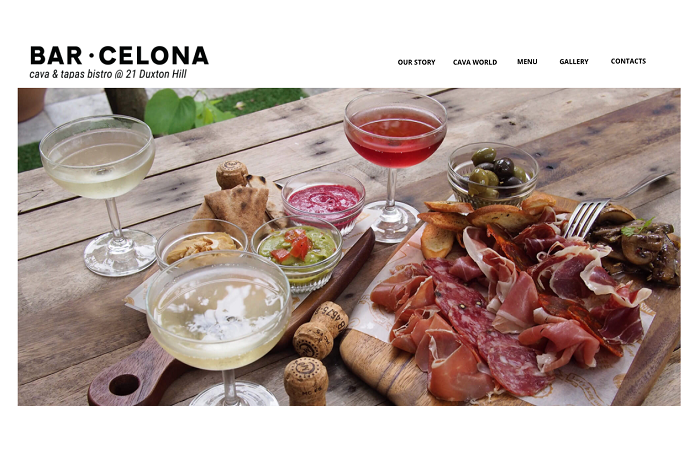 I've written about Bar.CeLona before (about budget-friendly bubblies ) – simply because I love its food, cava and prices. The best news these days?
It delivers! The cava's are sensational – ideal for a 4 o'clock pick me up to get you through that last conference call. (Make sure you position your glass strategically outside the camera. Or not.)
My pick: I like my cava bone dry, or Brut Nature – meaning no sugar added. The normal cava and rosé are a bit sweeter and delicious as apero, while the nature and reserva styles are dryer.
So, take note when you order. Both go so well with oysters, which Bar.CeLona delivers as well! 
4. Pop Up Wine
What to love about Pop Up Wine? A lot, including same-day delivery and a beautiful selection of wines under $30 and $40. (Also, its founder won an Expatpreneur Award last year.)
I like its box options, either a great price on your favourite wines or a nice selection for you to try.
Tip: There's contactless delivery, so you won't feel judged if you splurge on a few of those boxes.
My pick: Brokenwood Cricket Pitch Semillon Sauvignon Blanc – from a great winery in Hunter Valley, Australia. This wine is stunning: fresh with fruity tropical flavours; excellent with seafood or as an aperitif.
5. The Straits Wines Company
The Straits Wines Company has an extensive collection of different wines and partners with a lot of restaurants in Singapore.
So, while we can't dine out, we are still able to get our favourite wines in. It does a lot of flash sales, too, including the current CB one. Bonus: free delivery over $100!
My pick: Come on and treat yourself during these times… with this Pasqua Amarone Black Label. Amarone wines dry parts of their grapes to get more concentrated flavours.
This results in deep ruby red wines with great flavour concentration. Delicious.
6. The Wine Stable
The Wine Stable has a great selection of value-for-money wines plus free delivery on $80 or more. You can also pay via PayNow, which is very convenient.
My pick: Check out this Sauvignon Blanc from Marlborough. It's crisp with high acidity and the tropical flavours that distinguish the region. Try it with shellfish or white fish, or just start off your night with a bottle.
7. Vinomofo
Who doesn't like Vinomofo? It has a wide selection of mainly Australian but also international wines. There are bargains to be had and keep an eye out for its flash sales. Score free delivery on orders over $200.
My pick: This full-bodied Shiraz is for those who like a serious, bold red wine. Full with fruits and a nice touch from the oak maturing, it's incredible with meat!
8. Wines Online Singapore
Wines Online Singapore has an extensive selection of beautiful wines at very reasonable prices. Look out for great deals, too. There's free next-day delivery on orders of $300 and up.
My pick: If you ask me, it's "rosé time" all the time in Singapore, and – one could argue – even more so during the circuit breaker.
But, the island is said to be running low on stock for French rosé, so let's take a look at Spain. This Rioja blend from famous winery Muga is fruity and smooth. The grapes give peach flavours with a pale pink colour.
9. Singapore Wines Wholesales
Singapore Wines Wholesales always has some excellent offers and wines. So, luckily it's business as usual for this e-shop! Just SYK, there's free delivery on orders above $350.
My pick: For all you Pinot lovers, it has a great selection of Pinots from all over the world. Take a look at ones from Felton Road or Mt Difficulty from Otago, New Zealand. Seriously good!
10. Tiger Wines
Tiger Wines has a personal connection with all its wineries and imports them directly into Singapore.
Hand-selected and often small produce – we are talking about some of the rarest and best wines in both Australia and the US.
Tip: I recommend you sign up to the newsletter about new wines, including details and tasting notes. Oh, and there's free delivery.
My pick: Where to start? Lately, I've been taking an extra interest in Pinots from Tasmania, and Tiger Wines has some really, really good ones to choose from – Stoney Rise & Two Tonne Tasmania, for example.
11. JP Fine Wines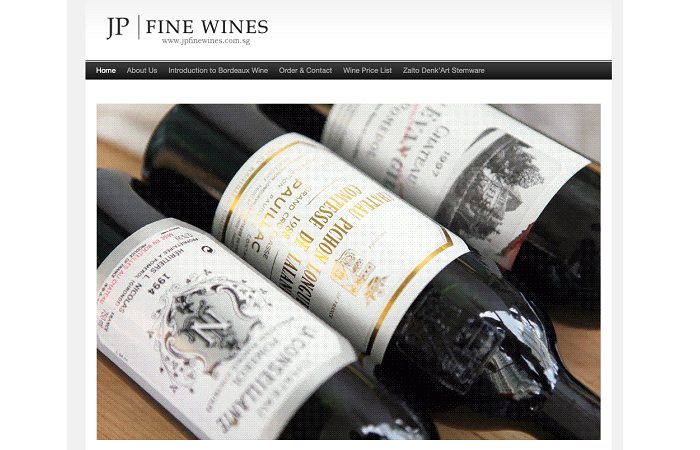 In the mood for a little splurge?
JP Fine Wines is the place to be! It has some of the best offers in Singapore on seriously rare wines. We are talking 20- or 30-year-old (or older) top-class French and Italian wines.
Go here whenever you have a special occasion to celebrate (e.g., staying sane for throughout the CB).
Sign up for the newsletter to get great information about the new wines and the latest price lists. There's free delivery over $450.
My pick: It has some real French and Italian treasures. Take Lynch Bages from the legendary 2000 vintage – it's gonna be on its peak now!
This article was first published in The Finder.