Girl boss Yoon Se-ri of Crash Landing on You never understood the joy of celebrating birthdays or Christmas. To her, these special occasions were just like any other regular day and time could be much better invested into her business instead.
To be honest, she didn't really have true friends or close family to celebrate with either.
It was not until she had to spend one Christmas season in North Korea that she began to build a bond with a total stranger (Ri Jeong-hyeok) that she began doing things she used to scoff at.
She set up a Christmas tree for Jeong-hyeok and decorated it. Of course, being away from home also made her cherish those around her more.
Se-ri's gestures were sweet and made us to aww… but don't hold out on doing little things that can make a world of difference for your partner or loved ones.
Here are some lessons we can learn from the K-drama Crash Landing on You to improve our relationships. Don't start loving tomorrow or out of regret. Love those around you today so you don't regret.
1. PAY ATTENTION TO SPECIAL DETAILS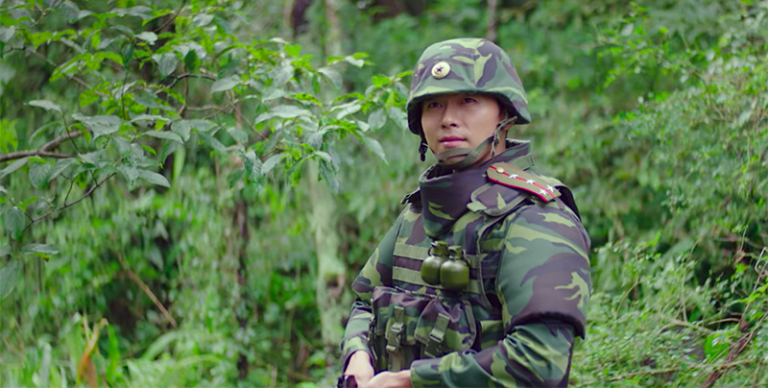 In the first episode, Yoon Se-ri (Son Ye-jin) was forced to land in North Korea, and was discovered by North Korean military officer Ri Jeong-hyeok (Hyun Bin), who then held a gun at her to question her identity.
You were wondering, how could Jong-hyok threaten a weak woman with a gun? It was only after seeing the snippets at the end of the episode that showed Jeong-hyeok overhearing whatever Se-ri had said on the tree with a smile on his face that you realised he had already figured out who she was and had locked his pistol holster.
From this episode, you can tell that Jeong-hyeok is a man that pays a lot of attention to detail. Even when Se-ri demanded for meat soap, scented candles to coffee, he would remember her requests and meet them to the best of his abilities.
This made Se-ri acknowledge that he will be a good husband and a good dad in the future.
Takeaways: Be mindful about your partner's needs, pay attention to details, and your partner will feel very loved.
2. TRAVELLING CAN SOOTH YOUR HURTING/ TROUBLED HEART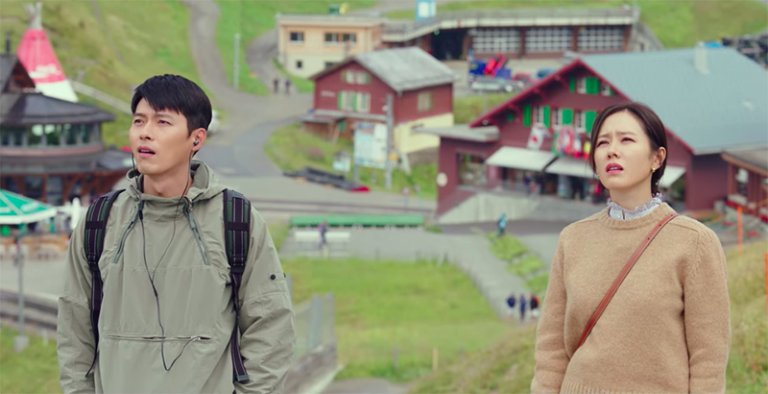 There was one time when Se-ri said in front of Jeong-hyeok that she was fated with a guy, causing him to be jealous. Jeong-hyeok threw a fit and said: 'Based on your logic, then aren't we fated to meet? A tornado blew you all the way to North Korea and we met, what do you call this?'
However, as the K-drama progressed, throwback scenes revealed that, unknowing to the lead stars, their paths crossed way back when they were visiting Switzerland. When Se-ri was younger, she was going through depression, panic and insomnia.
She was advised to visit the Swiss landscape, as 70 per cent of the depressed were said to have returned home in a better mental state. It was also the first time Se-ri had "met" with Jeong-hyeok as they watched paragliders in the distance, though neither had noticed each other's presence.
Takeaways: Travel helps to relief stress in life. It can help to calm your mind, perhaps receive epiphanies and insights you never had before.
3. ENCOURAGE EACH OTHER WITH POSITIVE WORDS
When Se-ri thought she was leaving North Korea, she planted tomato seeds in Jeong-hyeok's backyard. Then she proceeded to ask him to praise the plant in 10 words so that it will grow better.
On the surface, Jeong-hyeok appeared angry (the seedling was not worth it, and he didn't like tomatoes), but later on, he did what Se-ri had told him to by speaking to the plant. This helped him to go through life in the absence of Se-ri whom he had developed feelings for and was missing terribly.
Takeaways: Only by saying more positive and encouraging words to yourself and the people around you, will you be able to channel positive energy in the right direction and to successfully cultivate a healthy lifestyle.
4. MAYBE YOU HAVE MET YOUR LIFE PARTNER BEFORE YOU EVEN KNOW IT
Do you remember Jeong-hyeok's "fiancee"? The old photo of them where she was staring at him? It was revealed in episode four that this photo was taken by Se-ri on a trip to Switzerland.
In fact, it does happen in real life, there were news reports showing that married couples of many years found out that they had coincidentally taken a photo of their partner in the background before they even met each other.
They can be at the same venue and time doing the same thing with different people not knowing each other's existence.
Takeaways: Some people around us who wished that they had met earlier may have met long ago, but we don't know. Cherish every encounter, every chance meeting. It could be fate.
5. IF YOU TRULY LOVE SOMEONE, YOU WILL PUT ASIDE YOUR PRIDE FOR THEM
Se-ri is prideful yet when it comes to relationships, she was fearful of getting hurt. In all her past love, she had to be the first to initiate break-up as shown by this snippet.
Hence, when Se-ri was going to leave North Korea, the only thing she cared about was coming up with a good excuse to explain her "disappearance" as Jeong-hyeok's fiance. She reminded him time and time again that the excuse should be that she dumped him first.
This reminded her of how her ex-boyfriend once told her that one day she will definitely meet the guy that makes her wait. However, at the point of time Se-ri arrogantly denied the possibility of it yet, in the next scene, we see her staying up to wait for Jeong-hyeok's return from Pyongyang.
Takeaways: Many times we talk about which horoscope pairs well together, which star sign is each other's enemy, but in actual fact, when a proud person puts down their pride for you, that's when love happens.
6. WHEN YOU DON'T SEE IT, IT DOESN'T MEAN HE/SHE NEVER DO IT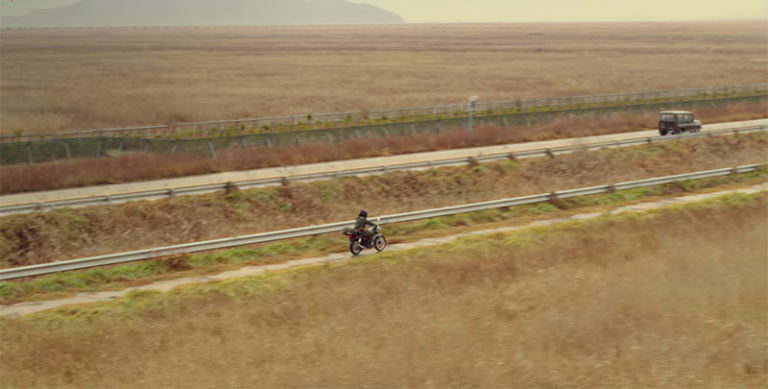 It was agreed to have a last picnic to see Se-ri off but Jeong-hyeok had something else to do and came late; it was the last stretch of road before Se-ri is gone for good yet Jeong-hyeok didn't send Se-ri to the airport.
In actual fact, Jeong-hyeok was late as he had anticipated the danger she would be in on her way to the airport, he had gone to prepare firearms, guns and modify his motorcycle to protect Se-ri. The reason for not sending her off was because he was tailing their car quietly to ensure her safety.
That's why when she was in danger he could protect her in time and fulfil his promise of protecting her as long as she was within sight. However, if Se-ri had not been attacked, she would not have found out everything Jeong-hyeok had done for her. Who wouldn't be moved by this kind of deep sacrificial love.
Takeaways: When you think your family and partner don't care enough for you, think again; and you might find out the small things they did for you quietly, it's just that you did not see it.
7. MUSIC CAN MAKE TWO HEARTS CLOSER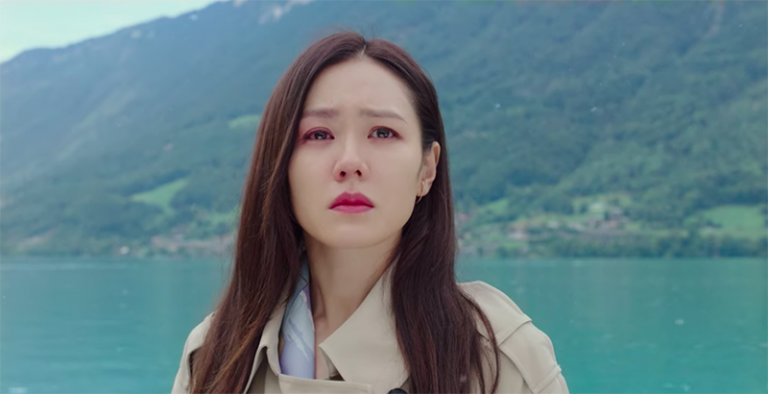 Just when Se-ri wanted to end her life quietly in the Swiss Alps, the tunes played by Jeong-hyeok wafted through the lake in time to stop her from taking her life. Recalling the times when we are sad (especially after a break-up), do you realise that we tend to seek comfort in sad songs?
However, listening to some of these songs just makes us even more depressed. Instead of listening to sad music, we can try finding comfort in the beauty of piano melodies. In fact, how does piano move one to tears? Can you really understand the emotions of the artist from their music?
Takeaways: You may not understand the feeling of loss and sadness of another person. At times when words or advice falls flat, share one or two of the most moving melodies to release her/his pent-up or restless mind.
8. DON'T NEGLECT SPENDING TIME WITH YOUR PARTNER ON SPECIAL OCCASIONS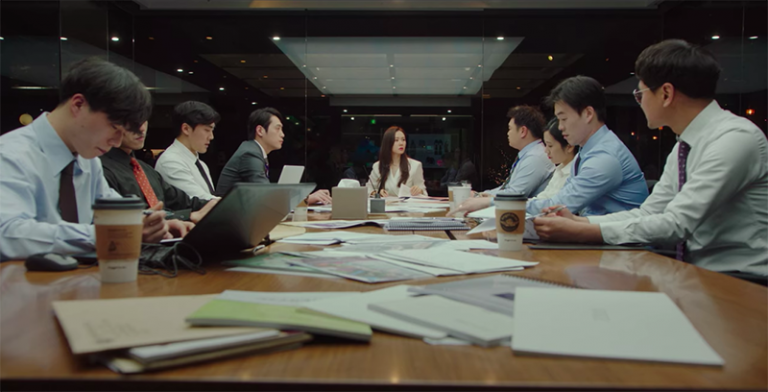 Se-ri used to make her employees work overtime during Christmas Eve as she never understood the joy of celebrating Christmas, instead she sees the act of celebration as a joke and often questioned her employees for celebrating a birthday that has no relation to them when they complained.
However, when she was in North Korea, during the Christmas season, not only did she prepare Christmas trees and cards for Jeong-hyeok, she also bought a secondhand Chopard watch for him.
We often say that 'holidays are an excuse for business profits', 'Valentine's Day can be spent everyday' and 'you don't have to fulfil your filial obligations on Mother's day', all these are true.
However, you should not neglect the emotional needs of your loved ones during these special occasions to be loved on with gifts. It's just like how you can eat alone everyday but eating alone during reunion dinner can be extra lonely.
You can argue with your partner every other day but to argue with your partner on the day of their birthday seems unreasonable.
On normal days, it is understandable to be busy, but if you can't even make time for your loved ones on Valentine's Day, reunion dinner, the other party will be greatly unhappy. Therefore, don't belittle these special occasions as it does affect your loved ones since everyone is celebrating.
Takeaways: You can eat good food and please your partner every day, but during special occasions, your partner will need your care and concern even more.
9. SURPRISE YOUR PARTNER FROM TIME TO TIME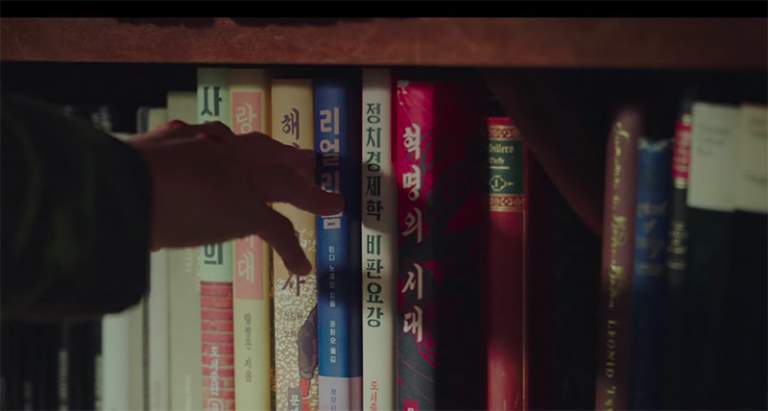 Se-ri said that you can tell how a person's personality by looking at their room and bookshelf.
Jeong-hyeok's bookshelf seems unbearably dark and lonely. Hence, she re-arranged the books with letters that spelled 'I love you Jeong-hyeok', which made him pleasantly surprised and touched when he found out.
Takeaways: Let your creativity run wild. Create or plan something fun, and unexpected. Even if your "creation" takes a while for your partner to find out, it will definitely be rewarding
10. FRIENDS ARE YOUR BEST "HELPERS' AND "MIRROR"
In a relationship, friends play an important role in giving advice and acting as a mediator when a fight occurs. Friends are also like a mirror reflection that brings out a person's habits, hobbies and personality, you can see more sides of them that are usually not shown privately.
Hence, take the time and opportunity to understand the person you like in a group setting to observe if the person you like is the one for you.
Takeaways: Through socialising with your partner's friends, it will enable you to understand your partner better.
11. INTERESTED IN OTHER PEOPLE'S BOYFRIEND? TRY NOT TO OVERSTEP YOUR BOUNDARIES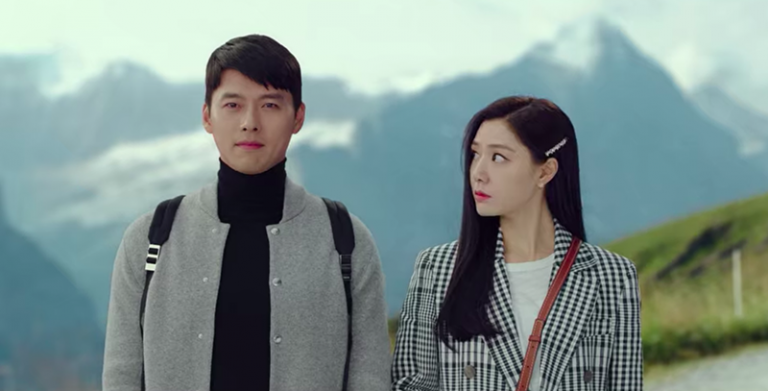 During the scene where Se-ri helped Jeong-hyeok and Seo-dan to take photo in Switzerland, the reason why Seo-dan turned and stared at Jeong-hyeok was to observe his expression when she overheard Se-ri lamenting about how it was a pity for Jeong-hyeok.
This caused Jeong-hyeok to find her amusing which stirred jealousy within Seo-dan's heart.
Hence, this question comes up: Is it alright to be interested in other people's boyfriend? Of course, we are not discussing your best friend's boyfriend or married man here.
Recently, there has been growing unconventional opinions online about 'What is wrong with chasing after someone's boyfriend/girlfriend?' or teachings on 'How to get other people's boyfriend?'.
Let's take a look at how Se-ri does it. The scene is followed by her saying 'Y'all look good together', in the next episodes, it showed Jeong-hyeok thinking about Se-ri's words and wondered if she was doing well. Hence, try expressing your emotions in an appropriate manner.
Takeaways: If you want to confess your feelings to the other party, do it appropriately without overstepping your boundaries.
12. CREATE DISTRACTIONS FOR YOUR PARTNER IF HE/SHE IS FEELING DOWN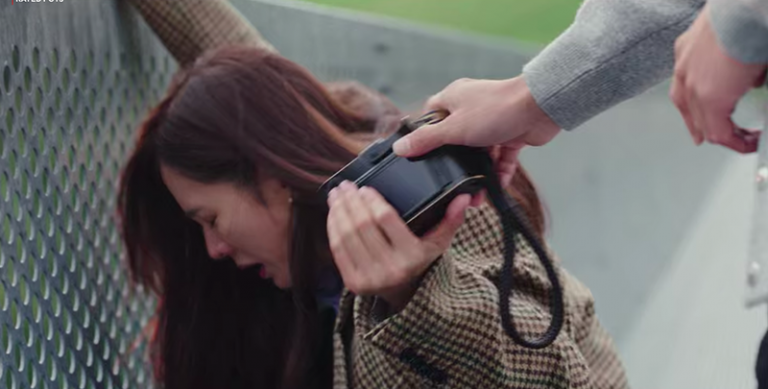 In one of the scenes, Jeong-hyeok overheard Se-ri's last words in her recorder before she was about to jump off the bridge. However, she was interrupted by a male's voice which he recognised was his own. This revelation caused him to be affirmed that they were destined to meet.
If your partner has depression, do seek professional help. As much as it is important to show your love and concern, it cannot cure depression.
According to psychiatrist, Dr Rita Demaria, you cannot fix depression with love but this does not mean that you should lessen your care and concern towards him/her. However, if your partner just had a bad day, other than advising him/her, you can distract him/her by bringing them out on a date to watch a movie, karaoke or even retail therapy.
Takeaways: When your partner is upset or stressed, try distracting them by doing activities with him/her.
13. THERE ARE TWO SIDES TO THE COIN WHEN YOU SEEK ADVICE FROM FRIENDS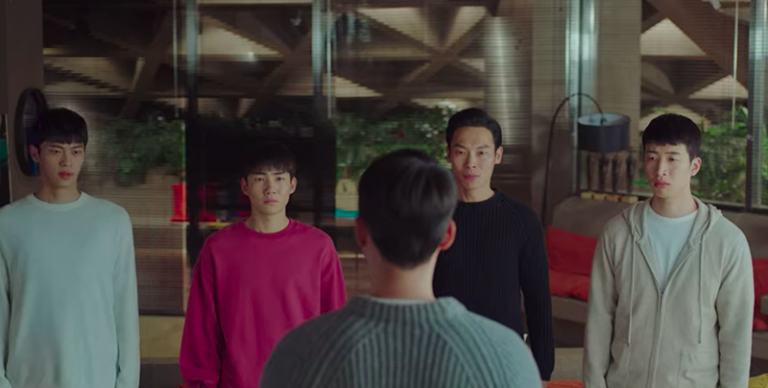 When Se-ri was in danger, Jeong-hyeok wanted to be a lone rider and save Se-ri by himself. However, his comrades insisted on fighting the battle together with him which really touched Jeong-hyeok. Without his comrades, the outcome would have been even more dangerous.
Then, does this mean you should always seek comfort from your friends whenever you're troubled? When you're talking to friends, don't burden them with your relationship problems all the time, no matter how close y'all are, it will be off-putting after a while.
Takeaways: You can turn to friends for relationship advice, but don't make it a complaining habit.
14. SPICE UP YOUR DAILY LIFE WITH ROMANCE AND LOVE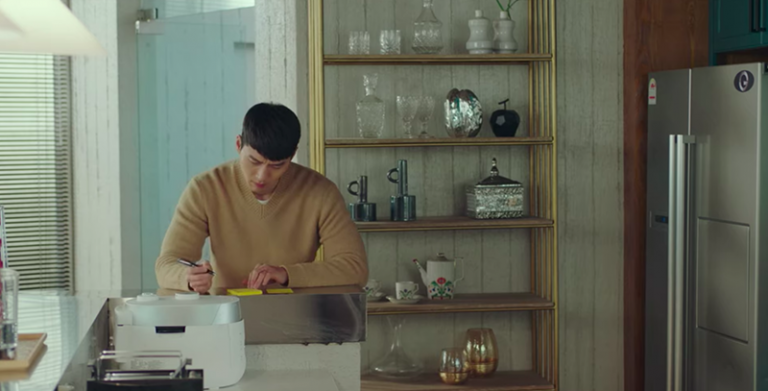 When Jeong-hyeok came to Seoul to find Se-ri, he realised her refrigerator had nothing other than water, the only way to get food is to order in. Hence, when Jeong-hyeok was leaving he was worried that Se-ri would not be able to take care of herself properly.
He started preparing all kinds of food for her and even wrote down cooking recipes which was really heart warming.
Other than being an observant partner, don't forget to show care and concern to him/her on a daily basis. For example, remind your partner with a sticky note to eat less snacks or place some healthy ingredients in their house if he/she likes to eat cup noodles.
If not, you can also add reminders on their phones to remind them to take their vitamins or medicines. By doing this, your partner will feel your love and care for them despite being busy.
Takeaways: Show your love and concern in every aspect of their lives to make them feel your presence.
15. RESPECT EACH OTHER'S DECISION
In the ending of Crash Landing on You, Jeong-hyeok and Se-ri met in Switzerland, the beginning of how they met. This drama gave us a very abstract ending. However, fans have been asking 'how many times can they meet a year?'
In life, we often find ourselves in these situations where we are unable to put down our work life and lifestyle to pursue the one we love fully. No right or wrong, no matter how strong the pros are, there will always be a loophole and exception in the choice.
Takeaways: In face of a big decision, don't force your partner to come to a decision, everyone has their own problem to overcome, respecting each other's decision is the best choice to make.
This article was first published in Her World Online.