CNY visitation is a different affair for everyone - and that's perfectly okay. Whether you're involved or indifferent; excited or plain exhausted, the time of the year arrives all the same. 2023 feels extra special too, because it marks the first year since the pandemic hit that limitations on group sizes have finally been lifted.
Still, these varying attitudes surely affect how one, as a driver, envisions their dream machine for a weekend of cross-island tripping. At least that's what our three writers think...
1. Kia Sorento Hybrid: To take the family-oriented fella and his six passengers around in sublime comfort
To Mattheus, a car feels like home when it is filled with noise: Music blasting from carefully curated driving playlists, the laughter and chatter of overdue conversations after a week of mismatched schedules, and of course, the snoring from one too-comfortable passenger. When 'togetherness' reigns supreme, the flexibility of having two extra seats cannot be oversold.
On this note, the current Sorento Hybrid lies in wait, readier than ever to answer the call to people-haul.
Year of the Tiger, it may not be. Still, there's no reason not to celebrate the visual swagger of the SUV in its fourth generation.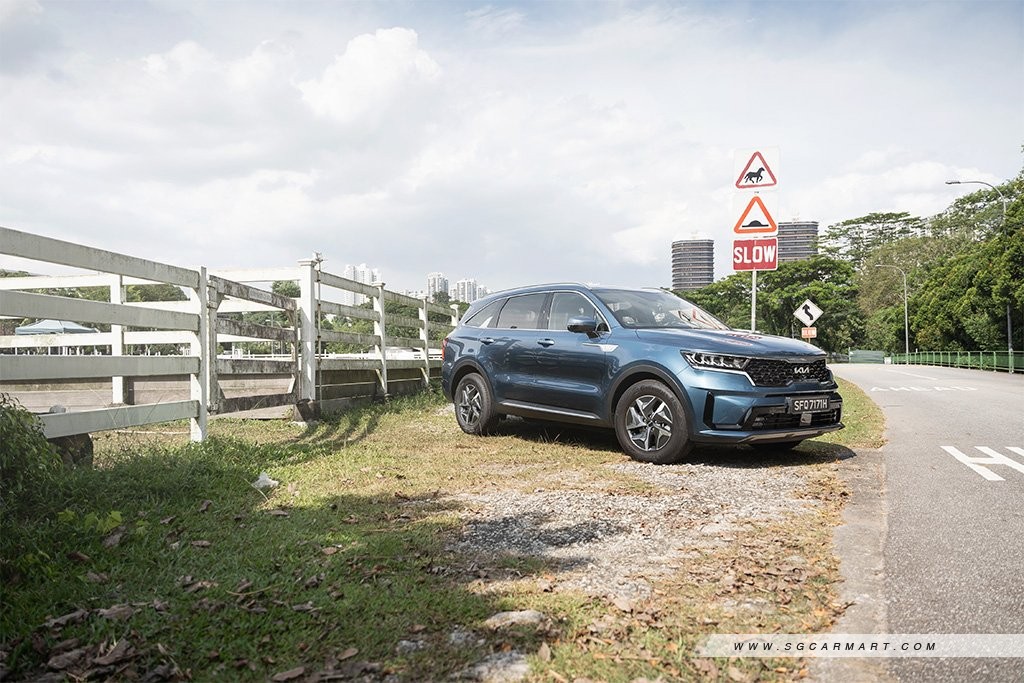 Now fronted by a more subdued version of Kia's 'Tiger Nose', its cool, quietly powerful presence is hard to miss no matter whether it's coasting along on the PIE, brooding silently in its carpark lot, or pulling up to a HDB shelter to drop off or pick up a passenger or two.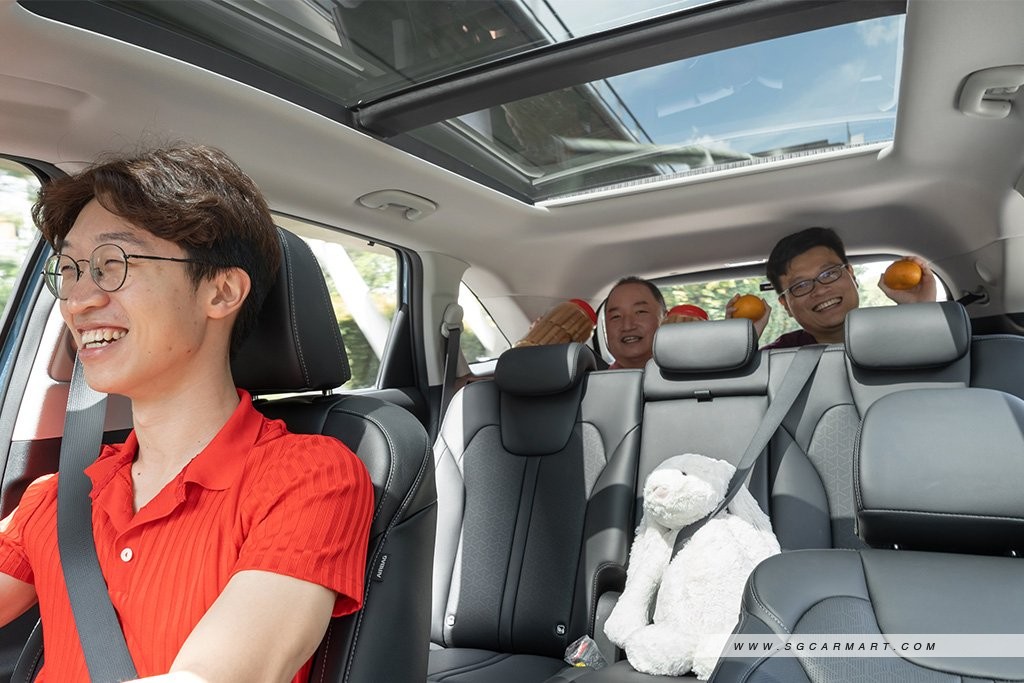 They'll be happy no matter where they're settled in. Dibs on the space beside the driver gives the front passenger seat ventilation - so their new clothes aren't soaked through with perspiration - while second row occupants enjoy retractable window shades and acres of legroom.
The adults won't even protest swapping a decently-sized row three with the kids. It also gets its own air-conditioning, but with an added luxury: Dedicated manual controls.
Still, the Sorento Hybrid doesn't forget about life for you, the driver, with the relaxed drive it offers at the helm. The long yet gentle giant is surprisingly easy to place on the road, and shreds up lane-changing anxiety by showing you its blind spots intuitively on the driver's digital cluster. Whilst climbing up multi-storey carparks, a 360-degree camera helps one navigate tighter turns and manoeuvres too.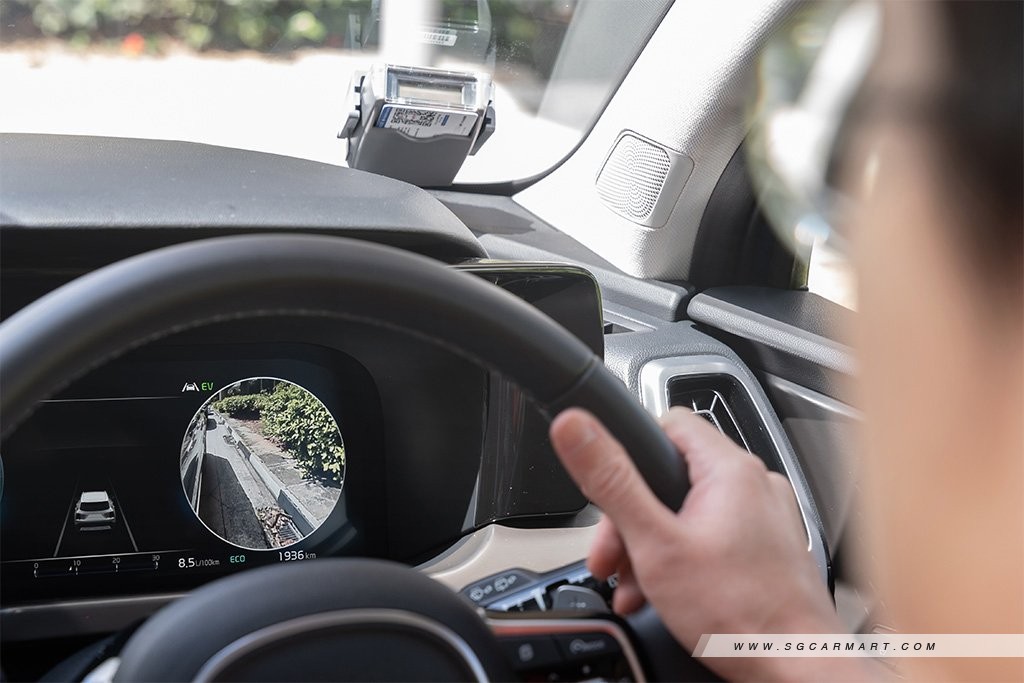 But credit is also due to the extra 79bhp electric motor paired to its 1.6-litre turbocharged engine, which allows for driving off from a standstill and at speeds of up to 60km/h in pure EV mode. Expect to net a real-world fuel consumption of over 14km/L easily - unthinkable (at first) for something of this stature.
On this note, boxy MPVs may surely still be the last word in sheer space. But who's to say that one cannot have their container of CNY goodies (a sense of style) and eat it (also enjoy space for the entire family)? Show them the Sorento Hybrid.
2. Skoda Octavia Combi RS: To take the petrolhead where he needs to quickly with space and pedigree aplenty
CNY means different things to different people, and unlike Matt, Jeremy's celebrations aren't filled with much noise. That's because he and his wife are 'DINKS' (dual income, no kids), and the drive to his mother's place doesn't require him to ferry anyone.
Why would he need an Octavia Combi RS then? Well, that's because he has a bit of shopping to do.
He needs a carton of oranges, and it's likely that he'll have to buy more veggies for all the popiah they'll be making (and eating).He also has to standby to collect other food items such as cakes, bak kwa, and drinks.
This is where the Combi RS' boot volume of 640 litres will come in handy. And, in the event that the missus decides to change some home furnishings during this festive period, folding the rear seatbacks gives them access to the full 1,700-litre capacity, which is great for hauling both bulky and long items.
Realistically, the regular Combi or even Octavia fastback would be just as useful. However, apart from looking good, the Combi RS also delivers space and pace, along with a healthy dollop of handling. With less traffic on the roads, zipping around for CNY visits means he gets to indulge in a bit of spirited driving.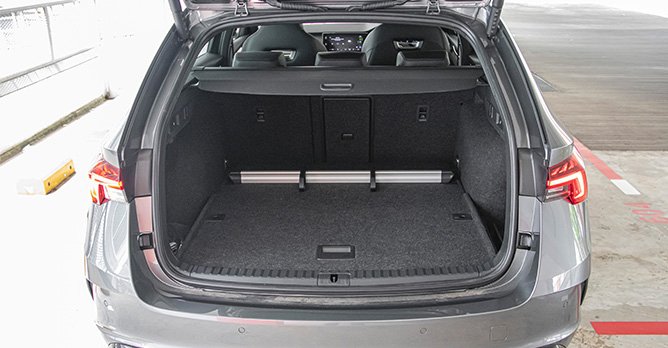 That means taking the longer route to friends' homes, and an even longer route back to the house. If he doesn't take advantage of the emptier roads now, he'll regret it once everyone's back to work and the inevitable congestion returns.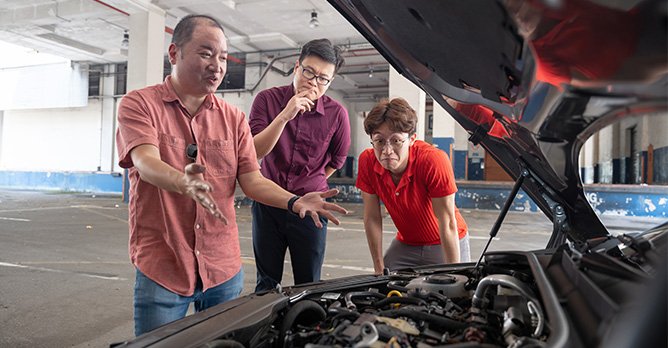 Now, Jeremy's not much for superstition, but when his two colleagues here said his choice of ride was not particularly auspicious, he popped open the bonnet and gestured to the potent, 241bhp engine. "This is the iconic EA888 that's powered many hot hatches and high-performance machines in the Volkswagen Group. Huat do you guys think about that?"
3. Polestar 2: To take the free-spirited bachelor into battle against nosy relatives
You know full well how bothersome these Lunar New Year festivities can be. There's the long miles you'll need to cover, just to visit distant relatives you don't otherwise care much about, first of all.
And let's not forget that once you arrive, there's nothing but worthless trinkets to collect, and the most mind-numbing drivel you have to pretend to be interested in... because being from a Chinese family demands you show respect to your elders, even if deep inside you quite frankly couldn't give a damn if your twice-removed cousin is now studying at Cambridge.
Getting away from all this noise was clearly a top priority for Clarence, and that was precisely what led him to select this as his mighty little white number: The Polestar 2.
It should go without saying by now that you'll get to enjoy quiet drives while hopping from location to location should you opt to go electric this Lunar New Year.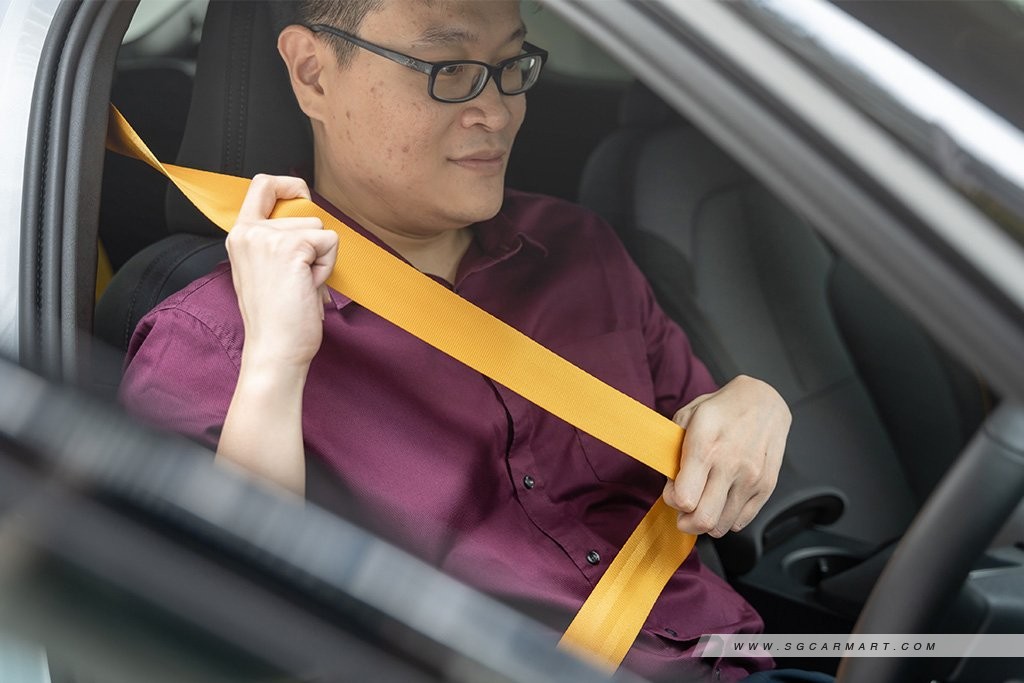 But the Polestar 2 offers more than that, marking itself out as a prime candidate to show off just how serene an electric car can be. Its high build quality and minimalist design keep any creaking in the cabin to a minimum and serve as a soothing retreat, when you've had enough of seeing red.
The benefits of opting for the Polestar 2 don't just end here. Opt for the mighty Long Range Dual-motor variant as he has here, and you'll also be able to hop right through traffic in undisputed ease, thanks to the total of 402bhp and the generous 487km range available.
There's also no need to deck your car out in any garish ornamentation if you spec the Performance Pack, as he has here. The car already comes with some swanky gold bars for its calipers, as well as some gold belts, both designed to keep you safe for many more years to come.
But of course, the true highlight of the Polestar 2 has to be the fact that it's still an interesting car, from a relatively unknown brand. That means that if you're called to serve ferrying-duty, you'll be able to sway the conversation away from those pesky enquiries about your marital status, and onto all the benefits of driving and owning an electric car.
That alone has surely got to be worth more than what you'll get from any Ang Pow.