Do you want your LinkedIn profile to attract opportunities regardless of your current job status or experience? Here are the 3 questions you have to say a confident yes to if that is the case.
Is your profile All-Star?
Is your profile visually appealing?
Is your headline well written?
1. Is your profile All-Star?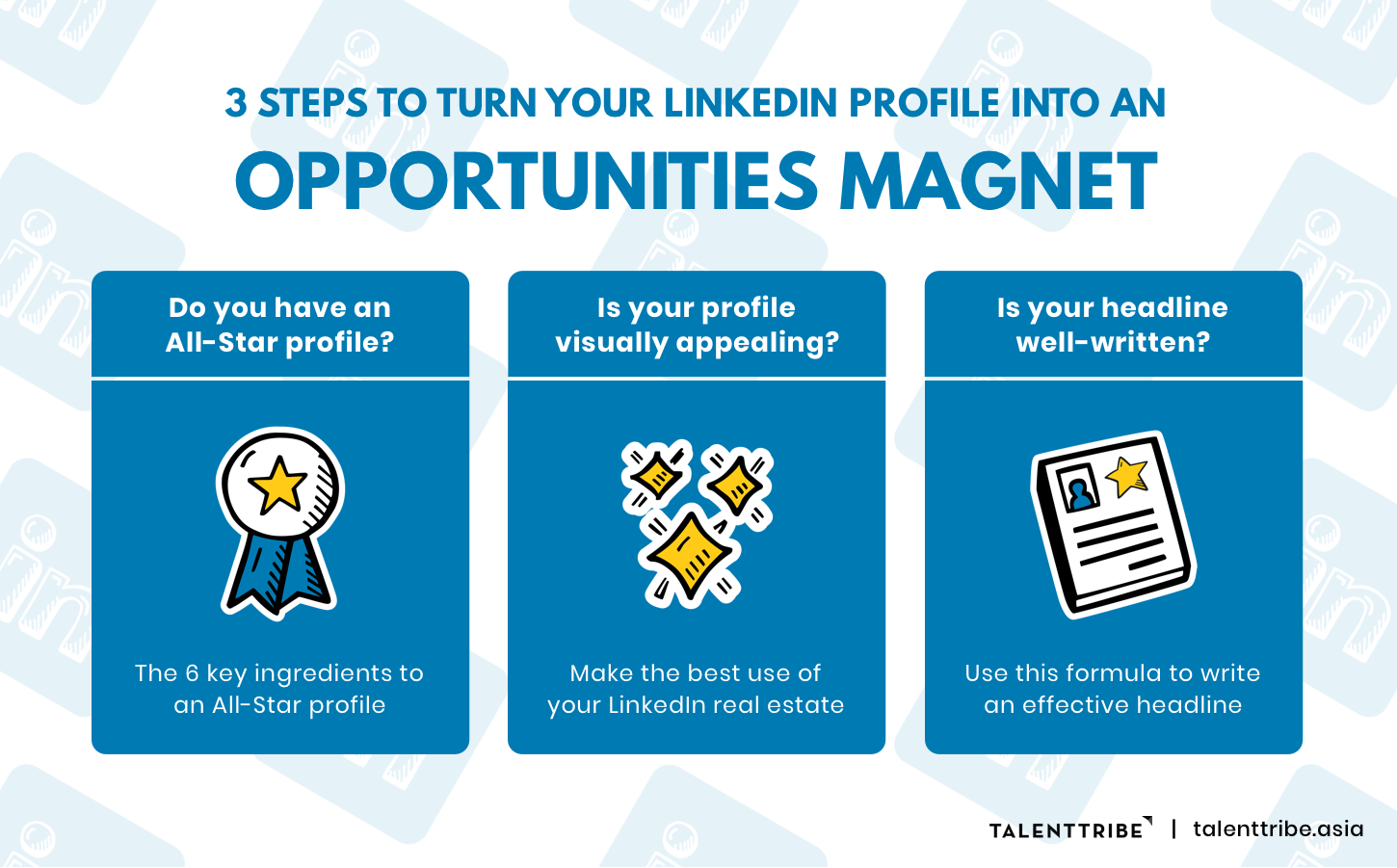 There are 5 levels to this LinkedIn game, from beginner all the way to All-star profile. You can find out which level you are from your LinkedIn dashboard. The more optimised your profile, the higher your chances of attracting new opportunities.
And getting an All-Star profile is actually a lot easier than you imagined. All you have to do is check a few boxes.
The bare minimum checklist to get an All-Star LinkedIn profile
Upload a photo
Enter your location (it might be better to use an office postal code or somewhere in the CBD)
Enter your industry
Fill out these sections and don't leave any of them empty:
Headline
Work experience
Summary/About
Education
Make sure you have at least 50 connections (ideally 500+)
Select at least 5 skills from endorsements and pin your Top 3 most relevant ones
If you check all the above, you should be able to get an all-star profile. Otherwise, LinkedIn will indicate on your dashboard what your profile is missing and will suggest a next step for you to rise to the next level.
2. Is your profile visually appealing?
If your LinkedIn profile is like real estate, the prime real estate is the top fold of your profile.
This is the area that makes or breaks the first impression. It determines if they will continue scrolling on, or simply leave your page.
And to keep people attracted, you need to have great visuals – they make a huge difference.
You need to have a good profile photo. That means no selfie, wefie, cartoons, caricatures, or passport/IC photos. If a beauty filter was used, please make sure that you are still recognisable in person.
If you can afford it, invest in a professional photoshoot. Otherwise, make sure you get a friend to take a few shots against a light background and ask a couple of working friends to vote for the best shot.
Don't forget to smile!
Once you have that settled, show your banner some love. Instead of the boring LinkedIn default template, use Canva to make a banner that showcases your professional side, a passion of yours, or something related to your industry.
Take note of the following points in your prime real estate:
3. Is your headline well written?
Most people overlook the importance of their LinkedIn headline. Yet, it's all about the headline!
The headline determines how easy it is for others to find you, and it's also the best place to brand yourself. Since there is a limit on the number of characters you can put in your headline, we want to maximise the value we get from every single word.
Headline (maximum 220 characters if edited on mobile)
Headline Template: Job Title | Keywords | Personal Branding One liner
Examples:
Millennial Career Coach | ICF Certified Coach | Linkedin Coach | Corporate Trainer | Open Networker | I help millennials in Asia Pacific take charge of their careers with ease and confidence
HR Tech Consultant | B2B Solutions | HRMS | SaaS | Mobile Recruiting I I help businesses & HR leaders navigate the future of work through HR technologies & solutions
Marketing Manager at (company name) | Digital Marketing | Marketing Strategy | I drive brand awareness through digital marketing campaigns across APAC
CEO | Content Marketer | Growth Strategist | Consultant | Content Marketing | I help companies grow through my marketing agency
What if you're not in a job yet, or you're in between jobs?
Please do not write things like 'Unemployed', 'Looking for a new job', or 'Available for a new role immediately/ASAP' in your headline. You are wasting your precious word count and you are also not conveying the best first impression!
Instead, write your target job title or the job you are working toward.
Coming up with a personal branding statement
Think about the problems you solve and the results you help others achieve. Pick the biggest one.
How do you solve this problem?
One liner: I help (your ideal audience/clients/customers) to (result).
A longer version: As a (job title or role), I help (your ideal audience/clients/customers) to (result). I do this by _________.
Example: As a career coach, I help professionals in Asia Pacific achieve their career goals. I do this by equipping them with job search and career advancement skills through 1:1 coaching and online webinars.
If you're able to answer these 3 questions confidently and make the most of your prime real estate, you're on your way to becoming a LinkedIn Opportunity Magnet!
ALSO READ: How to write a cover letter that will get you a job interview
This article was first published in TalentTribe.asia.