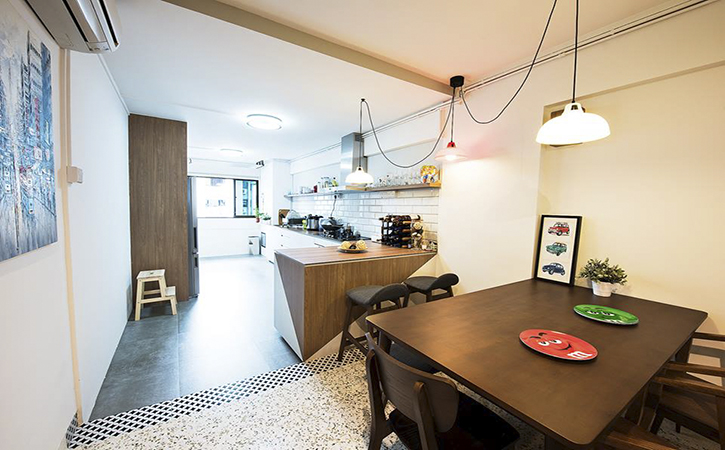 Feel like you're living out of a shoebox?
Limited floor space is pretty much one of the biggest complaints plaguing first-time homeowners and there's no space to put all your fancy-schmancy gadgets even if you can afford one.
This means you either have to make Kondo-ing part of your regular routine or be more discerning with your purchases — so no more impulse shopping lest your new buy becomes another white elephant to crowd your space.
Instead, it's probably wise to invest in things that fit right into your lifestyle, take up little space and have multiple uses so you won't give yourself a headache fitting everything on the counter.
We've compiled a list of seven multiple-use items you can consider upgrading your home with that'll make your home seem infinitely bigger and save you some cash in the long-run.
THERMOMIX
Living in fast-paced Singapore means we're all busy individuals who are time-starved and sleep-deprived. Yet, most of us know the dangers of a bad diet and would strive to eat healthier meals — if only cooking was not such a hassle and didn't leave so much of a mess to clean up.
Replacing over 20 kitchen appliances, Thermomix (a smart kitchen robot 60 years in the making) recently unveiled their new TM6 model which is suitable for both professional and amateur cooks.
Say goodbye to a cluttered kitchen since this one device is able to stir, mix, grind, knead, whisk, chop, weigh, cook, steam, simmer and emulsify. The TM6 also offers new functions such as the high-temperature cooking mode (up to 160°C), as well as the sous vide, fermentation and slow-cooking functions.
If fact, I was so convinced during the media demonstration that I bought one myself, since the device is able to simultaneously cook rice, meat and steam veggies all at once, and the best part is how the device even cleans itself — a definite plus for lazy eggs like me.
Downsides to the machine? It's still missing some functions such as frying, pressure-cooking and grilling, not to mention the steep $2,520 price tag.
A user I spoke to said the heavy initial cost has definitely paid off for her in the long run but only because she cooks at home daily — so do consider your lifestyle before deciding whether this device would truly spark joy in your kitchen.
Thermomix Singapore is now taking pre-orders at the promotional price of $2,320, and if you get one now, it'll come just in time before Christmas.
AIR FRYER
While the Thermomix is a magical invention that could render half of the appliances sitting on your countertop obsolete, there are certain limits to what it can do.
Frying is one of them. And we've included the air fryer in this list because it's not only a healthier option to prepare finger food that we all love so much (goodbye deep-fryer), you can even use it to do some surprising things.
I've often popped slices of bread in the air fryer for breakfast before rushing off to work (we've never touched the toaster since) and have even been successful in making bread and roasting nuts with it.
While my household still uses the microwave and conventional oven, we've definitely touched them less in favour of the air fryer which uses less time to reach high temperatures and is able to maintain the crispiness of food that have a crusty exterior.
If you're on the lookout for an air fryer, the Philips brand often comes recommended.
PRESSURE COOKER
Besides the air fryer, another tool the Thermomix cannot replace is a pressure cooker — according to a longtime user who has all three devices in her kitchen.
For the uninitiated, a pressure cooker is an electrical device which uses steam and high pressure in a sealed pot to help food cook faster.
The pressure forces liquid and moisture into the food quickly, which help it to cook faster and allow certain foods, such as tough meat, get tender very quickly.
A colleague who uses one says it cooks her soups quickly and leaves it concentrated, and since there's no open flame involved, she's able to leave it unsupervised, freeing her up to do other things.
In addition to being able to braise meats and cook tough things like beans and chickpeas in less than an hour, a pressure cooker is even able to cook grain, making a rice cooker obsolete in your kitchen.
BREAKFAST STATION
Ever dreamed of having one of those backyard BBQ parties like the angmohs in movies?
Unless you plan on keeping a full BBQ grill set in the storeroom, owning one for yourself might be considered impractical and a waste of space.
If you're a fan of hearty western-style breakfasts, the Nostalgia three-in-one Breakfast Station might just be your new best friend.
Cute, compact and portable, this magical device combines a non-stick griddle, coffee brewer and multi-function toaster that can bake, toast and reheat food all at once.
If you're not the kind who's keen on breakfast, the practical appliance can also be used for meals at other times of the day — make instant noodles or steam veggies in the coffee-maker or burgers and mini pizzas with the grill and toaster oven.
STREAMING DEVICES
Out of the kitchen, the living room is another spot that's often cluttered with electrical appliances such as a video player, CDs and DVDs, set-top box, gaming devices and more.
If you're often found in front of your TV at the end of a hard day's work, you might want to consider investing in a streaming device.
Examples include the Apple TV, Google Chromecast, Amazon Fire TV and Roku Streaming Stick. A more in-depth comparison of these major streaming platforms can be found here. 
Gone are the days when we have to buy a disc, worry about scratches or dust, and trigger our OCD with cables dangling everywhere from all the devices.
With wireless remotes and one-stop entertainment all stored within a hub, you might want to give your TV area a makeover and start packing all the dusty unused appliances away.
DYSON FAN/AIR PURIFIER
Dyson's household products may sometimes be overlooked in favour of their cult-favourite hair-styling devices.
While their cordless cyclone vacuum cleaners have also been raved about, they're not what we're here to talk about today.
Arguably less known is their Dyson Pure Cool, a two-in-one air purifier and fan that'll come in especially useful during a haze season that sees most of us seeking sanctuary indoors.
Although the $499 price tag might not be as cool, it is a device that's capable of removing 99 per cent of allergens and pollutants and probably cheaper than switching on the air-conditioning all day in the long run.
ROBOT VACUUM CLEANER
A robot vacuum cleaner is my parent's latest addition to our household and, while initially a sceptic, I've been wholly convinced that it's one of the most useful purchases we've made this year.
James (as I've christened ours) has been a delight, and when you live in a household of women, the never-ending amount of hair dropped always gets on everyone's nerves.
Every day, on the dot at 2pm, James ventures out of its port and automatically does a sweep of the floor as programmed — and it's able to reach low nooks and crannies of the rooms that we would otherwise be too lazy to reach.
Although James' suction power may not be as powerful as our previous vacuums, we've never had cleaner floors because no one bothered to assemble and clean the bulky one in the first place.
Certain models also have an additional function that mops floors as the device moves about, but I've heard feedback that the wet cloths get dirty quickly and have to be replaced frequently — which was why my family opted to do without that function.
Know of any other multi-use appliances that would render their predecessors obsolete? Let us know!
joeylee@asiaone.com